Are you looking for a Microsoft Word Repair Tool to repair your corrupted Word document? If yes, here we are with the five leading options for you. Whether you have to research an article, have penned down fiction, or have to create office reports, MS Word tends to be a great help for all. It is the primary selection for the majority of the people for documentation. Everyone, from professionals to kids, uses this platform to make things happen quickly.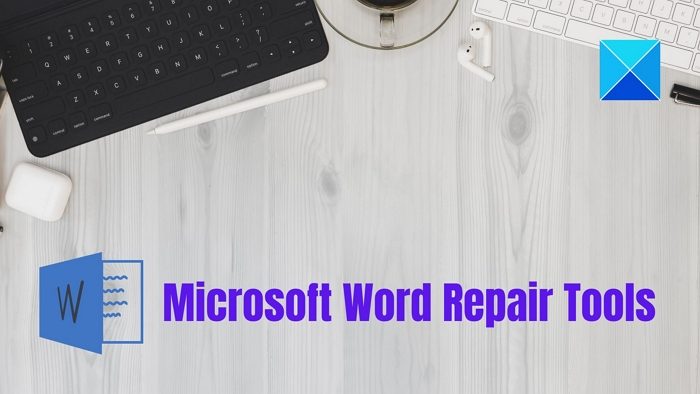 Loss of Word documents, mainly when they include essential data, can be pretty upsetting and distressing anytime. One can easily make use of the troubleshooting area of Microsoft and other online tools for restoring these documents perfectly. One can also opt for document recovery programs online to fix the annoying issue.
Possible Reasons for Word File Corruption
MS Word is one of the most commonly accessed applications that is being used widely all across the globe. Corruption in MS Word is an annoying issue that prevents you from accessing it. Multiple reasons are responsible for the corruption of the Microsoft Word files, such as:
System crashes: This issue is annoying and unavoidable while using Word. The problem usually occurs without any reason and prevents you from accessing the related files.
Unsaved work: Shutting down the system without saving the MS Word document can lead to Word File Corruption.
System updates: Force system updates are another prominent reason behind Word File corruption. Most of the time, these updates are made after restarting the system.
Virus attack: Any malware or virus attack can damage and corrupt the files and folders in Word. Install updated antivirus software to protect your files and folders in different scenarios.
Hardware failure: Any hardware issue can also be a reason behind the corruption of the MS Word files. One can easily use the file recovery tools to recover the hardware.
Best Free Microsoft Word Repair Tools
As the name describes it well, the Word repair tools are meant to recover data from corrupted MSWord and repair those files perfectly. Repairing Word documents offers you the ability to recuperate the embedded media objects. The best thing about these tools is that they preserve the original style and formatting of the document.
S2 Recovery Tools
Repair My Word
Recovery Toolbox
Microsoft Office Open and Repair Tool
Make sure to review each of these tools and then pick up what works best for you based on the features.
How to repair corrupted Word document
1] S2 Recovery Tools for Microsoft Word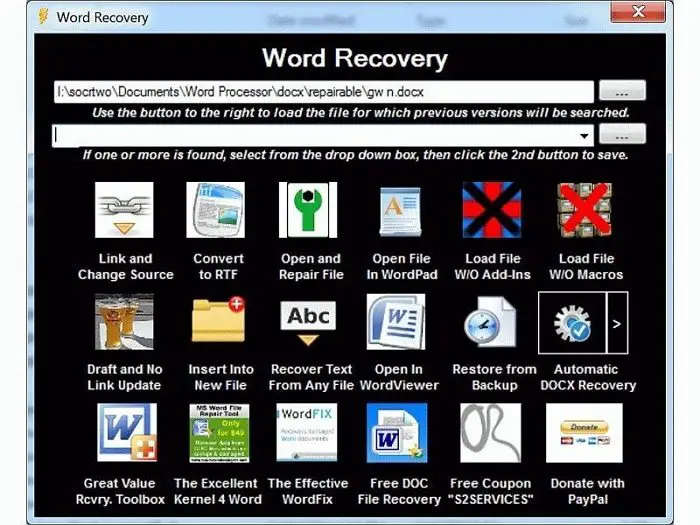 S2 Recovery Tool is a handy and trusted Word repair tool available at sourceforge.net that can conveniently recover corrupted and damaged Word files. The tool provides unlimited support to the Windows OS. The tool is free to download and can effectively recover the doc and docx files. The tool comes up with different incredible features that make it the best one in the series. The tool is relatively easy and provides one-button MS Word file recovery access.
Pros:
Provides support to different Windows versions
Repairs the doc and docx files
Free to download option
Ensured fast processing
Safe platform to use on
Cons:
2] Repair My Word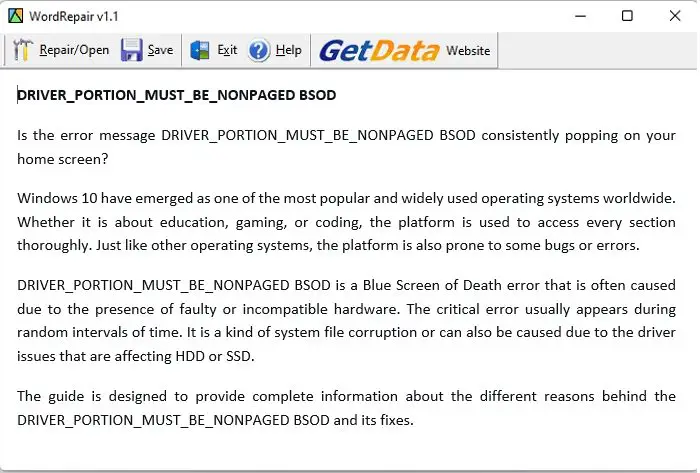 Repair My Word is a complete data recovery program that can help you repair damaged word files effectively. It is an excellent and free tool that produces error-free content without hassle. The recovered content is saved in the ready-to-use format in the MS Word document. It is the best tool that helps you in keeping your data from corrupted documents conveniently.
The device works efficiently with MS Office. The tool is designed to be simple so that everyone can work on it effectively. The tool works actively with all versions of Windows
Pros:
Simple to use user interface
Supports MSWord files effectively
Go seamlessly with Windows
Cons:
Works only with the .doc files
3] Recovery Toolbox (Online Word Repair Tool)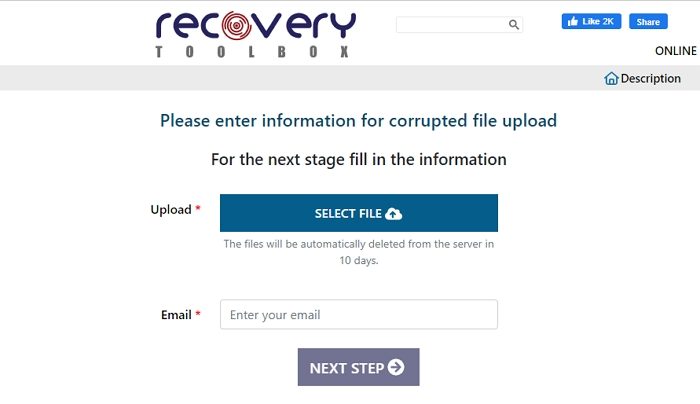 If you are looking forward to an online Word repair tool, Recovery Toolbox is a fantastic option you can choose. The tool comes up with a very interactive interface that you can use for recovering corrupted and damaged Word files. Users have to visit the official website of the Recovery Toolbox to access the same. It is a free-to-use platform that effectively recovers the doc, docx, and RTF files. One can easily upload the related File to the server, can fix it, and can download it back.
Pros:
Convenient to use on
Quick repairing process
Works online
Affordable pricing
Cons:
Not recommended for the sensitive documents
4] Microsoft Office Open and Repair Tool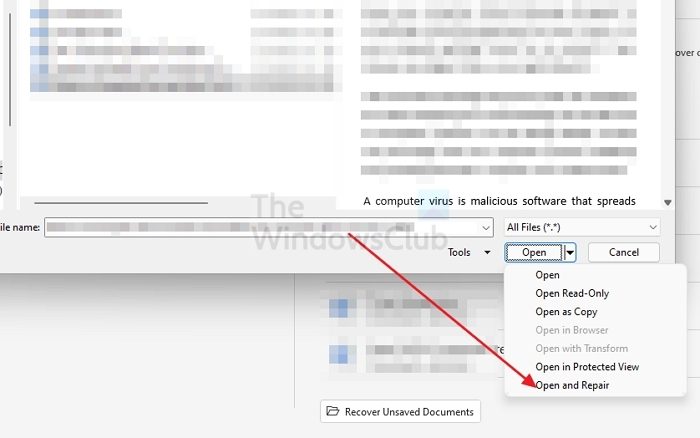 Microsoft Office offers repair tools for all its products, including Microsoft Word. You can use the Open and Repair option when opening a word document with a file corruption error. All you need to do is go to Microsoft Word > File > Open > Browse and select the file. However, instead of opening it right away, click on the arrow button next to Open, and select Open and Repair.
Pro:
Works well for recently crashed document
It depends on the backup copies. If file corruption is very high.
Cons:
No additional option or preview available before the recovery
Conclusion
So that is all about the best Word repair tools. Repairing Word files have not remained a hectic task now. Just use the perfect tool, and you will be done perfectly. All the tools mentioned above are quality assured and ensure free access. Before making the final selection, it is advised to go with the details of each.
TIP: FixWin 11 is the best Windows Repair software optimized to support Windows 11 and Windows 10 operating systems.
How to Auto Recover work in Microsoft Word?
Open MS Word, tap on the Files button, and then go to the Options segment and the left navigation panel. Once there, tap on the Save button and copy the AutoRecover file location path. Next, paste the path into File Explorer to find the unsaved documents.
Copy the "and" File to use later, go to the Word app, and tap on the File button. Please tap on the Open to open it and then on Recover Unsaved  Documents. Paste the copied ".asd" File into the File Name box. Launch the Word file and recover it.
How to search for Word backup files?
In Microsoft Office 365, the Word backup file names have a WBK extension. To ensure word creates it, you can go to File > Options > Advanced, scroll down to the Save section and then select Always create a backup copy. Word will save the document at
C:\Users<UserName>\AppData\Roaming\Microsoft\Word
C:\Users<UserName>\AppData\Local\Microsoft\Office\UnsavedFiles
Replace with the actual username before opening it in File Explorer.