If you want to create word clouds on your Windows 11/10 computer, then you can try some best free word cloud generator software and online tools covered in this post. Instead of generating a simple word cloud with a basic horizontal and vertical layout, these tools let you use different shapes, background colors, and other options to make a better word cloud.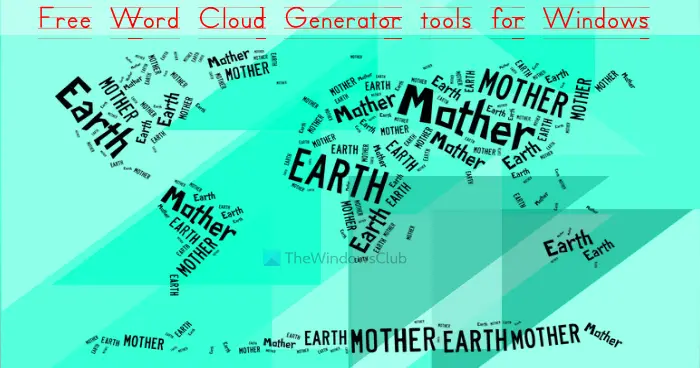 A word cloud (also known as a tag cloud or text cloud) is a collection of words that provides a visual representation of text data. In a word cloud, words are visible in different colors and sizes based on their importance or occurrence/frequency. The more a particular word appears in data, the bolder and bigger it is visible in the word cloud. While creating a word cloud manually could be boring and time-consuming, the tools covered in this post make it interesting and meaningful.
Best Free Word Cloud Generator software and online tools for Windows 11/10
This post includes the following word cloud generator software and online tools for Windows 11/10:
Wordaizer
Tag Cloud Maker
WordClouds.com
WordCloud Generator
Word Cloud Generator.
Let's check all these word cloud generators one by one.
1] Wordaizer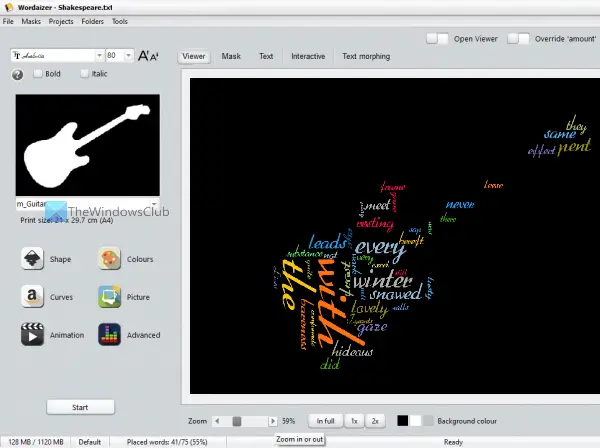 Wordaizer software lets you create large tag clouds in almost any shape. There are pre-added shapes (like Guitar, Earth, Graph, Heart, etc.) available to choose from or you can create a custom shape of your choice using its Mask feature.
Here are some of its other interesting features for creating a word cloud:
You can set text amount, font size, add custom words, set canvas size (A4, A2, A0, 2A0, etc.), minimum word length, and size range, etc., for word cloud shape to get a satisfactory output
Text formatting can also be set to change text size, use any of the available fonts, make text bold, italic, etc.
Create and set a color palette of your choice to show colors in your word cloud
Insert a picture or image (GIF, JPG, TIFF, ICO, EMF, PNG, etc.) and use colors from that picture. If you want, you can also use that picture as a mask
A curve shape setting can also be used for words. Apart from that, text curve type can be set to circular, crossword, wave, or parabolic
An option to choose a custom background color for word cloud is also there
You can access a Text section where it will show an overview of all the words that are used or placed in the word cloud. A list is given for all those words and you can also edit that list to remove/edit words
When the output is ready, you can save the word cloud as a PDF file, or as a BMP, SVG, PNG, JPG, or transparent PNG image
All the word cloud data can be saved for later use
All the settings adjusted by you can also be saved as a *.mpr project file that you can load whenever needed.
To create a word cloud using this tool, open its interface, and use the File menu to add a text file. You can use any of the example test files provided by this tool or add a text file of your choice. Once the text file is added, select a mask or shape from the drop-down menu present on the left-middle part of its interface.
Use the Start button and it will process the text file to generate the text cloud. Use different shapes and see how the output looks. You can also customize the output by changing colors, and shape settings, accessing and editing the text list, changing the curve shape, etc. Use the available menus for this and do the customization. When your word cloud is ready, save it as an image file or a PDF file using the File menu.
Overall, the tool works well, but here are a few things to notice:
There are some features like creating video recording, word cloud animation, etc., that are available in the paid plan but can be used free for the first 15 days. After that, such features will be locked or limited
This tool works well in full-size mode. It is so because when I tested this tool, its Start button to create a word cloud was visible in that mode only
A Viewer option to preview the word cloud is also there. But, when I opened that viewer, it covered the tool interface with a black box. If that happens with you too, then use the Start button to remove it.
2] Tag Cloud Maker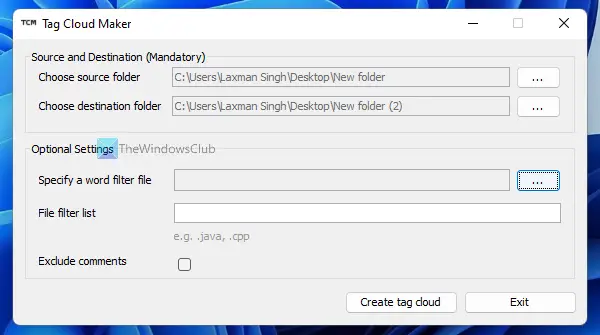 Tag Cloud Maker software comes with a basic interface. It can help you create a word cloud from a source code or DOC, TXT, or other supported format files. If you want to exclude some words from the output, then you can provide a TXT file containing all those words (one word per line). You will have the option to add a custom TXT file or use a standard word filter file (common English words, Java keywords, or CPP keywords file) provided by this tool.
For using this tool, you need to download its ZIP file from sourceforge.net. Extract that archive into a folder and execute the TagCloudMaker.exe file. Java Runtime is needed to run this tool. If Java Runtime is not installed, then it will open its link in your default browser so that you can install Java Runtime and run this tool.
When the tool is installed, open its interface, and add the source folder using the given icon/button. After that, set a destination folder. You can also add a word filter file or skip this option. Finally, press the Create tag cloud button, and you will get the output word cloud.
There are no other options like set background color, text size, text color, word cloud shape, etc. Only a simple word cloud is generated in an HTML file where you can easily identify the strength of words or tags by color and size.
3] WordClouds.com
WordClouds.com is one of the best free tag cloud creators or word cloud generator tools on this list. Tons of features are provided by this tool which you will like for sure. Some unique features are also there that you won't find in other similar tools. There are different menus available that you can access to use the available features. Let's have a look at some important and interesting features:
This tool provides a shape library to create a word cloud using the available icons, colored shapes, from maps, custom text, or a shape image
You also have the choice to create a text cloud from a CSV file or by extracting text from a webpage, PDF document, TXT file, or office document (DOCX, ODT, PPT, XLSX, etc.)
Select and add fonts to use in your word cloud
Automatically shrink words that don't fit
Set a direction such as horizontal and vertical, random, diagonal and vertical, uphill, etc., for words used in the word cloud
Set word colors
Use a mask and set mask opacity
Set text padding, add text shadow, set minimum word size, and word margin by moving a slider, etc.
Save your work as a WCLD2 format file to your computer so that you can resume the work by adding the same file whenever needed
Export the word cloud as a video file (MP4), PDF, HTML file, or as an image (PNG, JPG, WebP, and SVG).
Different menus like Shape, File, Word list, Fonts, Direction, Colors, Mask, etc., are available to access and use all these features. So, once you have accessed its homepage, you can begin and finish your work, from adding the source text to finalizing the word cloud and downloading the output to your computer, using the given menus.
Also read: Best free Slide Presentation Maker software for Windows 11/10.
4] WordCloud Generator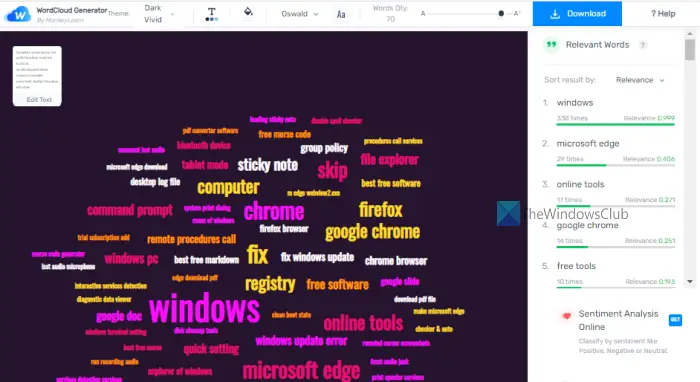 WordCloud Generator is an online tool that lets you make a word cloud from a TXT/CSV file or you can add source text in the given box. A beautiful word cloud can be generated quickly with the help of available features. This tool lets you:
Select a single color for all the words for your word cloud
Choose a custom background color or make a transparent background
Select a theme to automatically set background color and text color. 5 different themes are available to choose from
Select a font like Open Sans, Rubik, Oswald, Quicksand, etc.
Edit the input text
Set word quantity using a slider
Download a data sheet as a CSV file. That file will contain the number of words, count (number of times a word appears), and relevance/frequency of those words
To use this tool, open its homepage from monkeylearn.com. There, either use the Upload text file button or add source text (up to 200000 characters) in the available area and use the Generate cloud button. After that, this tool will automatically process the text data and present a word cloud to you. It doesn't let you generate a word cloud with specific shapes but it is possible to change the word cloud layout by adjusting word quantity.
You can also use other available options using the menu toolbar present on the top part of its interface. Once your word cloud is ready, press the Download button to save it to your computer as a PNG or SVG file. The option to download the datasheet of the source text is also available there.
5] Word Cloud Generator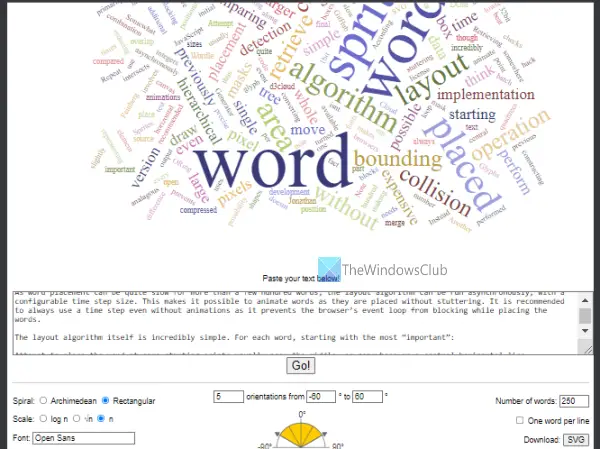 This online Word Cloud Generator tool is very simple and you can generate a text cloud in a matter of seconds. A few useful options are provided by this tool. You can use options to set orientation along with angles, the number of words, shape, font (by typing the name of the font you want to use), scale, etc.
To access the homepage of this tool, visit jasondavies.com. There, enter the source text and press the Go! Button to generate a word cloud with default settings. You can further make changes to the word cloud using the given options.
As soon as you use an option, the word cloud shape is adjusted accordingly. If that doesn't work for some reason, then you need to use the Go! button again to view the changes.
When the word cloud is ready, you can download it as an SVG file to your computer.
Does Microsoft have a word cloud generator?
Microsoft doesn't come with its own word cloud generator tool. But there are a few plugins available that can help you create a word cloud using one of its products. For example, you can use an add-in named Pro Word Cloud to create a Word Cloud in Microsoft PowerPoint or Word. Just install the add-in, access and use the tools provided by the add-in, and generate a word cloud.
What is the best free word cloud generator?
There exist some free software as well as online word cloud generator tools that can help you generate a beautiful word cloud. While some tools have a few options, other tools come with options like creating a custom-shaped word cloud, downloading the word cloud as an MP4 file, changing background and text color, using colors from a picture, and exporting the word cloud as SVG or PDF file, etc. So, to find which one is the best free word cloud generator, you need to look at the features provided by that tool. We have also created a list of such word cloud generator tools in this post. You can go through that list and start using the one that you find best for you.
Read next: How to create a Word Cloud in Microsoft Excel.