I never knew playing with words clouds would be so interesting. I am talking about Wordaizer; a free and handy word cloud generator software that allowed me to create pictures with colorful word clouds on my Windows computer.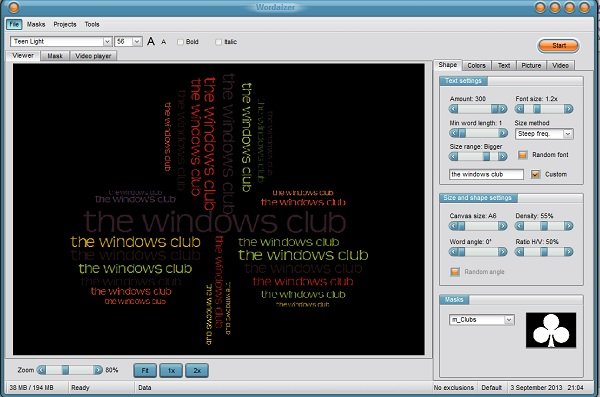 Free Word Cloud Generator software for Windows PC
Using Wordaizer, I can convert any text file instantly into a word cloud. It moreover works like a word animation, where I can change the shape and colors of the word cloud. I can now make a beautiful picture with words clouds, and furthermore, I can save and print these pictures.
I know there are many such tools available online. but Wordaizer comes with many extra features. Let me brief you more about the features of this handy tool Woradizer.
Change as well as create the shapes

Wordaizer allows me to create the word clouds in any shape I want. Although it has many interesting shapes but the feature of creating my own Masks makes this tool even more customizable and interesting. With this feature, I can make my own word cloud shape as I created a Duck shaped mask for this word cloud above.
Control the colors of word clouds
With just a few settings I can change the colors of the word clouds. Wordaizer has many default color palettes with different color schemes. With every color palette I can also change the background color of the word cloud.
Create the biggest word cloud ever
This is one of the unique features which is not available in other such tools. I can save the word cloud in 'emf' file format (enhanced metafile) which can be enlarged endlessly. I can now print the word clouds in as large size as I want.
Project Settings
With Wordaizer I do not need to change the settings every time I make word clouds. I can save every word cloud as a project in my computer system. Every project file stores my settings used in that particular word cloud although, Wordaizer has some nice project files already installed in the program.
It is overall, an ultimate creativity tool, and if I have to summarize the features of Wordaizer, – it allows me to create word clouds, create and apply masks, save and print the result and also allows me to save the projects.
Go get it here and have some fun! The software is free to use, is fully functional during the grace period, after which some restrictions will apply.