WindowsRemix is a web-based service that lets you install multiple apps after a fresh Windows installation. You can install a set of software on your Windows 10 computer with the help of this free utility.
Installing Windows is a very hectic task for many people as you need to go through a lot of steps to set things up. Even after you finish all those steps, you need to download some necessary apps like a browser, antivirus, media player, etc. Although it depends on many things, the whole process might take more than two hours to complete if you do not take any break.
That's is why you can make use of WindowsRemix. It will help you install some software as per your requirements in automation. There is a massive list of software that you can select and install them in bulk. WindowsRemix won't download and install them simultaneously because your PC might hang. It is smart enough to process the whole thing one after one so that you can do other jobs when this app installer downloads some tools for you. The advantages and disadvantages of this utility are that you do not need to go through any installation process of any selected software. It implies that you cannot make changes (i.e., install for all users or just this user) during the installation time.
It has a massive list of recommended software, and you can find only open-source apps on the list. There are several categories so that you can find something quickly. To name a few, you can find these – Chrome, Firefox, Aptana Studio, Minecraft, Blender, GIMP, Notepad++, Atom, Vivaldi, CCleaner, FileZilla Client, TeamViewer, VirtualBox, etc.
Use WindowsRemix to install multiple apps
To use WindowsRemix to install multiple apps on Windows, follow these steps-
Open the official website of WindowsRemix
Select all the software that you want to download and install
Click the Install Now button
Run the installer on your PC.
Visit the official website of WindowsRemix. It is recommended to open the site in Internet Explorer or Microsoft Edge (HTML) browser. Otherwise, you will have to install an extension named ­Windows Remix ClickOnce Helper, and the download link will be given during the app downloading time.
After visiting the website, you need to browse all categories and select software that you want to install on your PC. You can choose any number of software without any problem. After doing that, click the Install Now button that is visible on your left side.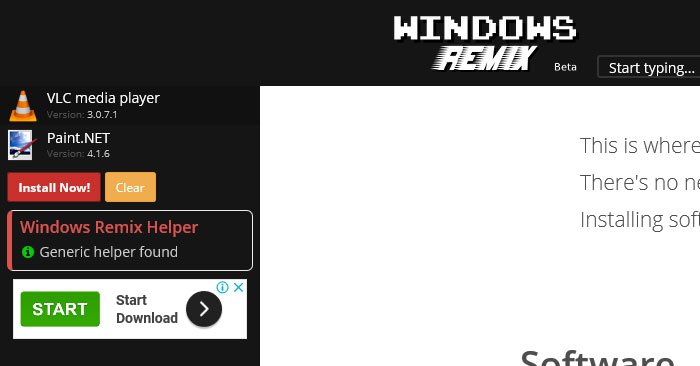 It should download an executable file that you need to run. After running it and confirming the installation, you can find the Command Prompt window.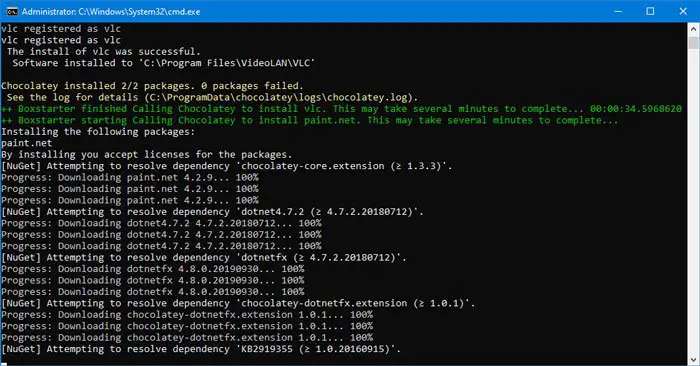 Do not close the window as it indicates the progress of software installation. At last, you need to hit the Enter button on the Command Prompt window to close it. Following that, you can find all the software installed on your PC.
If you get Helper not found error while downloading the EXE file from the WindowsRemix website, you need to install the Windows Remix ClickOnce Helper in Google Chrome or another browser. A link to the corresponding extension will be provided by the WindowsRemix website based on your browser selection. You need to install the extension in your browser, relaunch the browser, select all software that you want to install and go through the installation processes, as mentioned in this article.
We ran the executable file (winmixClickOnceHelper-v1.4.0.0.exe) with VirusTotal and got a score of 2/70. This could be a false positive. You can visit the official website of WindowsRemix if you would like to download it..