Studies suggest that around 10% of people are left-handed. Most computers and operating systems today are designed for right-handed people. This can become a little awkward for left-handed people, where they may find that their hands obscure the menus or some user interface elements. The Windows operating system however offers some settings that can make things easier for left-handed users. If you are a left-handed person, then this post will show you how to make your Windows 11/10 touch tablet or Surface easier for left-handed use.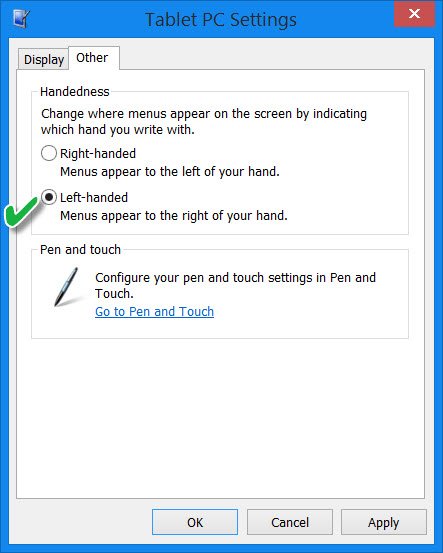 Surface or Windows Tablet settings for left-handed users
Right-handed users see these menus and other objects in a convenient place that is not obstructed by their hand. A left-handed person's hand may block such elements.
Tablet PC Settings let you specify whether the user is left-handed or right-handed. If you take advantage of these settings, then a user's hand will not obscure UI elements and objects that display information or functions.
To change these settings, open Control Panel and click on Tablet PC Settings. Click on the Other tab.
Here, under Handedness, you will see a setting to change where menus occur on the screen, by indicating which hand you write with. Select Left-handed to make menus appear to the right of your hand.
Click Apply and Exit.
However, it should be noted that controls that are left-justified, will not benefit from the change in this setting.
The mouse pointer is tilted to the left and not straight. So left-handed people may want to change some other settings to make things even easier.
Go here if you are looking for Windows Pointers & Mouse Settings for left-handed people.