If you receive Windows cannot be installed to this disk, Windows must be installed to a partition formatted as NTFS while installing Windows 11/10, then this post will help you.
This error means your HDD or SSD is not properly formatted with the required file system needed for Windows installation. The issue mainly occurs with new hard drives. But you can also face the issue when trying to reinstall Windows.
What does the Windows must be installed to a partition formatted as NTFS error mean?
NTFS stands for New Technology File System, the modern Windows default file system. NTFS has a lot of benefits, like improved security, file compression, support for larger files, and so on. As a result, Windows made it mandatory to use the file system for OS installation than older file systems like FAT32.
Starting with Windows 11, you cannot install any copy of Windows on FAT32. You will need to format or create a partition in NTFS.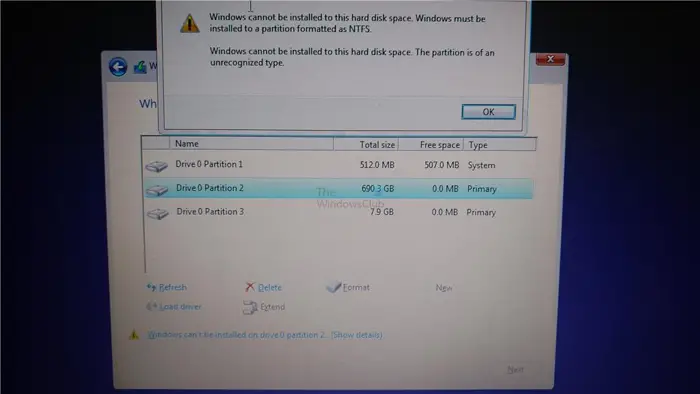 Fix Windows must be installed to a partition formatted as NTFS
Before you go ahead, here are a few things to know:
If you have a brand new HDD/SSD and you are receiving, Windows cannot be installed to this disk error. Then you can format your drive while installing Windows. So run the Windows installer, follow the onscreen steps, and format your drive on the "Where do you want to install Windows?"
However, if you are reinstalling Windows on an old drive with data, it would be better to take a backup of your data before reinstalling Windows. You can take a backup of the C: drive's data and then format the drive to NTFS and install Windows.
Once you have taken your backup, use the following method to Fix Windows cannot be installed to this disk error:
1] Use DiskPart
First, create a Windows installation disk or drive using the Media Creation tool.
Next, boot up your PC using the installation media drive.
On the Windows Setup window, press the Shift key + F10 to launch the command prompt.
Over here, type diskpart and press enter to open Disk Partition Tool.
Type the following command to list all the storage volumes: list volume
You should not be able to see all the partitions with their volume number.
Now you need to format your C drive. So select the C drive by typing: disk <volume #> and then press Enter. Make sure to replace <volume #> with the actual number of the drive.
Next, type clean and press Enter.
After that, type convert mbr, then press Enter.
Next, type create partition primary and then press Enter.
Now type active to make the partition active.
After that, you must format the drive, so type format quick fs=ntfs and press Enter.
Finally, type exit and press Enter key twice to get out of DiskPart.
Once done, restart your PC and boot up using your media installation drive and continue with the OS installation.
2] Use Installation UI
When you receive this error when installing Windows, the installation UI offers a direct option to format the drive. If you have nothing to back up, click the Format button and choose NTFS if prompted.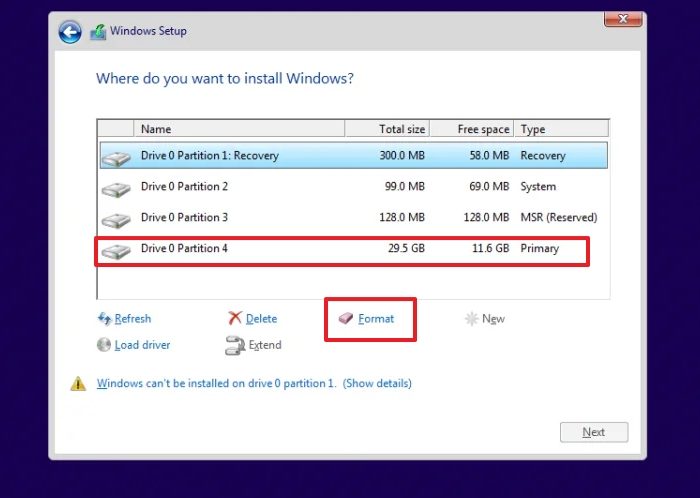 Once done, Windows installation can begin immediately.
That was a quick fix for this error while installing Windows 11/10 error. Now go ahead and try the above steps and see if it works for you.
Alternatively, you can empty one of your existing partitions, format it using the Disk Management utility tool, and install Windows on the drive.
How do I fix a corrupted Windows partition?
You can use the following command chkdsk /f /r to fix the corrupted Windows partition. The "/f" parameter tells the utility to fix any errors found on the disk, while the "/r" parameter tells it to locate and repair any bad sectors on the disk. In the background, all files will be moved to the good part of the drive, and the bad sectors will be marked not to be used again. If nothing else works, it would be best to use System Restore to take Windows to a point where it works properly.
Related:
Can corrupted Windows be fixed?
There is a chance to fix corrupted Windows using SFC, DISM, and the Startup Repair tool. You will need to boot your Windows into Advanced Recovery and then go to Troubleshoot section to find these options. While the SFC and DISM need the command prompt, the Startup Repair tool is part of the UI.