Although Microsoft removed Homegroup from Windows 10 v1803, you can find this feature in the older build of Windows 10 as well as Windows 8/7. If you are using any Windows version, which has Homegroup functionality but you are getting an error message called Windows could not start the Peer Networking Grouping service on Local Computer with error code 1068, here are some possible solutions you might find useful. The full error message says something like this:
Windows could not start the Peer Networking Grouping service on Local Computer. Error 1068: The dependency service or group failed to start.
Windows could not start the Peer Networking Grouping service on Local Computer
1] Check services
There are four services those should run properly to get the Homegroup working on Windows computer. They are Peer Name Resolution Protocol, Peer Networking Grouping, Peer Networking Identity Manager, and PNRP Machine Name Publication Service. To verify that they are all working, open Services Manager on your Windows computer. If you are using Windows 10 and Windows 7, you can take the help of Start Menu. Otherwise, press Win + R, type services.msc and hit the Enter button. Following that, check those services.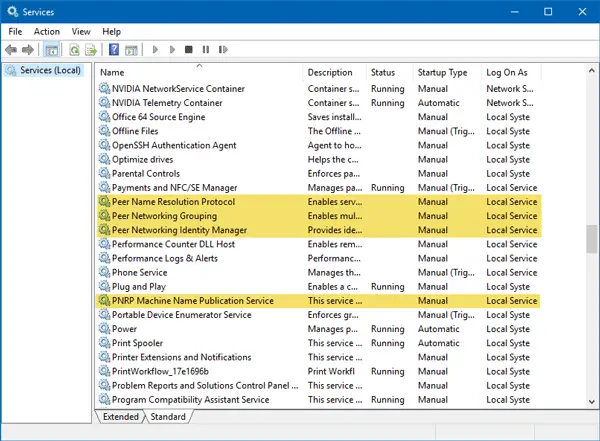 Double-click on each service, and make sure the Service status is set to Running. Otherwise, select Manual from Startup type drop-down menu and click the Start button accordingly.
2] Run Homegroup troubleshooter
In Windows 10 v1703 and v1709, you can find a Homegroup Troubleshooter. To use that, open Windows Settings panel > go to Update & Security > Troubleshoot.
Scroll down a bit on your right-hand side until you get Homegroup option. Click on Homegroup option and click the Run the troubleshooter button. Therefore, you need to follow the screen option to get it done.
Read Next: Run Troubleshooters using the Troubleshoot page in Windows 10 Settings
3] Rename and change the permission of MachineKeys
Open Windows Explorer and enter this path in the address bar.
C:\ProgramData\Microsoft\Crypto\RSA
Here C is the system drive.
In the RSA folder, you can find another subfolder called MachineKeys. You have to rename this folder. Use any other name as you want. For that, you might need administrator permission.
Therefore, create a subfolder in the RSA folder and name it as MachineKeys. Therefore, right-click on this folder, go to Properties and switch to Security tab. Then, select Everyone and click the Edit button. Therefore, make a tick in the Full control/Allow checkbox and click the Apply and OK button respectively.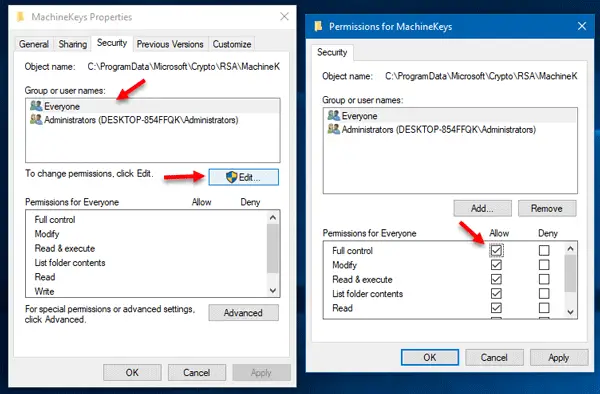 Therefore, if you have not performed the first solution on this list, you need to open Services and make sure those four services are running.
4] Check Group Policy Editor
There is an option in Group Policy Editor that lets you turn on or off peer-to-peer networking service on Windows computer. If that option is set as OFF, you might not use Homegroup on your computer. Therefore, open Group Policy Editor, at first. For that, press Win + R, type gpedit.msc and hit the Enter button. Accordingly, navigate to this path:
Computer Configuration > Administrative Templates > Network > Microsoft Peer-to-Peer Networking Services
On your right-hand side, you should find an option called Turn off Microsoft Peer-to-Peer Networking Services.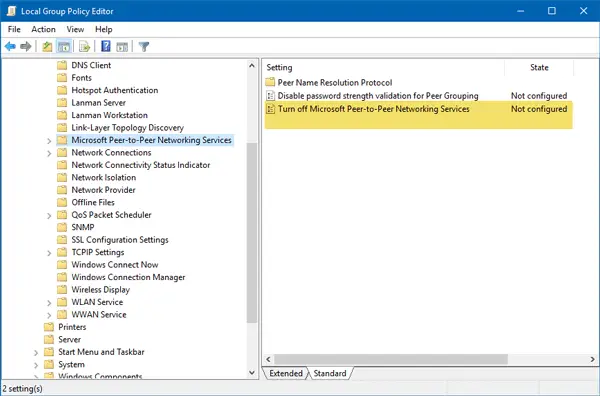 Double-click on it and select either Not Configured or Disabled. Do not select Enabled.
After that, check whether your problem has been resolved or not.