HomeGroup, a feature that was introduced with Windows 7, continued to assist users in sharing files, folders, libraries, devices, etc. on smaller networks till it was finally removed in Windows 10 v1803. Microsoft didn't state any specific reason justifying the removal of the feature, but their statement on the Microsoft support website makes it clear that the removal was intentional and in the belief that a substitute already exists.
The real issue is for users who were dependent on HomeGroups for they would neither be able to create or join existing HomeGroups nor leave the ones they are already a member of. HomeGroup will neither appear in the File Explorer nor the Control Panel.
We cannot troubleshoot existing HomeGroups through systems that have updated to v1803 since the Troubleshoot option at Settings > Update & Security > Troubleshoot has been removed as well.
The shared folders can be accessed from the File Explorer by typing the path \\homePC\SharedFolderName.
Shared printers could still be accessed from the Print dialogue box.
How to share Printers & Files even though HomeGroup has been removed in Windows 11/10
This becomes a serious issue for those who were heavily dependant on HomeGroups. Microsoft has mentioned the following solutions for those who wish to continue sharing their files and printers. Let us see how you can share printers & files in Windows 10 v1803 even though HomeGroup has been removed.
1] Sharing a network printer
Connect the primary PC to the printer and system to the network. Two ways to share the printer after that are as follows:
Share the printer using Settings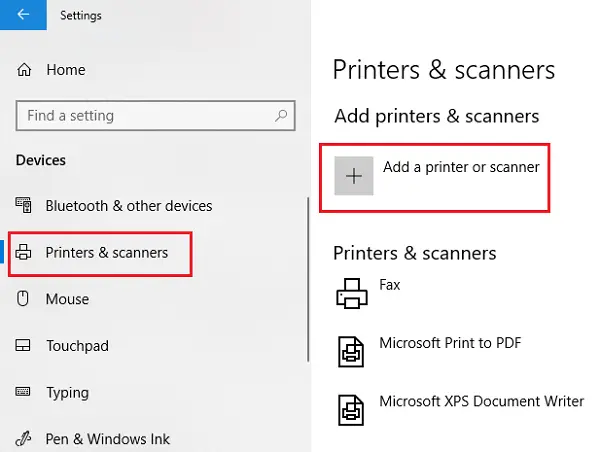 1] Click on the Start button then on the gear-like symbol to open the Settings app.
2] Go to Devices and then Printers and Scanners.
3] Check if your printer is listed there, or else add it.
4] Click on your printer and then select Manage. Select Printer Properties and then open the Sharing tab.
5] Click on Share this Printer and add or modify the Share name of the printer which is to be used while connecting to a secondary PC.
Share the printer using Control Panel
1] Type Control Panel in Search and find Control Panel. Open it.
2] Select Hardware and Sound and then View devices and printers.
3] Right-click and open Printer properties and hop on to the Sharing tab.
4] Click on Share the printer and edit the name and details as mentioned earlier.
In case you are adding the printer to a secondary PC, it won't be listed by default, so you could click on Add a printer and type the name of the printer.
2] Sharing files in File Explorer
Sharing files on Windows is simple.
1] Open File Explorer and navigate to the file you wish to share.
2] Click on the Share tab and then on Share. Choose the app with which you wish to share that file.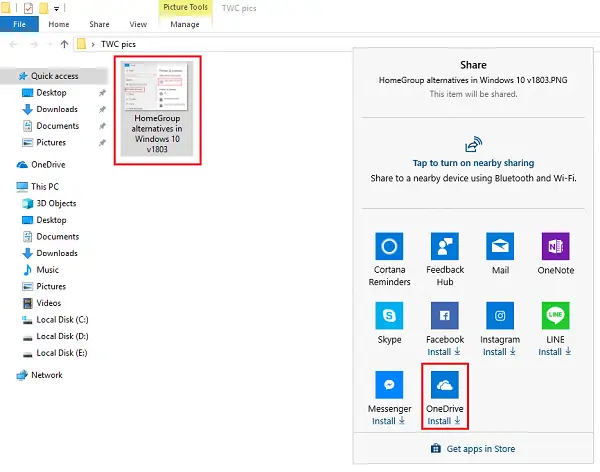 Since we are using it as a replacement for HomeGroup, users might prefer to share their files using OneDrive.
We hope you find this useful.