Most Windows 11/10 PCs these days have a wireless (Wi-Fi) network adapter. It is visible in the form of an icon. Whenever there are any wireless networks in range, Windows automatically detects it. For some unknown reason if your Windows can't find wireless devices connected to a network, here are a few troubleshooting steps you may try. This post can also help you if you see a – Windows doesn't have a network profile for this device message.
Windows can't find wireless devices connected to a network
First off, make sure the sharing feature is turned on by clicking on Turn sharing on or off, as the feature helps you connect devices or PCs on a network. You can join a HomeGroup to switch this feature on and use it for sharing pictures, music, videos, documents and printers with other users in HomeGroup.
Check if your computers wireless capability is turned off in Windows.
Ensure Bluetooth is On. Often, we forget to turn on the Bluetooth and bang our PC on the table in despair. To check if Bluetooth is turned on – Open Windows Settings by pointing mouse cursor to the top-right corner of the screen and clicking Search. In Windows 10 you will get this setting under Settings > Devices > Bluetooth & other devices.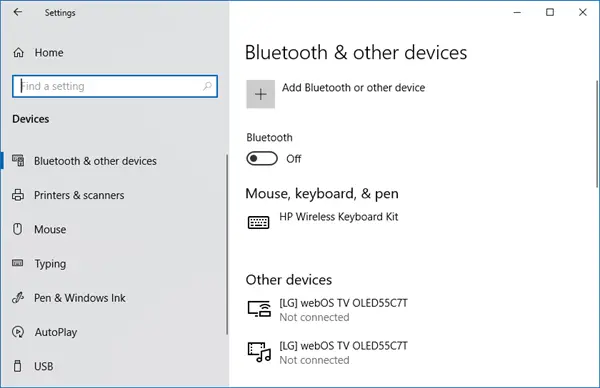 Then, follow the same procedure as for the 'Advanced Printer setup', i.e. enter Bluetooth in the search box, click Settings and then click 'Turn wireless communication on or off'. Immediately after that, under Wireless devices, click the Bluetooth control to turn it on.
Before you try to connect to a network device, such as a printer or another PC, make sure these devices are turned on. This is one of the most common mistakes we all do at times. So, be sure network devices are turned on.
If the device connected to the network is a printer, try using 'Advanced printer setup'. For this, enter the keyword 'Advanced Printer setup' in the search box of 'Search charms-bar'. Then, choose 'Settings' instead of apps and from the left-hand corner and select the option – Advanced Printer setup. Next, select a printer that you want to be listed or simply enter the name of the printer name or choose one of the other options. Click Next and follow the instructions.
If all is fine good. But if the problem persists, try using the Network and Internet Troubleshooter. It can fix some common problems. Else, open the HomeGroup troubleshooter. Type troubleshooting in the search box, click Settings, and select Troubleshooting. Click Network and Internet, and then tap or click HomeGroup. You might be asked for the administrator password or to confirm your choice.
You could also try the built-in Hardware and Devices troubleshooter and see if it helps.
Hope something helps.