AMD's graphics card is one of the best for Windows PCs. However, a few users have reported that they experienced the Windows cannot find AMD Software Installer error when updating or installing it. This is quite annoying and leaves some users stuck, but the good news is that we have this covered now. A larger percentage of Windows PCs and laptops have AMS drivers, which can even be installed externally. It is so annoying when you try to update or install the drivers and you get an error like this:
Windows cannot find C:\Program Files\AMD\CIM\Bin64\InstallManagerAPP.exe Make sure you typed the name correctly, and then try again.
AMD drivers are so important to PCs and their users. They are written to the hard drive, and the software allows seamless communication between your computer and the video card. If the drivers are damaged or missing, or if Windows cannot find the AMD software installer, your PC will not be able to communicate with its graphics, and it will not draw any pixels that you see on your laptop or PC screen.
Fix Windows cannot find AMD Software Installer error
The cause for Windows not finding the AMD software installer can be a range of issues, including permissions issues, an over-active antivirus software, a corrupted installer, etc.
Before applying the solutions in this article, ensure your OS is up-to-date and try to restart your PC. Having done that, now to fix the Windows cannot find AMD Software Installer error, follow these suggestions:
Tweak Controlled folder access settings
Temporarily disable security software
Reinstall Microsoft Visual C++ Redistributable
Reinstall the AMD drivers
Let us now look at these solutions in detail
1] Tweak Controlled folder access settings
Some users have resolved the error by turning off Controlled Folder Access in the security settings. However, we recommend not leaving the settings turned off permanently, as this can jeopardize your system's security. You can also use these steps if you are unable to update the AMD graphics card on your computer. To turn off the Controlled folder access, use the steps below:
Open the Windows Security app by searching it on the search box and then click Open.
Navigate to the Virus & threat protection option.
Just below the Virus & threat protection, select Manage settings.
Go ahead and click Manage Controlled folder access, toggle off the button.
2] Temporarily disable security software
If you use a third-party software, we recommend that you Temporarily disable security software and then try again and see if that helps.
3] Reinstall Microsoft Visual C++ Redistributable
A corrupted Microsoft Visual C++ Redistributable can cause this issue to occur. You can download the latest Microsoft Visual C++ Redistributable Packages from the Microsoft Download Center. Simply search for them using the search bar. To install all you may download and use Visual C++ Runtime Installer.
4] Reinstall the AMD drivers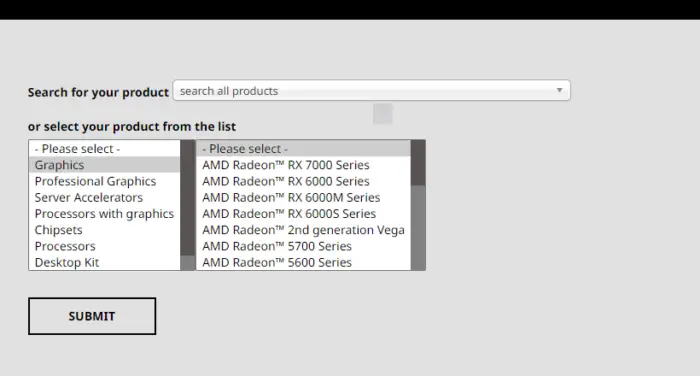 At times, once you download some files, they can easily get corrupted and cause Windows cannot find AMD Software Installer issues. The best way to fix such files is to re-download them from their official websites, this time, to a different location, and then right-click on it and select Run as administrator and see if that helps.
In our case, you need to get them from the official AMD website. The following is the procedure for reinstalling AMD drivers:
Go to the official website of AMD – Downloads and Support page.
Select the Drivers tab. There, you will a drop-down list
Select your preferred driver and click Submit.
Click Download and install the software from the .EXE files.
You may also use AMD Driver Autodetect to do this automatically.
TIP: AMD Cleanup Utility helps you remove AMD driver files completely
We hope these solutions resolve the issue on your PC. Let us know in the comment section.
Why does my PC say no AMD driver is installed?
The main reason why your PC says no AMD driver is installed is that it is damaged or outdated. You may receive an error stating that the AMD driver is not properly functioning or that no AMD graphic driver is installed. You can fix this by updating AMD drivers, as we discussed above. These errors often occur when one is playing games or when the AMD Radeon settings software is running. Uninstalling the AMD driver in safe mode has also worked for some users. If the AMD Radeon Software is missing, the possible reason is a corrupted graphics card driver.
Related: AMD Radeon software not opening in Windows 11
How do you fix the AMD installer Cannot continue error?
The common causes of the AMD installer cannot continue errors are missing critical Windows updates, corrupted system files or registry keys, or conflicts between the software and graphic driver. You can fix this error by;
Updating your Windows OS.
Fixing the conflicts between the graphic driver and the software. You can resolve this by using a cleaning utility.
Repair your system and registry files by scanning your system using SFC and DISM commands.
We hope this helps.