Microsoft has released and made available for download Windows 8.1 Enterprise Evaluation Version, in 32-bit as well as 64-bit ISO versions. This is an evaluation version of Windows 8.1 is meant IT professionals who want to check out Windows 8.1 Enterprise.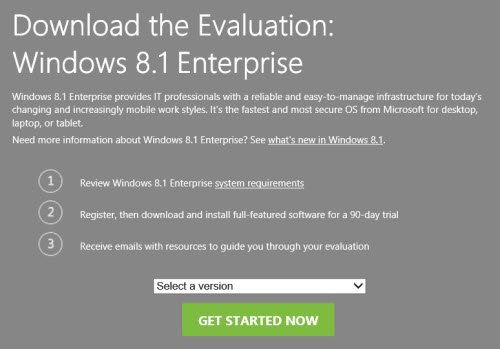 Windows 8.1 Enterprise Evaluation
Before installing this Windows 8.1 trial version, it is recommended that you back up your files and settings. Once you have installed it, you will be required to activate it before October 31, 2014. However, you will not need any product key to activate the evaluation version. Once you activate it, you will have 90 days to use the software.
If you fail to activate this evaluation after installation, or if your evaluation period expires, the desktop background will turn black, you will see a desktop notification indicating that the system is not genuine, and the PC will shut down every hour.
Once the evaluation period is over, it will not be possible to upgrade the evaluation to a licensed working version of Windows 8.1 Enterprise. You will have to go in for a fresh install and install all your programs de nova.
Windows 8.1 Enterprise System Requirements:
Windows 8.1 Enterprise works just fine on the same hardware required by Windows 8:
Processor: 1 gigahertz (GHz) or faster
RAM: 1 gigabyte (GB) (32-bit) or 2 GB (64-bit)
Hard disk space: 16 GB (32-bit) or 20 GB (64-bit)
Graphics card: Microsoft DirectX 9 graphics device with WDDM driver.
Windows 8.1 Enterprise includes many new features and is great for enterprise. The evaluation version is available in English, German, Spanish, French, Italian, Japanese, Korean, Portuguese, Russian and Chinese languages, and you can get the evaluation version from here and the ISO from here.