Whenever a new update is downloaded on your Windows 11/10 PC, the OS replaces the Restart and Shutdown button with "Update and Restart", and "Update and Shut down". This is probably the best practice so that the update is not missed. But at times users find that these buttons continue to display the same message even when you have performed those operations – ie either restarted or shut down your computer. This could happen if an update fails to install and so your PC continues to prompt you every time to Update and shutdown. So what can you in this case?
Update and Shutdown/Restart not working
After a Windows Update, if the Update and Shut down or Update and Restart buttons are not working and won't go away, even after shutting down or restarting, try the following suggestions:
Restart File Explorer
Run Windows Update Troubleshooter
Set the Power button to Shut down
Instantly Turn off without updating
Run Windows Module Installer
Enter Clean Boot State
Reset Windows Update.
let us see the procedure involved in detail.
1] Restart File Explorer
Restarting Windows File Explorer can fix a lot of things, especially when there is a problem with the user interface.
Right-click on an open spot on the right side of the Taskbar
Click on Task Manager
Scroll down to Windows Explorer
Right, click on Windows Explorer.
Click on Restart.
In case you killed it, then you hit the Win+R and hit Enter after typing explorer.exe in it.
2] Run Windows Update Troubleshooter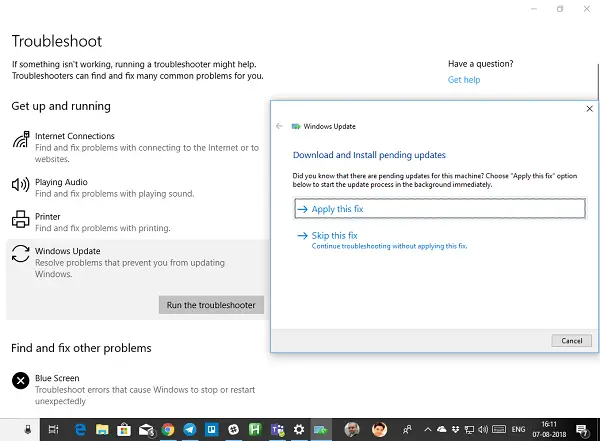 Windows 11/10 has tons of auto-repair services built-in which can fix small issues which used to get manually fixed. Here, you need to run the Windows Update troubleshooter to resolve this.
Open Windows 10 Settings > Update and Security > Troubleshoot > Click on Windows Update, and 'Run the troubleshooter'
Open Windows 11 Settings > System > Troubleshoot > Click on Windows Update, and 'Run the troubleshooter'
This will try detecting, and then fix common issues which can be resolved by Windows itself. It may take several minutes to complete the process, so be patient. In the end, if you have some update pending which wasn't realized by the system earlier, it will apply the fix by restarting the Windows Update service.
3] Set the Power button to Shut down
Change what the power button does. Open ControlPanel > Power Options and select Choose what the power buttons do from the left side. Set the Power button setting When I press the power button option to Shut down.
This should shut down the computer will out installing the updates. Of course, this is just a temporary measure.
4] Instantly Turn off without updating
If you want to turn off your PC without questions, type "shutdown -s -f -t 0" in the Run prompt, and hit Enter. Another thing you could try is press Ctrl+Alt+Del and choose Shutdown from the bottom right menu.
5] Run Windows Module Installer
The Windows Module Installer is a built-in Windows 10 service. It lets you fix the Windows updates which are stuck.
To use this, open a command prompt with admin privileges.
Type the following and hit Enter:
SC config trustedinstaller start=auto
Once successfully executed, you should see [SC] ChangeServiceConfig SUCCESS display within the Command Prompt console.

Exit the command prompt, and check if the buttons are back to normal.
6] Enter Clean Boot State
In case any third party service is causing trouble for Windows Update, you can perform a clean boot. You will need to disable all third-party applications and services which start during Windows 10 Boot and let only Microsoft services to run. Once in Clean Boot State use the Update and shut down button.
7] Reset Windows Update
Lastly, you can try resetting the Windows Update client using this official tool. It will not roll back nor will delete any downloaded updates from the PC. Instead, it will:
Configure the services and registry keys related to Windows Update for default settings.
Clean up files related to Windows Update, in addition to BITS related data.
If this is not comfortable for you, you can always manually reset the Windows Update Components.
Related read: How to shutdown Windows without installing any Updates.