Microsoft has released a Start Menu Troubleshooter for Windows 10 that will troubleshoot and fix your Windows 10 Start Menu problems & issues automatically. Windows 10 Start Menu not working was one of the issues plaguing several users of the new operating system, and it is, therefore, good that Microsoft has finally decided to address this issue.
Start Menu Troubleshooter for Windows 10
Once you have downloaded the Start Menu Troubleshooter from Microsoft, run it. You will see the following interface.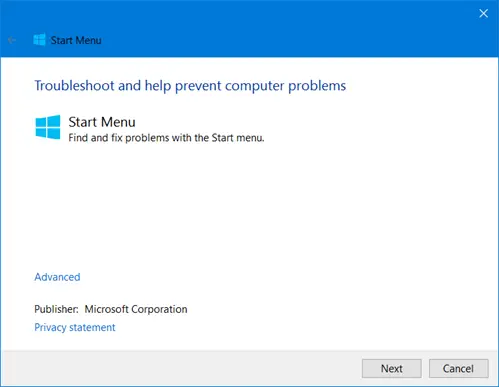 If you wish to see and then apply the fixes, click on Advanced and uncheck Apply repairs automatically.
Click Next.
The tool will scan your system and detect potential problems with your Start Menu. If they are found, they will be displayed, and you can then opt to fix them manually.
If no problems are found, you will receive a message Troubleshooting couldn't identify the problem.
You may then close the Troubleshooter or click on the View detailed information link. When you do this, you will see the areas where the tool has checked and the issues fixed if any.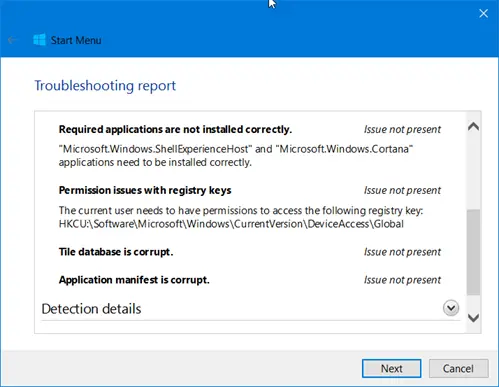 The troubleshooter checks for the following issues:
If Start Menu & Cortana applications are installed correctly
Registry key permission issues
Tile database corruption issues
Application manifest corruption issues.
If your Start Menu is giving problems, download the Start Menu Troubleshooter from Microsoft and let us know if it helped you solve your issue. [Update: The Start Menu Troubleshooter appears to have been taken down by Microsoft – but it is still available on Softpedia.
See this post on Windows 10 Start Menu not working to manually troubleshoot the issue.
This post will help you if you receive Microsoft.Windows.ShellExperienceHost and Microsoft.Windows.Cortana applications need to be installed correctly error after you run the Windows 10 Start Menu Troubleshooter.