The past few years Microsoft has been more transparent than ever. The Redmond giant had published a page which lists down all known issues, date when the issue was resolved, information on when they were resolved, and support time left for each version. Its an excellent resource for IT admins, and consumers who are interested in knowing such details.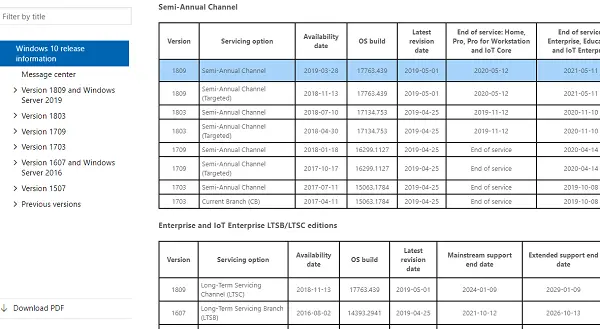 Windows 10 release information
The release page not only includes details on Windows 10 versions, but it also contains data about previous versions. The earlier versions include Windows 7, Windows 8.1, Windows Server 2008/2012 and so on.
Windows 10 version by servicing option
Message Center
List of Windows 10 versions/ Server versions

Known Issues
Resolved Issues
Microsoft has also listed how they improve and measure quality in Windows 10.
Windows 10 version by servicing option
Categorized into Semi-Annual and Enterprise and IoT Enterprise LTSB/LTSC editions, the home page offers availability date; OS build, latest revision date End of service for general consumer and IT. You can further check on Windows 10 Update history for more details.
Message Center
It acts as a dashboard of the current version. Here you can find recent messages from Microsoft, broad deployment information, future improvements, and list of currently supported versions. Posts from official Microsoft blogs are also available. It makes it a lot easier to track important news in one place. However, there is no RSS support for Message center.
List of Windows 10 versions/Server versions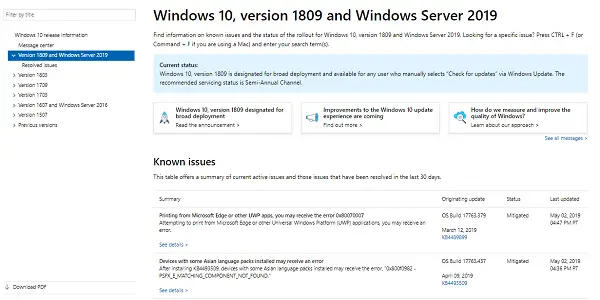 Next is a massive list of all Windows 10 versions, Windows Server versions, their known and resolved the issue. It makes it an excellent resource if you have a bug, and you would like to check if it has been already listed.  The issue details include:
Problem with complete detail
Affected platform
Workaround if available
Next step by Microsoft
Open date
Last updated.
Some of the resolved issues are linked to KB update. So if you find your problem, you can click on the link to download the KB update. Lastly. If you wish to send feedback or register your issue, its best to use Feedback HUB.
So what do you think of the this Windows 10 release information page? Do you think its enough?