If in Windows Defender Security Center in Windows 11/10, you see a Health Report Is Not Available message, then this post may interest you. The Health Report is meant to give you an idea about the health of your computer and point out if there are any issues with Windows Update, Storage capacity, Device Drivers or Battery life. If all is fine, you will see a green checkmark with a No issues text. If there are issues, you will be notified.
Health Report is not available in Windows 10/11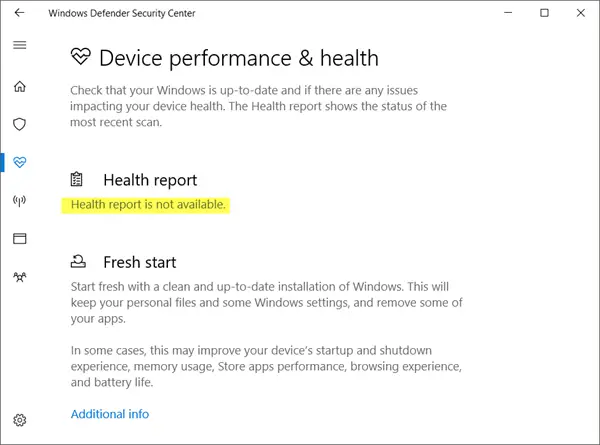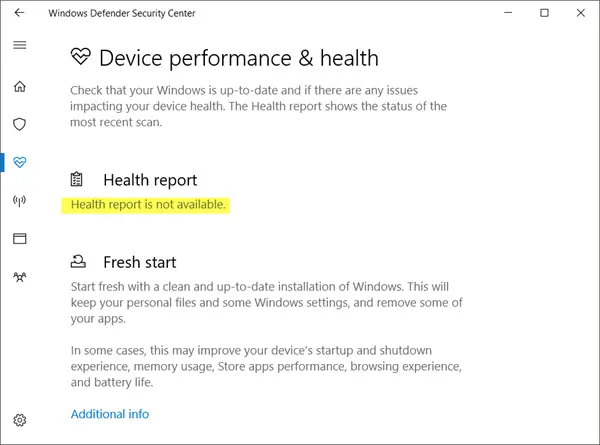 However, at times you may see a Health report is not available message! I have noticed that this message comes randomly sometimes, and if you check up after a couple of days, you will see that this error message disappears and you will be able to see the health status indicators, without having done anything.
Nevertheless, if you find that this message remains even after say a week, there are two things you could try.
1] Run Windows Update manually – and also run the Windows Defender Offline Scan
Open Settings > Update & Security > Windows Update and click on the Check for Updates button to run Windows Update manually.
In Windows 10 now, you will be able to access Windows Defender Offline Scan setting via Windows Defender Security Center. Once you open it, click on Virus and Threat Protection link and then on the blue Advanced scan link. Here you will see the option to run Windows Defender Offline scan.
2] Generate a system performance report manually
To generate a system health report using the Performance Monitor, from the WinX Menu open the Run box, type the following and hit Enter:
perfmon /report
Perfmon basically carries out the following checks:
Checks for attributes of the operating system
Disk Checks – Checks for disk status
Security Center Tests – For the state of Security Center related information.
User Account Control
Checks Windows Update state
Check System Services status
Hardware Device and Drivers and Windows Management Infrastructure supported devices.
Once the task has been completed, you will be presented with a list of findings.
Restart your computer and see if it has helped.
If things have worked out for you, will see the following:
Let us know if this worked for you.
See this post if you see a The screen brightness on this device is currently set at maximum, This can impact your device battery life, You can change this in Settings message in Windows Defender Security Center.