Once you configure a WiFi connection on your Windows 11/10 laptop or a desktop with a WiFi adapter, it is expected that it will automatically connect the next time. However, if you are noticing that Windows 11/10 does not connect to WiFi on startup, and you need to connect manually, then here is how to make it automatically connect.
Windows 11/10 does not connect to WiFi on startup
There can be multiple reasons for this behavior. So unless you have changed the WiFi connection credentials recently, here is how you can make Windows 11/10 connect to WiFi automatically:
Opt-in for Auto connection
Disable Power Saver option on Wifi Adapter
Adjust Wifi Adapter power management settings
Delete Wlansvc Files.
Make sure that the WiFi strength is enough for the laptop to detect and connect. If you have a weak signal, then you may need to get closer to the router.
1] Opt-in for Auto connection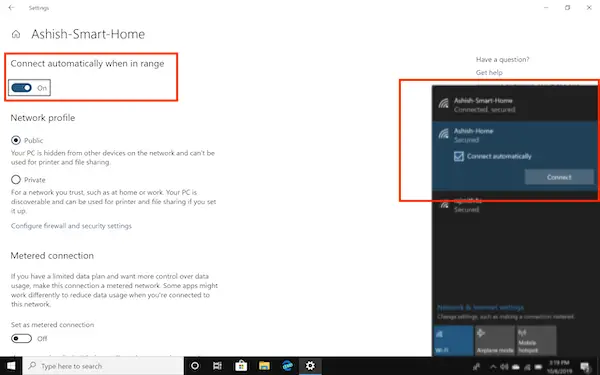 When you connect to a WiFi connection, there is a checkbox available. When you select it, it will make sure to automatically connect to the wifi connection next time it finds it. You may have forgotten to check the option.
Click on the Wifi Connection or Internet connection icon in the system tray.
It will open the list of networks. Connect to the one you want, and then select it.
Click on the Properties link to open Network Properties
In the network profile screen, toggle the option which says the Connect automatically when in range.
Next time you start your computer, and it will automatically connect.
2] Disable Power Saver option on Wifi Adapter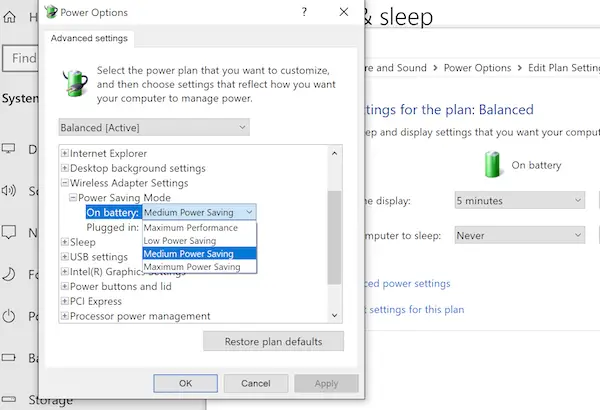 When using a laptop, Battery Power Saver option on Wifi Adapter can turn off Wifi when not in use or sleep mode.  Here is how to change it
Double click on Battery Icon in System tray. Then click on the Battery Settings link.
It will open the Battery section. Next click on Power and sleep settings
In the Power and sleep settings, locate Additional power settings link in the right part. Click to open Power Options.
Then for any selected plan, click on Change plan settings > Change advanced Power settings. Click to open.
In the Power Options Advanced settings window, find Wireless Adapter settings
Expand, and you will have options; On Battery and Plugged in.
The default is Medium Power Saving. You can change it to Maximum Performance or Low Power Saving. The same, you can apply it for Plugged in the state.
Done that, the Wifi should automatically connect to the existing network.
3] Adjust Wifi Adapter power management settings
Use WIN + X + M to open the Device Manager
Expand the Network adapters list, and right-click on your installed network adapter and select Properties.
Under Power management, uncheck the box which says allow the computer to turn off this device to save power.
If at all, the reason is power management, then it will make sure that the OS doesn't stop any Wifi connection. However, it usually happens when in low battery.
4] Delete Wlansvc Files
WLANSVC or WLAN Auto Config Service helps computers to discover a wireless network, and connect to it. If the files where it stores existing networks are corrupt, then it can be a problem. Here is how you can refresh it:
Type services.msc in the Run prompt and hit Enter.
In the Services snap-in, locate WLAN AutoConfig.
Right-click, and click on stop to stop the service.
Using File Explorer navigate to C:\ProgramData\Microsoft\Wlansvc\Profiles\Interfaces
Delete all the folders inside it.
Restart the WLAN AutoConfig service, and then reconnect to networks again.
There are a few additional tips I would suggest. You can try to update or reinstall network drivers, run Windows Network Troubleshooter, or remove and add adapter again through the device manager.
We hope these tips were useful, and you were able to understand them clearly.