Other than its many utilities, a second monitor could be very helpful for work. However, in some situations, despite the second monitor being connected to the system, Windows is unable to detect it and sens a message like – Windows 10 cannot detect the second monitor or Didn't detect another display. While the reasons could be many, we could narrow it down to a few. If it's with the software, it could probably be traced to the drivers.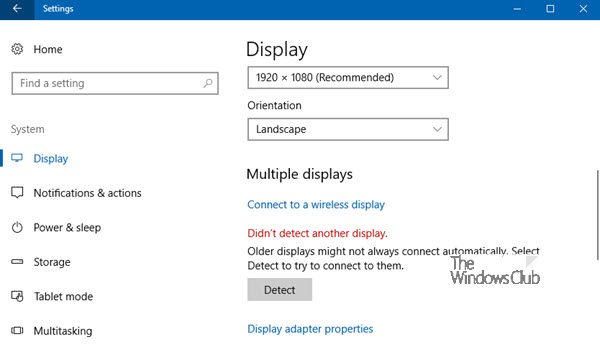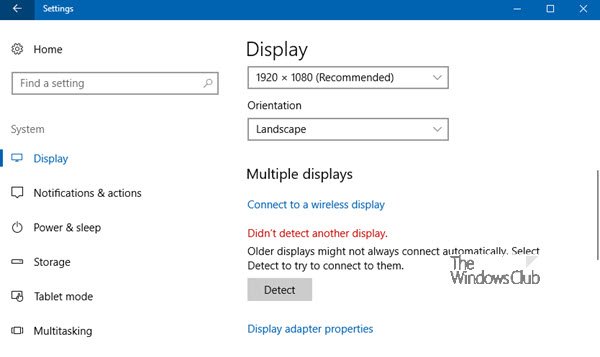 Windows 10 cannot detect the second monitor
Before you begin, make sure that your Windows 10 has all the latest Windows Updates installed, your second monitor hardware is working, and that you have set up the dual monitors properly.
1] Update Driver software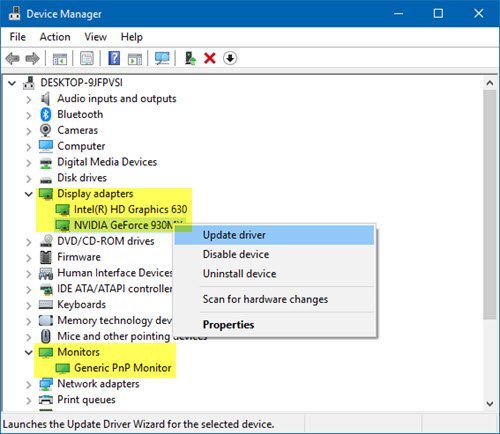 More often than not, the inability of Windows to find the second monitor has to do with the video card. It can't detect the second display because the video card or graphics card does not have the latest drivers installed. So you need to update the drivers for Display adapters and Monitors … maybe you need to update or reinstall your NVIDIA driver. So update the device drivers and see.
If updating the drivers doesn't work, you can re-install them:
Go to Windows key + X key and then, choose Device Manager. 
Find the concerned driver in the Device Manager Window. If you see a yellow exclamation mark against it, right-click on it and select Roll back to rollback the driver.
If that option is not available, right-click on it and select Uninstall. Restart the system.
Open Devices Manager again and select Scan for hardware changes to install the driver.
2] Manually detect Monitor settings
If your operating system cannot detect the other monitor, right-click on Start, Select Run, and type desk.cpl in the Run box and hit Enter to open the Display Settings. Usually, the second monitor should be detected automatically, but if not, you can try detecting it manually.
Click on the Start button and then on the gear like a symbol to open the Settings app.
Go to System and in the Display tab, under the Multiple Displays column, click on "Detect." This button helps the OS detect other monitors or displays, especially if they are older models. You can also connect to a wireless display here.
Also, make sure that the bar directly below is set to Extend these displays.
3] Hardware troubleshooting
Try changing the HDMI cable connecting the second monitor. If it works, we know the previous cable was faulty.
Try using the second monitor with a different system. It would help isolate whether the issue is with the monitor or the primary system.
Run the Hardware & Devices Troubleshooter and see.
Let us know if you have any other ideas.