If you encounter the Windows 11/10 activation error 0xc0000022, read on. This guide will look at the possible solution(s) to this Windows Activation error that can help you remediate this error 0xC0000022 – STATUS_ACCESS_DENIED.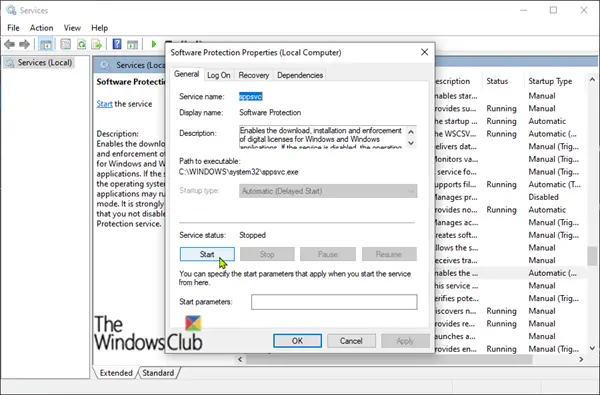 Fix 0xc0000022 Windows Activation error
Before you proceed any further, run the Windows Activation Troubleshooter first. Also, verify that the product key you're trying to use for the activation is genuine and the correct product key for the edition of Windows 11/10 you're trying to activate.
After you have made certain that it's not a case of a non-genuine or incorrect key but are still faced with this activation error, then it's likely the culprit – Software Protection Service is stopped or damaged. In which case, you'll first need to start this Service. Here's how:
Press Windows key + R. In the Run dialog box, type services.msc and hit Enter.
In the Services window, locate the Software Protection Service.
Double-click to edit its Properties.
Now click the Start button to start the service.
Click Apply > OK.
After you have started the service, you can try the activation again and see if the error persists.
If you try to start the Software Protection service and it fails to start with an error, then it's safe to assume it is damaged or corrupted. You'll need to run an SFC/DISM scan. To attempt a repair, do the following:
Copy and paste the command below into a Notepad.
@echo off
date /t & time /t
echo Dism /Online /Cleanup-Image /StartComponentCleanup
Dism /Online /Cleanup-Image /StartComponentCleanup
echo ...
date /t & time /t
echo Dism /Online /Cleanup-Image /RestoreHealth
Dism /Online /Cleanup-Image /RestoreHealth
echo ...
date /t & time /t
echo SFC /scannow
SFC /scannow
date /t & time /t
pause
Save the file with a name and append the .bat file extension. For e.g., SFC-DISM_scan.bat
Repeatedly run the batch file with admin privilege until it reports no errors.
After you have determined there are no errors within the Windows system files, try to start the Software Protection service again, as described above. If the service starts successfully, you can then try activation again.
But if the Software Protection Service fails to start again – and since SFC/DISM scan has verified the files are fine, you'll need to rebuild your current Windows 10 install image with an offline image – this requires you to boot into setup from a USB/DVD and select Repair > Advanced Options > Command Prompt. Refer to Solution 2 in our linked guide for the procedure.
If the image rebuild completes successfully and this activation error isn't resolved – you'll have to contact Microsoft Support.
Hope this helps!
Can I still use my PC if Windows is not activated?
Yes, you can still use your PC if Windows is not activated. However, if Windows is not activated, you may not be able to access certain features and updates, and you may see a message on your desktop indicating that your copy of Windows is not genuine. Additionally, you may be unable to personalize your desktop or change your background. It is always best to activate your copy of Windows to ensure that you have access to all available features and updates.
How do I bypass Windows Activation?
It is generally not recommended to bypass the activation process for Windows. Activation is designed to help protect software creators' intellectual property rights and ensure that users have a legitimate and licensed copy of the software. Bypassing the activation process may also put your computer at risk, as it can open the door to malware and other security threats. If you are having issues activating Windows, it is best to contact Microsoft customer support for assistance.