Windows 10 has always been hard on updates from day one. Believe me or not, users are always looking forward to making this setting manual and have more control over the updates. Although updates are essential for proper functioning and security patches, there might be other reasons you want to disable them. We have already covered how to turn off Windows Update in Windows 10 manually – but in this post, we are not sharing any hack but a simple little tool called Win Update Stop. This tool can stop automatic updates with a click of a button.
NoVirusThanks Win Update Stop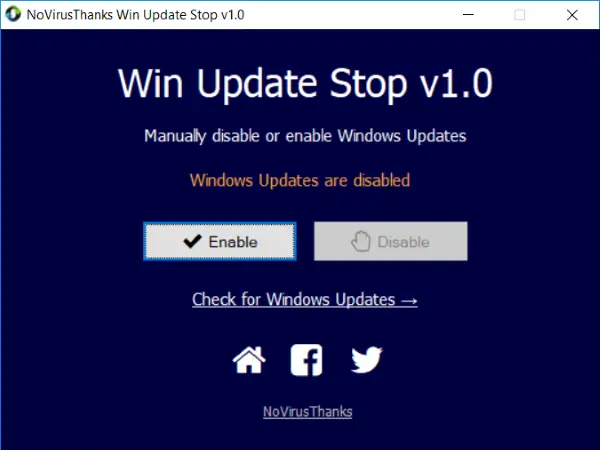 NoVirusThanks is well known for bringing useful utilities for Windows users. Win Update Stop is no different. It offers an easy way out in disabling updates on any Windows. You need not go to settings or registry and do that manually. Just a click of a button and the updates will be permanently stopped on your computer. And you can turn them on whenever you feel like.
Not just Windows 10, Win Update Stop supports all versions of Windows including Windows 8 and Windows 7. So on whatever version you are, you can stop all sorts of updates using this tool.
Win Update Stop comes with a minimalistic UI. It just displays the status of updates followed by two buttons to enable and disable the updates. There is also an option that reads 'Check for Windows Updates'. Clicking this option will take you to the 'Updates' section in Settings where you can manually check for any available updates.
To disable the updates, simply click on the 'Disable' button and you are done. To verify it, you can go to Settings and then to Update and Security. You will be greeted by an error saying that Windows was not able to download the updates which are an indication that the tool worked fine on your computer.
Win Update Stop is undoubtedly a time saver and a great handy utility. While we do not recommend disabling Windows Updates, if you wish to do it, you may go here to download NoVirusThanks Win Update Stop.
PS: There are more free tools to block Windows 10 Updates listed here.