Windows 11 and Windows 10 are well-loved and adopted by the users with their new features, but the one thing which still bugs the users is the sneaky Windows updates and many users are looking for a way to Block or Turn off Automatic Windows Updates. Windows 11/10 continues with the automated updates by default. You won't even notice it's happening until you turn off or restart your machine. However, there are certain tools that let you control your machine and the updates better. GRC InControl is one of such tools we will learn about today.
GRC InControl will let you install only Security Updates

InControl is a tool that will let you install only Security Updates and block all Non-security Updates. In short, your Windows version will remain where it is. No new Non-security Updates, Feature Updates, or Version Updates will be downloaded or installed. If you are on Windows 10, it will let you block Windows 11 Upgrade offer too!
InControl from GRC is a tool that helps you manage Windows 10/11 easily and control its updating and upgrading. It is a one-button utility that gives you control over all non-security updates on your Windows 10 and Windows 11 systems. It is a free and simple utility that requires no tech-knowhow.
Simply download the tool, launch it and click on Take Control. It gives you control over the automatic updating and upgrading system on your Windows PC and targets a specific major version and feature update release. By default, it uses the current release, but you can edit it to whatever version you want.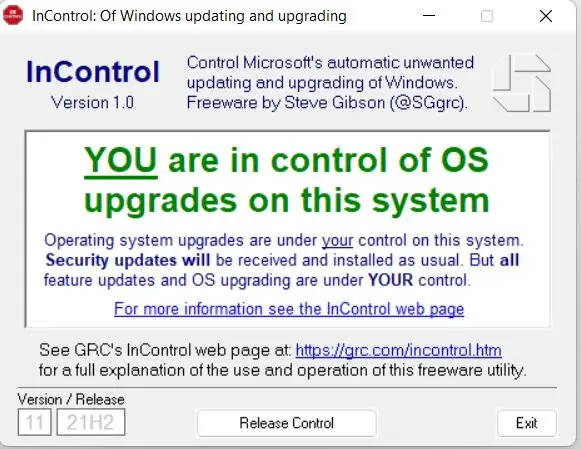 When you launch the tool, it shows the version/release you are on. It greys out as you click on the button 'Take Control'. Windows will then remain on its current version and will install only the monthly security updates until you click on the Release Control button.
After you release the control, you can again change the next version and release, for example, you can change Version 11 21H1 to 21H2 and click on the button Take Control and the tool will target the 21H2 feature release and will offer the installation once it is available. The system will remain there if you don't release the control.  And if you do nothing else, your system will remain there until you release control.
Please note that this tool will hold your Windows right where it is, even after the current version goes out of support. You will however get a notification that the current version requires an update but your system will not be updated until you release the control. Click on the Take Control button again and the default values for Version and Release will get restored.
It's a pretty simple tool and that is all about it. It is a very simple and lightweight tool that doesn't even require an installation on your PC. Download and click on the .exe file to run in on your PC. You can download the tool at GRC.com.
Thank you for the tip Sean Michael McCormack.
Similar post that may interest you: Free Windows Update Blocker tools.