When creating a meeting in Outlook, if it always creates as Teams meeting, and that's not what you want, then this post will help you resolve the problem. After Microsoft Teams become popular, and now that it is also used in corporates, it has become a habit for users to do that. However, it's more than that, and it's because of the default setting that some of you may have been following. Let's figure out how you can fix the problem.
Why are Outlook meetings always created as Teams meetings?
The behavior is because of two options included in the settings:
Add online meeting to all meetings
Don't Host Online option
Because of them, any meeting you create will become a Teams meeting, and since most of us are used to quickly clicking and getting things done, we miss out on the options. To fix you can disable these options as follows.
1] Uncheck Add online meeting to all meetings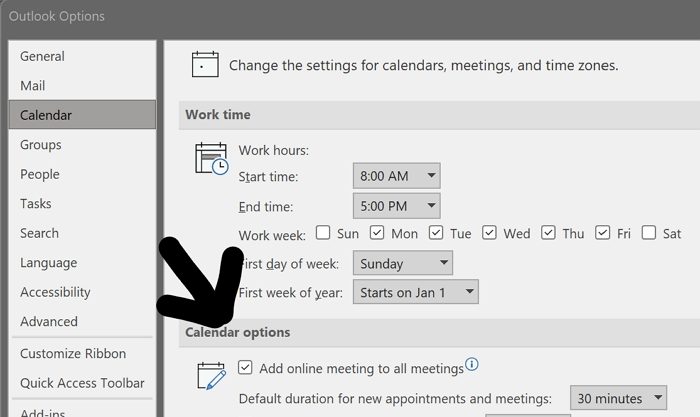 Open Outlook, and click on File > Options
Click on Calendar options, and then locate the text Add online meeting to all meetings.
Please uncheck the box next to it, and save the option.
Once done, the meeting will not default to Online or Teams meeting unless you change the options during meeting creation.
2] Don't Host Online option
Click on the Don't Host Online (Big Red Cross) option during meeting creation. It will ensure your current meeting doesn't convert to Teams meeting. If you switch between regular and Teams meeting often, it is best to use this option instead of disabling it globally.
Conclusion
Every product has options that can be disabled from the settings. If you are new to Outlook, we suggest looking at these options occasionally. When a new software, e.g., Microsoft Teams, is added, it adds them into the product settings.
I hope the post was easy to follow and you were able to fix the problem where the meetings were getting converted into Teams meetings instead of standard Outlook meetings.
Why is the Teams meeting option not showing in Outlook?
You need to check if the Teams addon is missing in Outlook. You can check it by going to File > Options > Add-ins and see if the addon is there or not. If it's not there, click on the Go button next to Com Add-ins and then check the Teams add-in and install it. If it is disabled, click on the dropdown next to Manage and select Disabled items. Then click on the Go button, and enable the Teams add-in.
How do I reply to a Teams meeting invite in Outlook?
Select the message that has the Teams Meeting invite. Then on the Home tab, in the Respond group, select Meeting. You can then reply to the invite using Outlook.
Can you join Microsoft Teams without the app?
Yes, you can do that. If the Teams app is not installed on your PC, it will open on a web page. During the process, it will prompt if you want to install the app, or you can continue to join using the web.