WhatsApp is one of the most popular free messaging services and has already being run by more than a billion users worldwide. While there is already a web version of WhatsApp available, for Edge as well as other browsers, the company has recently launched a desktop app too. The new WhatsApp desktop app is almost similar to what we know as WhatsApp Web.
It is probably the most used messenger apps available today, and for several good reasons. The app has always been exclusive to mobile, not counting the web version that can be used through any web browser. But that has changed, the app can now be downloaded to the Windows desktop and from what we have come to learn from our extensive use, WhatsApp on the desktop works great. When it comes down to sending and receiving messages, there's not much difference when compared to WhosDown or other third-party services.
Still, what's important here is the fact that we no longer have to use third-party apps because it is very much possible for developers to collect data without the user's knowledge, and as such, we'd rather put our trust in the 1st party developers.
To use the all-new app from WhatsApp, you first need to download and install it on your Windows 11/10 PC. It is a very simple app and required no technical expertise to install.
UPDATES:
Whatsapp app is now also available in the Microsoft Store as a native UWP app.
You should know that the latest versions (v2.2208.14 and later) now no longer require you to be connected via your phone.
WhatsApp Desktop App for Windows PC
Go to the official website of WhatsApp and download the app. Make sure you download the app compatible with your PC. The desktop app is available for both Windows and Mac users.  It will take a few minutes to land on your PC depending on your internet connection speed.
Run the setup and install it on your PC. To run the WhatsApp desktop app, you first need to scan the QR code using your Smartphone.
When the installation is complete, users should see the regular option to connect their smartphones to get everything up and running. Follow the instructions on-screen for your respective platform to scan the QR code in order to use WhatsApp for Windows PC. Open WhatsApp on your phone > Menu > select WhatsApp web. Take your phone to your PC screen and scan the QR code to connect.
Once in, it should be easy to get around, but we need to talk about the menu bar for a little bit. This option in its current form is not found in third-party programs. From the menu bar, users can create a new chat, new group, and even archive entire chats. Furthermore, should this not be an issue, users can choose whether or not to get beta updates to be on the cutting edge of WhatsApp technology.
Read: Is WhatsApp safe?
After the QR code is scanned, you will be logged into your WhatsApp desktop app. It is just like the app on your Smartphone with very similar features, interface, and look. You can send messages, pictures, videos, create groups, change your profile photo or status, and do anything you do on your Smartphone.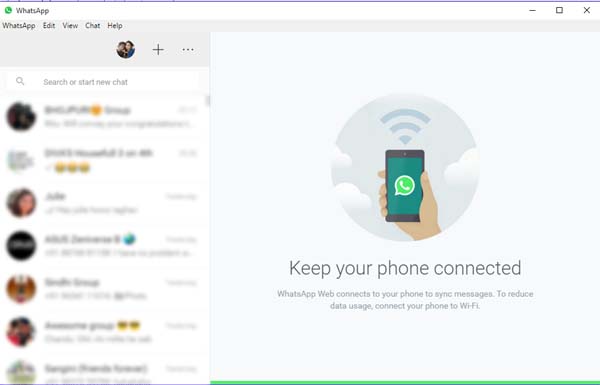 1] Change Profile Photo and Status on WhatsApp Desktop App
You can change your profile photo and status in three ways. Either you click on your profile photo and or click on tab "WhatsApp" and select "Profile and Status" or you can go through the Menu (the three dots). 

Click on your picture to change or remove it and click on the Pencil icon to update your status. If you want to click a new photo with your webcam and set it as your profile photo, select Take Photo from the drop-down menu or select Upload Photo, if you want to upload a picture from your PC. You can also just View or Remove the photo.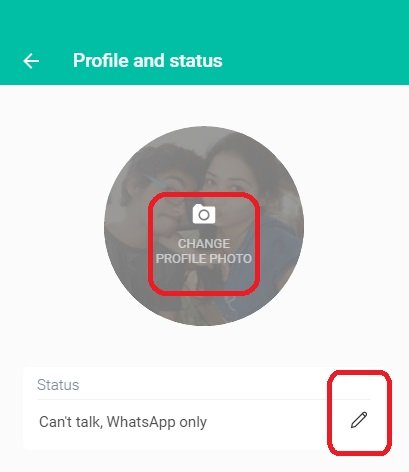 You can also use the shortcut Ctrl+P to open profile and status.
Read: How to schedule WhatsApp messages on Desktop.
2] Start a new Chat/Make a new group
As we mentioned earlier, the WhatsApp desktop app is the same as the app in your smartphone; you can easily start a new chat or create a new group over here. Click on the "WhatsApp" tab and select New Chat/ New Group or Click on the Menu and select New Group. You can also click on the '+' sign to start a new chat.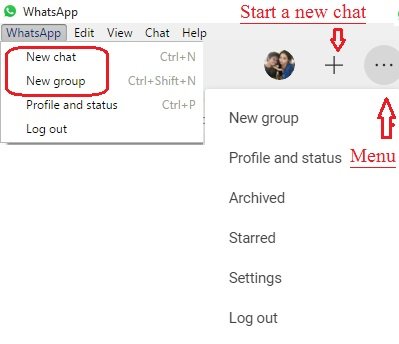 You can also use shortcut Ctrl+N for a new chat.
Read: WhatsApp Desktop app crashing or freezing.
3] WhatsApp Desktop App Settings
To open and adjust the settings on your desktop app, click on the three dots (Menu) and select Settings. You can change your notifications settings, manage the blocked contacts and check out WhatsApp help here.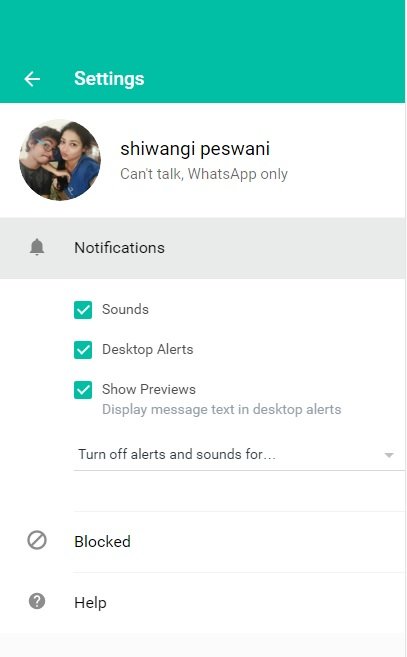 4] Chat Settings in WhatsApp Desktop App
Just like many other features, the chat settings in this app are pretty the same as in your Smartphone. Open any chat box and click on the three dots (menu) on the top right corner. You can select messages, check the contact info, delete messages or mute the chat from here. Please note that in your Smartphone you can search for a particular chat in your chatbox, whereas the desktop app is missing this feature. Also, you cannot change the wallpaper or email your chat from the desktop app, but your Smartphone app has this feature.
5] Send Files on WhatsApp
While the desktop and Smartphone apps are quite similar, there are still some features that are available in the Smartphone app but not in the desktop app. In the desktop app, you can send an image, a video or a document, whereas in your Smartphone you can send a document, image, video, audio, location, and contact.
Check out the WhatsApp chat windows in a Smartphone below. You can send different types of files to your contacts.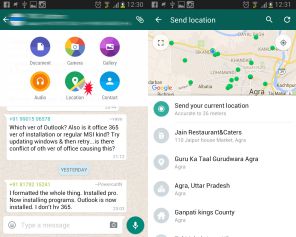 6] Archive Chat in your WhatsApp Desktop App
This is something I have never done in my Smartphone app. In your desktop app, you can archive any of your chats. Just open the chat windows and click on Chat tab in the top left corner. Select Archive and that's it, your entire chat is archived. You can view the archived chats from Menu. 
7] Star Messages on WhatsApp
While the desktop app lets you view the starred messages, there is no option to Star a message here. In your Smartphone app, you just have to select the message you want to star and click on the Star icon in the ribbon. There is no such icon in the desktop version.  Check out the Smartphone screenshot below. To view the starred messages on your desktop app, click on Menu (three dots) and select Starred.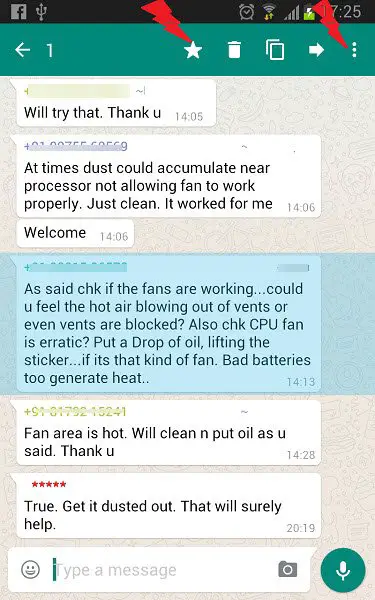 8] Group Chat Settings in WhatsApp Desktop App
You can create a new group from the Menu. To adjust the group settings in your desktop app, go to the group and right-click. You can check the group info, select messages, mute the group, clear messages or exit the group from here. You can also change your group icon or group status from the desktop app.
What is missing here is the option to see the group media at one place. Here you have to scroll up the entire chat window to see the group media items, like the pictures and videos shared in the group, while the Smartphone app has a feature where we can see the group media at one place. 
9] Log out from WhatsApp Desktop App
You can log out either from the WhatsApp main tab or via Menu. If you want to log in again, you have to scan your WhatsApp code again using the WhatsApp Web on your Smartphone.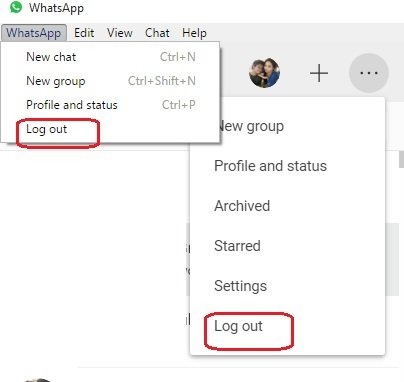 Some important shortcuts for WhatsApp Desktop App-
Cut — Ctrl+X
Copy — Ctrl+C
Paste — Ctrl+V
Undo — Ctrl+Z
Redo — Ctrl+Shift+Z
Select all — Ctrl+A
Search — Ctrl+F
Zoom in — Ctrl+Shift+=
Zoom out — Ctrl+-
Actual size — Ctrl+0 Next chat– Ctrl+Shift+]
Delete chat — Ctrl+Backspace
Archive chat — Ctrl+E
Mute — Ctrl+Shift+M
Mark as unread — Ctrl+Shift+U
Close — Alt+F4
Previous chat — Ctrl+Shift+[
We have tried covering every important feature of the WhatsApp desktop app but do let us know via comments if we are missing something.
This post will help you if WhatsApp Desktop app not working or connecting.
Take a look at this WhatsApp tips & tricks post too.