Trying out Xbox games before they are released to the public is something that is possible right now in the form of Xbox Game Preview. This is a feature that only some developers support, so don't go in expecting a ton of triple-A titles in the mix. Still, the big question one needs an answer to is what is Xbox Game Preview all about, and the games that support this platform. We will also discuss where to find Xbox Game Preview for all the folks who are interested in taking advantage of what it has to offer.
What is Xbox Game Preview?
Xbox Game Preview is basically a paid demo service. It is a service that makes it possible for gamers to play titles that are a work in progress. The idea is for the player to give feedback to the game developers and to help with the overall release.
Because of the above reasons, you will find that many games from the Xbox Game Preview program tend to be riddled with bugs, glitches, errors, and more. However, it is the duty of the user to report such bugs to the developers, especially if they find the game fun to play.
Additionally, if you are the type of person who likes to support small developers, then Xbox Game Preview is one of the best places to start. You can play a large number of titles and you don't have to report bugs if you're not interested in any particular game overall.
Now, we should note that Xbox Game Preview is an unpredictable service because developers can cut support for games at any time. Some games may never get updated or get an official release, and this is especially bad for games on the platform that requires an upfront payment to play since there is no refund scheme.
How to find Xbox Game Preview
Those who are interested in the platform can easily find it to begin playing some of the best, and worse games known to man. To find it, you have to go through your Xbox Series S|X console, or from the official Microsoft website.
On your Xbox Series S|X, press the Xbox button on the controller to launch the Guide menu.
After that, navigate to the Store tab and select it.
You should now be looking at the main menu of the store.
From this menu, then, highlight Games, then select Games Home.
Various categories for gaming should now be visible.
Scroll down until you've come across Game Preview.
Select the Show All option to see all the available games the service has to offer.
We should note that several titles located on Xbox Game Preview are tied directly to Xbox Game Pass and other services. So, in order to play them, you'll need a subscription for Game Pass and whatever else.
What types of games can you play in Xbox Preview?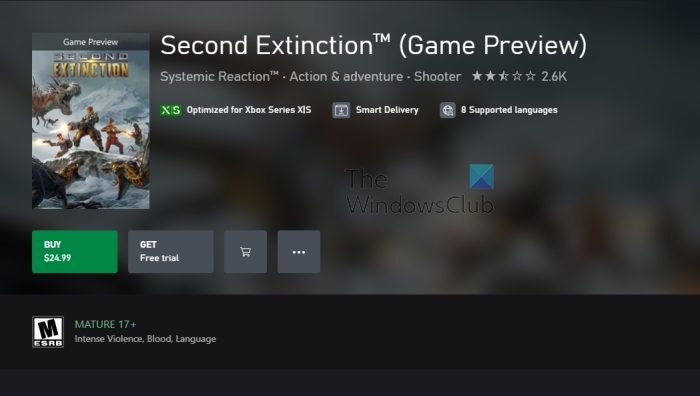 Here's the thing, the Xbox Game Preview service is primarily targeted at small developers. Make no mistake, well-known developers can make use of the program if they so wish, but they have little incentive to.
So as it stands, gamers will mostly find unknown games on the list of available titles, and that's not a bad thing because quite a few are actually worth the effort. Not to mention, these smaller games tend to be more unique than what we're used to from top-tier developers.
There are several games available right now via the Xbox Game Preview service, but the majority are from small-team developers who do not have a lot of funding.
READ: Fix Xbox Insider Hub not working on Windows PC
Is Xbox Game Preview the full game?
Titles from the Xbox Game Preview service can be played like regular games, but they might be lacking content, need extra balancing, or even contain a host of bugs. In most cases, all issues are fixed via several updates over a period of time.