Most people make their shift from WhatsApp to Telegram due to privacy concerns. Unlike WhatsApp, which has shown little respect for users' privacy, Telegram has been a proponent of anonymity and privacy. When you move to Telegram from WhatsApp, however, you also get the power of Telegram channels.
Telegram Channels are one of the ways how Telegram expands its horizons. And if you want to keep track of updates on a specific topic, you can discover and follow thousands of channels on Telegram. You need to know how to get the most out of Telegram channels, though.
What Is Telegram Channel?
Telegram channels are a form of one-way communication that Telegram had added to the platform back in 2015. As an admin, you can use a channel to send information to a huge number of users. As a user, you can use channels to receive updates on a topic of interest. This interest could be anything under the sun.
You'll be able to find Telegram channels that belong to categories like tech, business, entertainment, news, current affairs, celebrities, etc. Telegram allows channels to have an unlimited amount of subscribers, which is great news for big brands. For instance, the Telegram channel of Bloomberg has 83,500+ subscribers.
Are Telegram Channels Safe?
Like any other communication platform, Telegram channels are used for various needs. While the platform is safe and encrypted, the information you receive/download/install from these channels may vary. Because of this reason, you should join verified/trusted Telegram channels only.
How to Create a Telegram Channel?
As you can guess, Telegram channels are a great way to spread information. Therefore, if you have a brand or idea that can attract members, you should think about starting a Telegram channel. Like most things you find on Telegram, creating a Telegram is also easy.
To do this, you can follow the steps we have described below.
1. Open Telegram and tap on the 'New Message' icon that you can find on the right-bottom side.
2. From the next screen, choose the option named 'New Channel' from the top portion.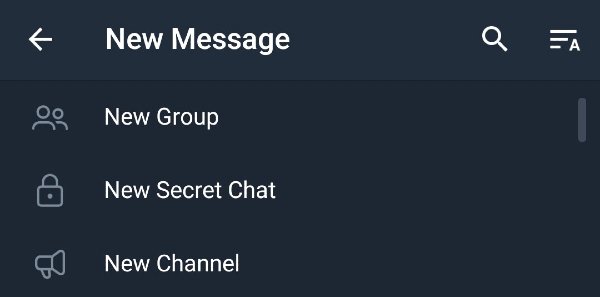 3. Telegram will now show you an introduction to channels. Tap on the Create Channel button to move forward.
4. You will be asked to provide the name and description of the channel on the next page. Provide both and tap on the Tick button on the top-right corner.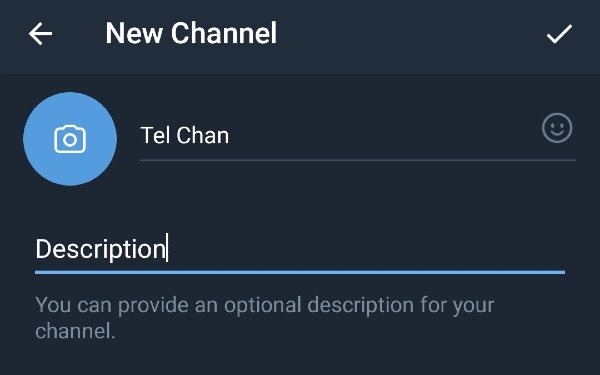 5. On this page, you can decide whether your Telegram channel is private or public. Public channels are free to join and come with a permalink. On the other hand, private Telegram channels can be joined through an invite link.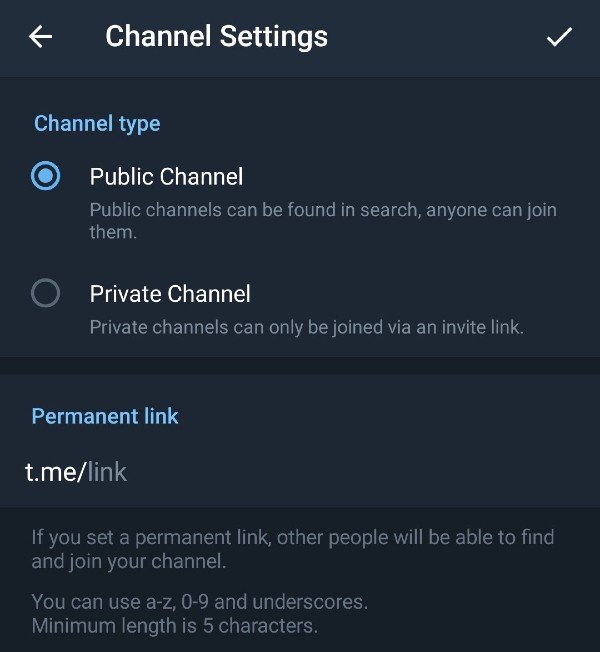 6. Tap on the Tick button, and you can choose the people you want to add to the channel. You can skip this process and add people later. This would be convenient if you have created the Telegram channel for business.
That's it. You will now see a Telegram channel that you can use for seamless communication. Please keep in mind that Telegram doesn't allow you to share everything through channels. For instance, channels that are used to spread copyright-protected content and abusive content wouldn't be entertained.
If you wish you can join TheWindowsClub Channel on Telegram for some occasional weekly Windows 10 tips.
Things You Should Know about Telegram Channels
Here are a few facts you should keep in mind while using and maintaining a Telegram channel.
You can use Telegram channels to share a wide variety of content, such as text, images, videos, files, polls, and other interactive elements.
Telegram doesn't limit the size of the files you can share on a channel. Even if the file is several GBs large, channels can handle it.
Rich messaging features such as pinned messages, message scheduling, hashtags, easy-to-manage admin roles are available on Telegram channels.
As mentioned earlier, a Telegram channel could have as many subscribers as it wants. Even when the numbers rise to thousands or millions, you don't have to worry.
Private Telegram channels offer better security compared to public channels. This is because people cannot join unless you invite them.
You can also check out options like Discussion groups, admin signatures, quick sharing, and auto-play smart media.
You can use Telegram channels to distribute podcasts as well. Thanks to the audio playback features on the platform, your audience will have a smooth experience.
Apart from these, Telegram channels are completely free to use. Telegram had recently announced its plans to monetize big channels, but we are talking about the huge ones. Therefore, unless your Telegram channel has millions of subscribers, you don't have to worry about ads. Considering all these, if you are looking for an ad-free and effective way to communicate with a group, you don't have to look further than channels on Telegram.
Read: 10 Best Telegram Bots; Are Telegram Bots safe to use?
We hope we could clear all your doubts about Telegram channels and how to use them. It's also worth noting that the developers keep adding more features to these channels.