One of the most challenging parts of figuring out an app running in the Task Manager is to find out what it does? While most of the time, users need not bother, if a program is taking too much of the resources and making the experience slower, you may have to look into it. This post will guide about one such service SECOMNService.exe and if you can disable it?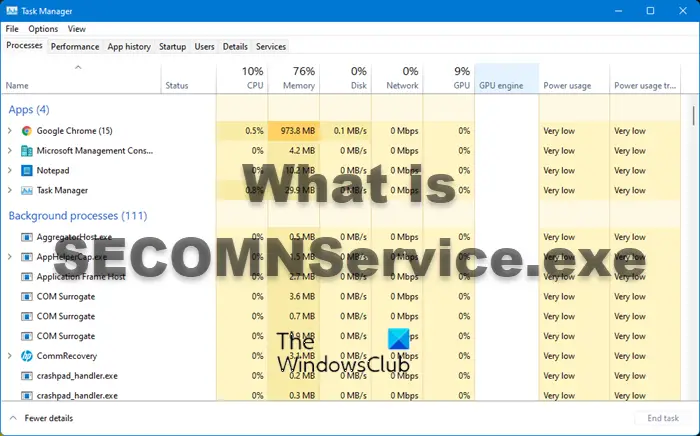 What is SECOMNService.exe process?
SECOMNService.exe belongs to software Sound Research SECOMN Service. It is made by Sound Research Corp, which also offers solutions to HP, Intel, Beats, Asus, ADI, TI & others.
Sound Research SECOMN Service is an audio tool that allows users to view, play, and copy sound files. It is part of Sound Research Software, Inc. The software uses SECOMN64.exe as the executable file, which manages the rest of the part of the service.
It offers Synaptics High Definition Audio driver for supported operating systems. If you don't have a dedicated audio driver, you can switch to this instead of a generic driver. However, if you have a dedicated audio device, then use the driver offered by the OEM of the device.
What is the file location of SECOMNService.exe?
It is located at the following location  C: > Program Files > Sound Research > Sound Research SECOMN Service. If you cannot find it, then right-click on its listing in the Task Manager, and choose to open the file location.
How to disable, remove or uninstall SECOMNService.exe?
Look for a program with the name Sound Research in the application list. You can go to Settings > Apps > Apps and features, and search for the app. Click on the three-dot menu and choose to uninstall it. However, if you don't find the app here, you can use the Control Panel's Program and Features section to remove the program from the PC.
Is SECOMNService.exe a virus?
No, it is not a virus but a program used for audio devices and improves the user experience. It is only used when a program uses the audio device. Even if the program is running in the background, there is no problem unless it overloads the system with over-usage.
What happens when you disable Sound Research SECOMN Service?
Coming to the question that if you can disable it, then the answer is Yes. It is not an essential service or part of Windows. However, if you are using it as an audio enhancer, it will not work anymore after you disable it. So when you disable it, better check if your audio is working, and if not, you can switch to another one.
Overall, the application is not a problem, and if it is not taking any resources, you can leave it as it is.
I hope the post was helpful, and you now know about SECOMNService.exe and if you need to disable it.