What's this Identity_Helper.exe process in Windows 10 and why does it run in Task Manager? Identity_Helper.exe is called PWA Identity Proxy Host and it is associated with the Microsoft Edge browser. The process helps PWA Integration with Windows Shell in Microsoft Edge.

Identity_Helper.exe process in Windows 10
You can verify the presence of this process by launching Task Manager and switch to the Details tab.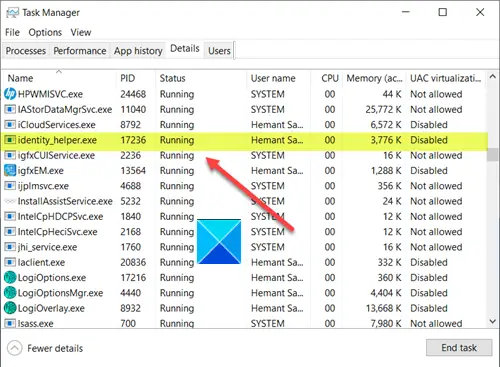 There, you should find the entry for the identity_helper.exe process. If you find it, simply right-click on the process and choose 'Open file location'.
You should be directed to the folder location in File Explorer.
The path to this file is:
C:\Program Files (x86)\Microsoft\Edge\Application\<version number>/identity_helper.exe
If you are aware, there's a 'Web Apps Identity Proxy' feature in the Microsoft Edge web browser. It enables installed web apps to be created with modern Windows application identity for better integration with the Windows shell. It's likely that the identity_helper.exe process is used by Edge browser to manage this new feature and thus, you see the process running silently in the background. There could be other reasons as well but we think this describes it more appropriately.
If you have not downloaded any program recently, you might wonder how this executable got installed on your device and running in the background. In Windows, there are dozens of processes running simultaneously. Some of them consume high CPU and memory and thus, appear to be malicious files. You could have the same apprehension about this process.
If the file is located in the above-mentioned folder then it is the legit Microsoft process; if not, then it could be malware and you need to full-scan your system with antivirus software.
Hope it helps!