We all have seen GIFs, but do you know how to define a GIF? Do you know how a GIF is made and where and how we can use them? Well, this is what our today's post is about. Keep reading to find out What is a GIF file format and how to use them.
What is GIF?
Graphics Interchange Format, popularly known as GIF is a digital file format. A GIF means multiple images encoded in a single file and displayed in a succession to create an animation. It can also be a short video clip of a few seconds playing in a loop. The first-ever file with a GIF Format, named GIF 87a was published in 1987 by CompuServe. It has been widely used over the internet since then.
A GIF can contain up to 8 bits per pixel and 256 colors. It is saved in a lossless file format, which means that if you compress a GIF file, the image clarity might not get affected. GIF format is not generally used to show the images because it has color restrictions, it is more popularly used for showing images that contain text, navigation buttons, or small images.
Read: PNG vs JPG vs GIF vs BMP vs TIF
How to open a GIF File?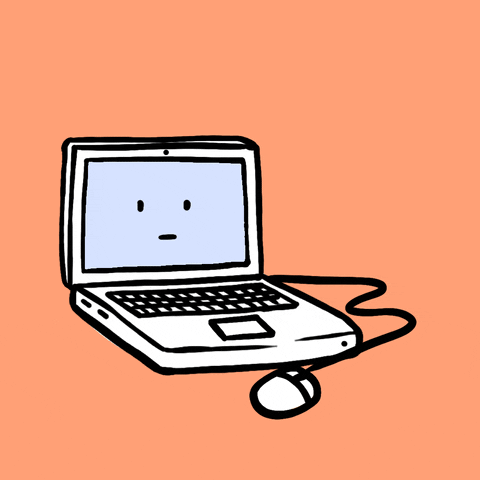 GIF files use the .gif extension and as mentioned above, a GIF is just multiple images encoded in one single file, so you can open it using any of your image viewers, like the Photos app on your Windows PC, Apple Preview in macOS, and any other such program.
How to use GIF Files?
GIFs are usually available on the websites like Imgur or GIPHY and almost every popular social media website has a search bar directly linked to these websites. For example, if you are chatting with someone on Facebook messenger or Whatsapp or putting up a status on Facebook, or making a tweet on Twitter, you can directly search for a relevant GIF and post.
If you want to use a GIF somewhere else, you can directly go to the websites like Imgur, GIPHY, Tenor, or GIFbin and copy the link of the GIF image you like. Then simply paste it anywhere you want to post that GIF. Most of the time it works. If you want to add a GIF file to your website or a blog, click on the Embed button and copy the code. Now paste that code on your website or blog and you will be able to see the GIF playing there.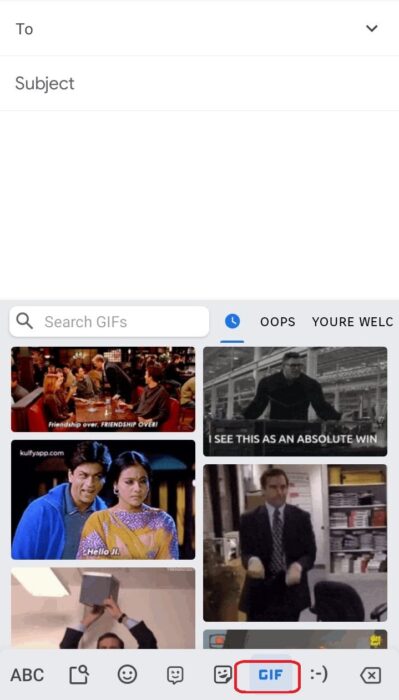 If the link pasting technique is not working for you, you can try using Gboard. Gboard is a virtual keyboard for Smartphones. Every iPhone and Android phone has this built-in GIF function that lets you use GIFs easily. You can post a GIF anywhere you want, in your emails, chat or text messages, etc.
How to make your own GIF
Seeing these GIFs getting viral every day, if you want to make your own GIF, you can use one of these free online tools to create animated GIF files:
1] GIPHY
This website not only has the largest GIF collection but also lets you create your own GIF image and that too is pretty simple. First, record a short video clip of yours or collect the images that you want to create a GIF with. Go to Giphy.com and click on Create. Upload the video/images and follow the instructions.
2] Unscreen
This website is normally used to remove background from the images and videos but there is also an option for creating your GIF here. To create a GIF with unscreen, first, record yourself doing an action. Go to unscreen.com and upload the video clip there. Then go to the Download button and click on the tiny arrow and click on GIF. It will then be saved as a GIF on your PC.
3] EZGIF
You can create an animated GIF from your images using this website. Go to Ezgif.com and Upload the images, remember that the GIF will take the images alphabetically so upload them properly. Adjust the frames and other settings, and click on the Make a GIF button at the bottom.
4] Giphy
Other than these online tools, you can also use some applications available for smartphones to create GIFs. Giphy Cam is one of such popular GIF-creating apps. Yes, you guessed it right. This app is from the website GIPHY only. Download the app on your phone and you can create your own GIF in just a few clicks.
Read: How to create Animated GIF from a video file using VLC and GIMP
How is a GIF pronounced?
Many people pronounce it as G-I-F, they just call out the alphabets. But the correct pronunciation for GIF is jif. It's not G as in Go but it's G as in Giraffe.
Read: Top 3 GIF maker and editor tools to create animated graphics
What program will open a GIF file?
Almost every image viewing and editing program and application can open a GIF file including Microsoft Photos, Photoshop, Apple Preview, and others. You don't really need a special program to view or open a GIF file.
Read: Best free Video to GIF maker software for Windows PC
How do I play a downloaded GIF on my Windows PC?
Simply go to the folder you have downloaded the GIF in, locate the file, and double click on it. Windows Photos app will play your downloaded GIF.