This post explains what is a BAK file and how to open it on a Windows 11/10 PC. BAK file is a backup file that stores a copy of another file (or data in its previous state) for backup and recovery. The file is recognized with a '.bak' or '.bk' extension and is often created by a wide range of software, including graphics software, word processing programs, and database applications.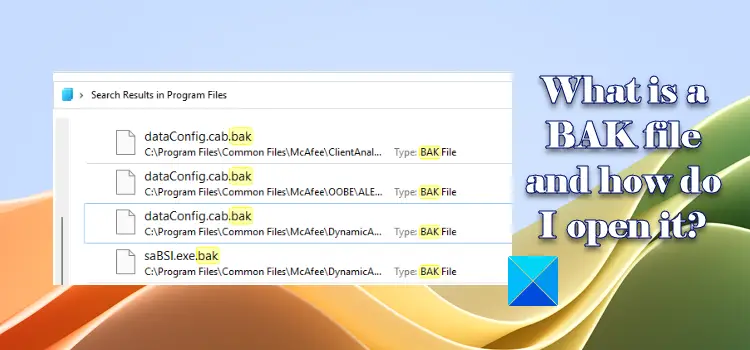 Most of the time, these software automatically create BAK files as part of their auto-save procedure (when the original files are updated). However, users can also manually create BAK files by renaming the file. These backups are often created to preserve the original file or to disable the file from being used.
What is a BAK file in Windows?
Simply put, a BAK file is a file created to back up any important data or settings. Google Chrome, Nootepad++, TeamViewer Manager, AutoCAD, XML Shell, Photoshop, SQL Server, WhatsApp, Microsoft Word, etc. are some well-known applications that use the '.bak' file extension for saving their backups. To learn how to open a BAK file, you first need to understand different scenarios where you may encounter a BAK file.

Each application can generate its own backup format using the same '.bak' extension, so there's no standard format for creating a BAK file.
For example, Database Management Systems such as SQL Server or MySQL create BAK files to store database backups. These backups can be used to restore a database to a previous state or to a new location.
Similarly, productivity software such as Notepad++ or Microsoft Word creates BAK files to recover data if the original file gets corrupted or deleted.
Some applications or system software also create BAK files to store backups of configuration settings. These backups help restore the configuration to a previous state when some modifications to the settings lead to serious consequences.
Having said that, there's no single program that can open all BAK files. Each BAK file has to be opened in the same application to which it belongs (the application with which the BAK file was created originally).
How do I open a BAK file in Windows?
You can follow these general steps to open a BAK file:
Identify the original file: When you encounter a BAK file, you first need to identify the original file whose backup the BAK file is. Sometimes, the backup file will have the same name as the original file (with the '.bak' extension) and is stored in the same folder where the original file is located. Sometimes, hints might be found in the file name and folder location.
Rename the BAK file: If you identify the BAK file, you can rename the file extension, for example from '.bak' to '.docx'. If your system has the correct file associations, you can open the file by double-clicking on it (the application that's meant to open the file will open it).
Use the original application program or a text editor: If the '.bak' file is not associated with the correct application, you can tell Windows which application should open the file (through the 'Open with' context menu option). If the generic nature of the file makes it difficult for you to identify its type, you can open it in a text editor software (such as Notepad++) to help identify its content. For example, if the file contains a bunch of table-like elements, it can possibly be a CSV file, which can be opened with Microsoft Excel.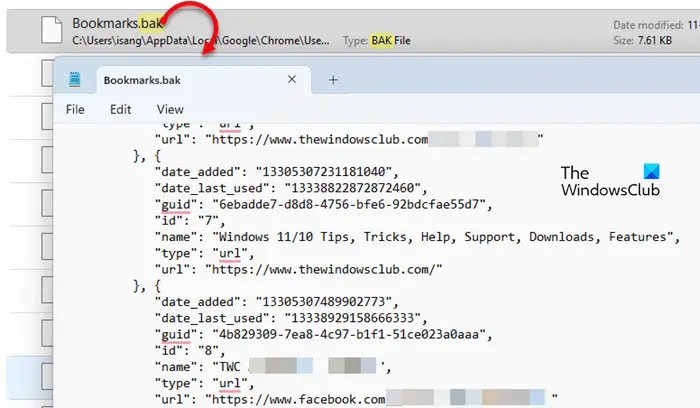 Note: Before using a BAK file, make sure to check its integrity. If it's broken or outdated, it may not be a good idea to restore data from the BAK file.
This is all about BAK files and how to open a BAK file on a Windows 11/10 PC. I hope you find this useful.
Read: How to remove File Type Associations using Registry Editor
How do I open a BAK file in PDF?
When you save your drawing in AutoCAD, it automatically creates a BAK file. These files may appear in PDF format due to Windows file association. To open such files, open the file location in Windows File Explore. Then select View > Show > File name extensions. Rename the .bak file back to a drawing file with a .dwg extension. Then use AutoCAD to open the file.
Can I open a .BAK file in Excel?
You cannot directly export data from a BAK file to Excel, but you can use some workarounds to extract the data that needs to be restored. For example, you can restore a BAK file using SQL Server Management Studio. Once the data is restored in the form of SQL tables, you can export it to MS Excel using third-party tools, such as SQL to Excel.
Read Next: How to reset Hosts file back to default in Windows.