When something like our favorite game is available at a discounted price, we try to grab it before the remaining time for sale gets expires. But, just when we are about to complete the purchase process, we are greeted by an error message out of nowhere. The Microsoft Store message reads – 'We're having trouble processing your payment and we'd like to get it sorted out'. If you too have been troubled by this error message check out the solutions here, you can try to fix it.
Before you begin, you may want to clear your browser cache, and change your Internet connection and see if that works for you.
We're having trouble processing your payment and we'd like to get it sorted out
You can get the error message while purchasing a product from either Microsoft Store or Xbox Market Place.
If you see this message while purchasing something from Microsoft Store, try creating a new user account in Windows. It has been observed that in some cases, user profile corruption can affect the Store app's performance. So, to troubleshoot the issue, create a new User Account and see if you can purchase a product using the Store app on a different user profile.
Similarly, if you get the error message while buying anything from Xbox Market Place, you can try to fix the issue by adding a new Xbox Live Subscription payment option online.
In a browser, go to the Microsoft Account page here. If required, sign in to the Microsoft account you want to change.
Select 'Services & Subscriptions'.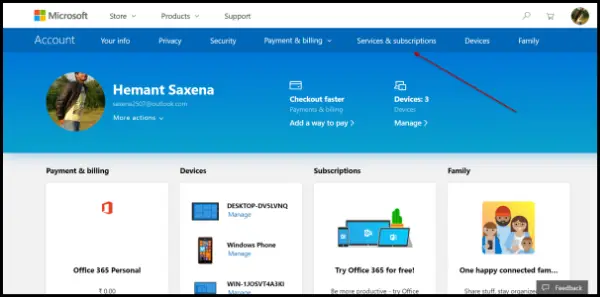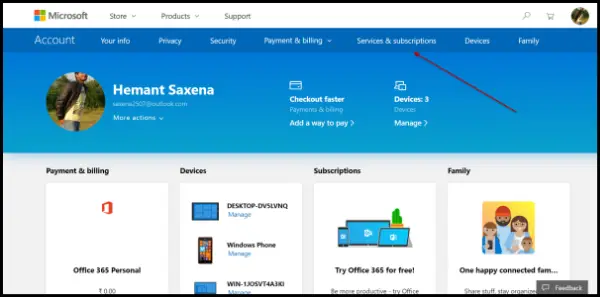 In the Xbox Live section, under Paid with, select Change how you pay.
Following this, 'Add a new way to pay', hit the 'Next' button, and then follow the onscreen steps to set up your
Credit card
Debit card
PayPal account
Please note that PayPal a payment option is available in selected regions only.
If this does not help, you can contact Microsoft Store Sales and Customer Support to address this matter.
Related read: Microsoft Store payment failed errors & problems.