You may have observed while viewing webpages in Internet Explorer some or all the fonts appear blurry. The problem may not persist in other versions of Internet Explorer i.e., the font may not appear blurry in other versions. So, if needed, you can improve the quality of fonts as they appear on your monitor. How? By following the simple steps highlighted below.
Web fonts appear blurry in Internet Explorer
Update Fonts
You can update some fonts to improve how they look when shown in small font sizes (8 to 10-point size) in Internet Explorer 9. The problem occurs because of a design change that alters the pattern via which Internet Explorer 9 renders text.
By default, Internet Explorer 9 uses sub-pixel positioned ClearType to render text by using DirectWrite, whereas Internet Explorer 8 uses whole-pixel positioned ClearType to render text by using the Microsoft Windows graphics device interface (GDI).
ClearType Tuning
ClearType helps Internet Explorer to deliver improved font display. How? It improves readability on color LCD displays with a digital interface, such as those in laptops and high-quality flat panel displays. So, you can enable this feature and adjust its settings or your Internet Explorer version.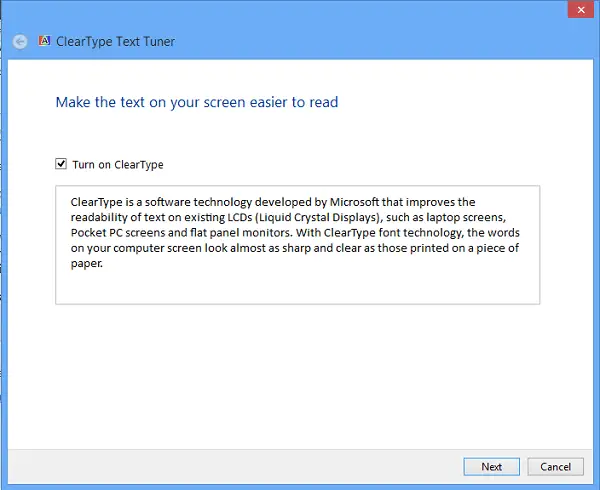 You can find ClearType tuner under Control Panel (Appearance and Personalization). The tuner should be used with Internet Explorer because it depends on an ActiveX control. Alternatively, users can download the Windows PowerToy version of the tuner.
The ClearType Tuner helps improve font display resolution so that letters on the computer screen appear smooth, not jagged. You can tune fonts for your particular display hardware.
If you use Windows 7 or Windows 8, you can adjust ClearType settings by using the ClearType Tuner in the Windows Control Panel, under Display. If you have Windows Vista, you can use the online tuner. The online tuner must be used with Internet Explorer because it depends on an ActiveX control.
Conversely, you can disable ClearType – it may actually make the font appear sharper.
Here is how you can disable the use of ClearType font in Internet Explorer.
Open IE > Click on Tools > Internet Options > Advanced Tabs > Multimedia > Uncheck "Always Use ClearType for HTML" > OK > Restart IE.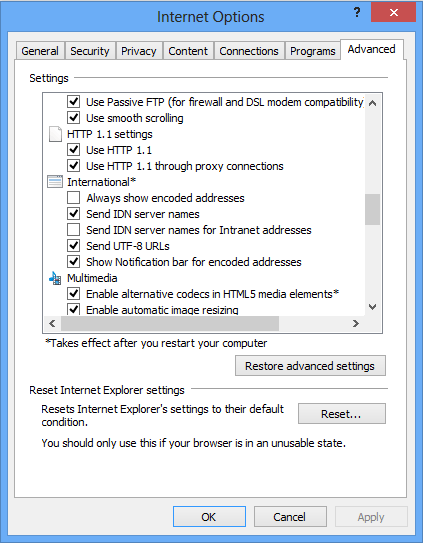 Hope this helps.
You may want to also check this post on how to Disable DPI virtualization or Lower the overall Windows DPI setting system-wide to resolve such issues.