Waterfox is an excellent alternative to Chrome and Firefox browsers, being open-source, free, secure, and easy to use. It has almost all of Firefox's features, support, and extras, which is why several people have switched to this browser. Another plus about this browser is that it uses less RAM space as it's lightweight, performs faster, and rarely crashes. Lately, some users have reported on different platforms that their Waterfox browser is not opening or loading pages. This issue can be traced to different reasons, which include corrupted cache, wrong Waterfox settings, malicious extensions, and programs.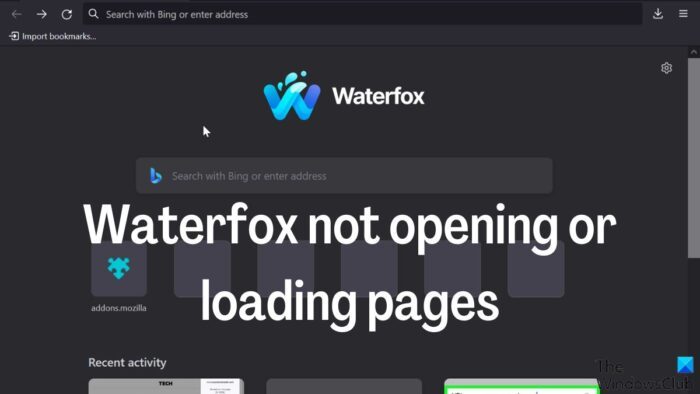 Fix Waterfox not opening or loading pages on Windows 11/10
If you are having issues loading pages on Waterfox, you should first check your internet connection or try loading sites like Google.com to know the issue's specifics. Based on most of the reasons that cause this issue, here are different solutions to fix it:
Clear Browser Caches and Cookies
Check for malware
Check Blocked Site
Remove Suspicious Extension
Temporarily disable Anti-virus and Firewall
Reset Waterfox Browser
Uninstall and reinstall Waterfox.
1] Clear Browser Caches and Cookies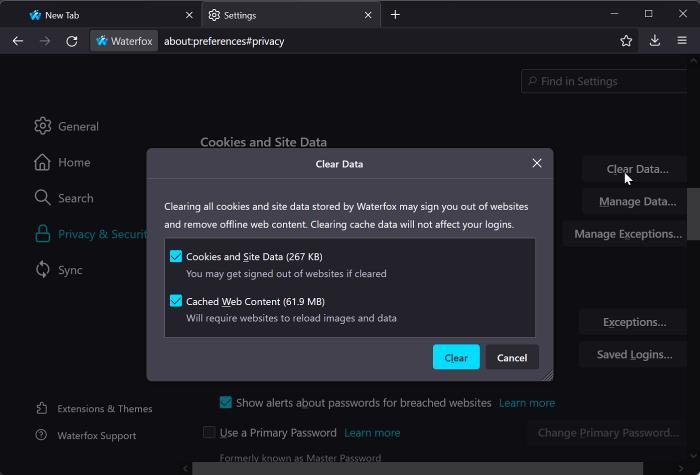 A browser stores data through caches and cookies to enhance the user experience. However, a browser is more likely to start acting strangely when it has an excessive number of cache and cookies or when they are corrupted. This might be the situation with the Waterfox issue, and the cache and cookies of the browser can be cleared to resolve it. Here's how to delete cookies and cache in Waterfox:
Open Waterfox and click the three-line icon at the top-right corner of your screen.
Select Settings from the resulting drop-down menu.
Click on Privacy & Security.
Scroll down to Cookies and Site Data and select Clear Data…
Make sure the two boxes are checked, then hit Clear.
Doing this will clear out all the cookies and cache data stored on Waterfox and thereby fix the browser's issue if that's the reason behind it.
2] Check for malware
Malware or viruses on your computer could be the reason why Waterfox isn't opening or loading pages. This is because malware may either be blocking the application from opening or probably have corrupted the program's data on your computer, making it impossible for it to launch and function well. To check for malware on your computer, you can make use of Windows Defender.
3] Check blocked sites
Most browsers have a function for blocking websites, which is useful if there are any websites you don't want your browser to load, but for Waterfox, you can only block sites by using an extension. The mostly used extension for blocking site on Waterfox is Block Site so, if only a particular page is not loading in Waterfox, it may be because the site has been blocked in the browser with the extension. You can verify this by trying to load other websites. If that's the case, you should unblock the site you are trying to open by simply clicking on the extension icon on the toolbar while on the tab for the site that isn't opening.
4] Remove or disable suspicious extensions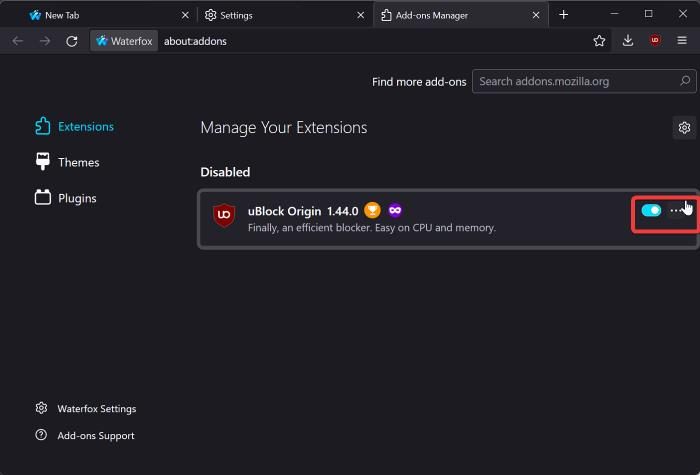 Extensions that have access to your network or web pages on Waterfox can block sites from opening. Besides, we've seen several Waterfox users report that an extension called "Zoom Page WE" blocks some sites from working. Thus, you should remove those extensions or try opening the site in incognito mode to know if an extension truly causes the issue.
Here is how to remove or disable an extension on Waterfox:
Tap the three-line icon at the top-right corner of Waterfox's homepage and select Add-ons and themes.
To disable an extension, toggle off the switch in front of the extension name.
To remove an extension, click on the three-dot icon in front of the extension name and select Remove.
5] Temporarily disable Anti-virus and Firewall
A firewall or antivirus program on your computer is likely preventing Waterfox from functioning properly and, as a result, blocking sites from loading on it. You should temporarily turn off your antivirus software, let Waterfox through your firewall, and check if the problem is resolved.
6] Reset Waterfox Browser
You may have accidentally altered something in your browser's settings, which caused the issue with Waterfox not loading pages. Perhaps even a malicious application on your computer or extension may have enabled a setting in the browser that prevents websites from loading. In order to fix the problems with sites not loading in Waterfox, you should reset the browser settings to their default:
On the Waterfox browser, click the three-line icon and select Help from the resulting drop-down menu.
Hit the More troubleshooting information option.
Tap on Refresh Waterfox…
Select Refresh Waterfox again to give the browser a fresh start.
7] Uninstall and reinstall Waterfox
This solution has been helpful for many users to fix both Waterfox not opening or loading pages. In case the browser isn't opening, your best option is to uninstall the program and reinstall it, as the program files may have been corrupted or missing. And without the program files being in good condition, Waterfox won't run on your computer.
One of the working solutions to this Waterfox not loading pages issue is to update the browser, which means if you've tried the solution above and the problem persists, you should check if the application is updated or not. To do that, follow the steps below:
Click the three-line icon at the top-right corner of the Waterfox homepage.
Select Help and tap on About Waterfox.
A page showing if your browser is updated will appear. If it is updated, close the page; if it isn't, use the Update option on the page to update the program..
Note: It's recommended that you restart your PC after reinstalling Waterfox before using it
If you follow the instructions for each approach correctly, one or more of the solutions we've mentioned will undoubtedly fix your problem with Waterfox not opening or loading pages.
Why are pages not loading on Waterfox?
When pages are not loading on the Waterfox browser, it may be due to a suspicious extension on the browser, corrupt cache/cookies, or a firewall. A wrong setting on the browser, as well as a poor internet connection, can be blamed for this issue. Considering all the factors we just mentioned, we've discussed a list of solutions to fix the issue.
Read: The Best Open-Source Web Browsers for Windows
Can I use Chrome extensions on Waterfox?
Waterfox browser entails a lot of functionality, including the support of Chrome extensions. Hence, if you are a Chrome user and want to switch to Waterfox, you should worry, as you can still use all your Chrome extensions on the browser.