VPN or Virtual Private network is a boon for power users. It helps you change your location virtually. What this means is even if you are in India, your machine can pretend to be in the United States. Not only this, VPNs can be used to form a private virtual network (as its name says) and can be used for intranet purposes in a small office or an organization. This can even be done remotely. Well, before jumping on to VPNBook.com, we need to make sure that you know how to setup a VPN on a Windows computer.
VPNBook is a totally free VPN with no bandwidth limits. But it is difficult to set up and configure.
VPNBook Free VPN Server
All that we know about VPNBook.com is that it is a free VPN Service provider. This means that it provides an encrypted connection to an alternate IP address. This service is totally free and provides PPTP and OpenVPN services. As per the information listed on the website, it works totally on donations. There is no mention of any other funding sources whatsoever.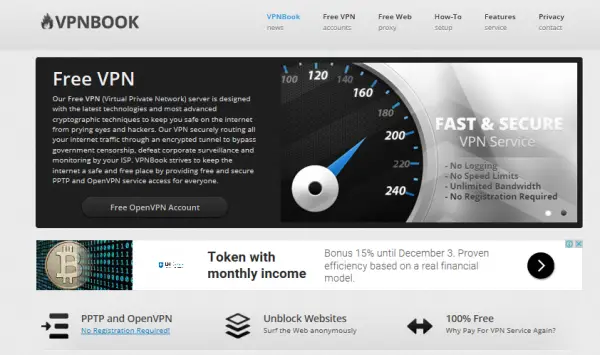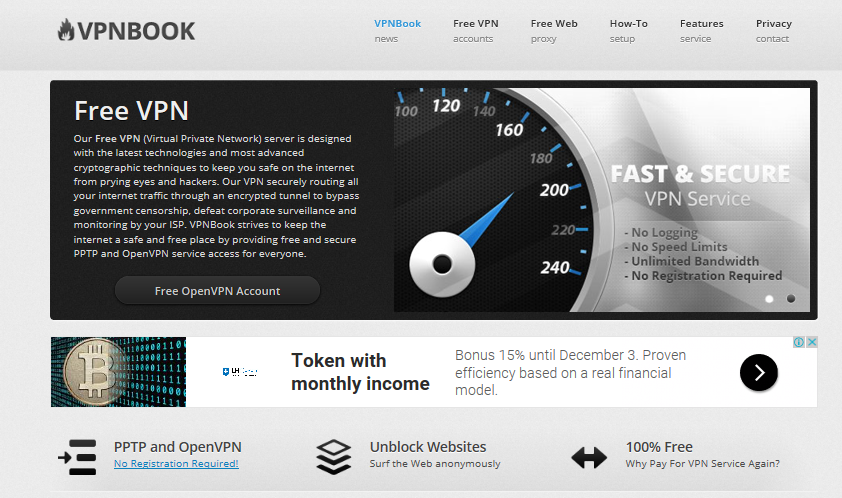 The three main features of this service are :
Free PPTP and OpenVPN services.
Unblock Websites with Anonymity.
100% free.
No restrictions.
Good Performance.
No Bandwidth limits.
Great Encryption.
Smart CDN Fallback.
This means that the main mission of the website is to provide free access to websites blocked in certain regions. Also, people who want to access region-specific websites for shopping or anything else.
How it works
As mentioned above, VPNBook.com provides free PPTP and OpenVPN services. However, the website recommends the users to use OpenVPN.
OpenVPN
It is nothing complex but a type of connection you are using to connect to the VPN.
These are some of the advantages of OpenVPN :
Open Source Software Service.
Challenge/Response Authentication.
Simpler Sign-in.
Secured Scripts.
MacOS Keeyvhains and Windows Crypto APIs integrated.
MacOS integration.
Load Balancing.
Support for a number of supporting APIs.
Multi-daemon support.
Adaptive Protocol
Web-free VPN
Bundled Profiles.
Universal Bundled Profiles.
CRL Support
Local subnet blocking.
Looking at these features, it looks like OpenVPN has seriously got an edge over the PPTP protocol's Low Security and Low Performance on some kinds of networks.
This is widely preferred nowadays as Windows is not the only platform that people tend to use. But that does not mean that OpenVPN cannot be used with Windows platform.
How to configure OpenVPN on Windows 11/10
First of all, download PrivateTunnel for Windows.
Install it.
Create a new account or sign-in.
Choose a VPN Server from here and download it.
Move the OpenVPN Config File to C:\Program Files\OpenVPN\config.
Right-click on the system tray icon for PrivateTunnel.
Hover over you points to the server you want to connect and click on connect.
Enter the Username and Password you find here and click on OK.
You are now good to go as a small window opens to show the connection status.
PPTP
This protocol looks like it was made for Windows platform by default. It is easy to use and is without IPSec encryption. But at the same time, it is very cheap.
How to configure PPTP on Windows 10
To set up a PPTP Connection on Windows 10, you can read our similar article here on setting up a VPN on Windows 10.
Here, choose the server name, username, and password and choose the connection type as PPTP.
Free Web Proxy
This free web proxy is nothing but an online page where you enter the blocked URL you want to access and select any proxy connection from USA, UK or Canada to open that website. However, this is restricted to websites only and can be used for surfing purposes only.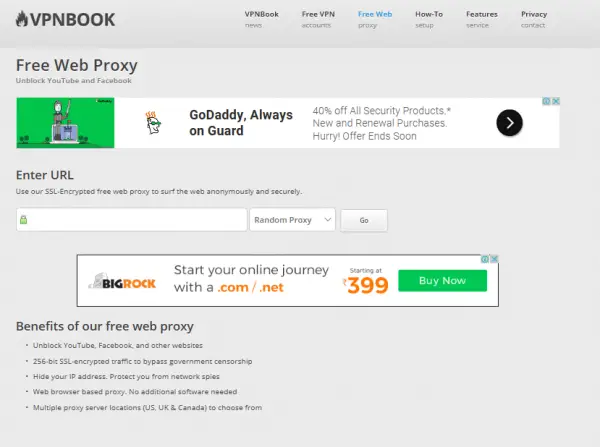 You can access this service from vpnbook.com/webproxy.
My Conclusion
Using VPNBook for quite a time now, I can say that it works quite well. Recently, I used it to buy something from the United States and frequently, I use to hide my identity online while using some websites that can track me down. Some of the pros and cons of the service according to me are:
Pros
Fast
Secured
Reliable
Efficient
Cons
The login credentials are usually changed.
Not much detail about the encryption type being used.
Limited locations are available to choose from.
Comparing the Pros and Cons, we can say that the Pros dominate the cons. I have no complaints regarding any issue with the service, and it just helps me get the work done whenever I wish to do so.
I highly recommend this service.