VirusTotal is a service that analyzes suspicious files and now URLs and facilitates the quick detection of viruses, worms, trojans, and all kinds of malware detected by antivirus engines. It thus enables the identification of viruses, worms, trojans and other kinds of malicious content detected by multiple antivirus engines and web analysis toolbars.
There are many online malware scanners that use multiple antivirus engines to scan suspicious files, like virustotal.com, jotti.org,  novirusthanks.org, virus.org, virscan.org, viruschief, filterbit, meta scan, etc. VirusTotal is one of the popular websites that lets you scan a file for malware using more than 40 antivirus engines and definitions.
How to submit and scan, files and URLs using Multiple AntiVirus engines at VirusTotal
Earlier it only scanned suspicious files, by uploading them to their server and checking them with definitions of several antivirus software.
VirusTotal File scanner
Visit VirusTotal.com and under the File tab, upload the file you want to be scanned. VirusTotal will scan the file and displays the results in a minute or two.
VirusTotal URL scanner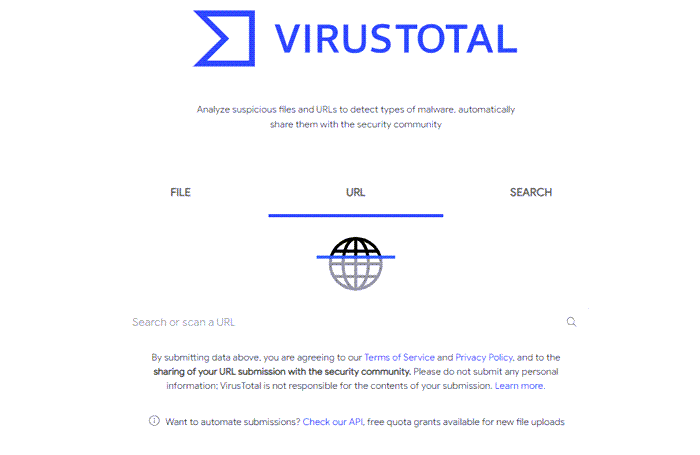 The VirusTotal URL scanner uses several services like those of Firefox, Google SafeBrowsing, Opera-AVG, Phishtank, Internet Explorer's SmartScreen filter and TRUSTe. Open the URL tab and paste the link you want to be scanned and wait for the results.
VirusTotal Browser extension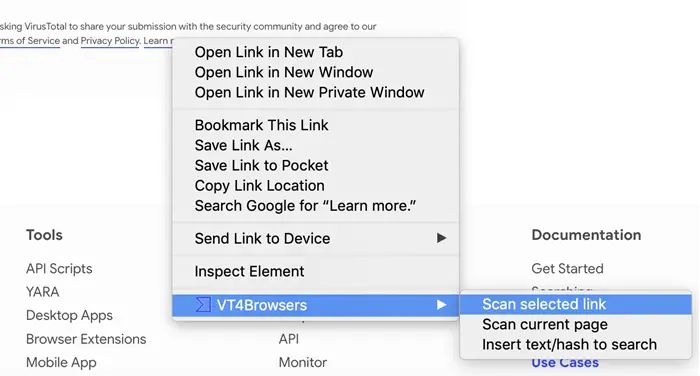 VirusTotal has also now made a browser extension for Firefox and Chrome.
VTchromizer for Chrome (and Edge Chromium) and VTzilla for Firefox are browser plugins that simplify the process of scanning Internet resources with VirusTotal.
They allow you to download files directly with VirusTotal's web application before storing them in your Windows PC. Moreover, they will scan not only files but also URLs.
The scanning options are embedded in the context menu and download dialog, making the analysis process as easy as clicking a single button. You can get them all here.
VirusTotal Uploader
VirusTotal also offers a desktop utility called as VirusTotal Uploader. After installing it, you can simply right-click any file under 20MB and choose "VirusTotal" from the Send To Windows menu. The scan results will display in your browser as usual.
The utility also adds an item 'Send To VirusTotal to the context menu, which makes things even easier. Jotti.org too has a desktop file scanner called JottiQ. X-Ray a freeware that automates the process of submission of malware files may also interest you.
Read: How to scan email attachments online for a virus.
VirusTotal Email service
VirusTotal also allows you to send suspicious through email and receive the scan results back in your mailbox. The files are to be uploaded as email attachments, and the results can be received either in plain text or XML. To do so, attach the file (less than 20 MB) to be scanned and mail it to [email protected] with the word SCAN in the subject line. You will receive the results in text format. If you want them as an XML attachment, type SCAN+XML in the subject field instead.
Here is a complete list of Online URL Scanners to Scan websites for malware, virus, phishing, etc. Go here if you are looking for Website URL Scanners & Link Checker add-ons for your browser.