Upon trying to run a version of Windows in VM VirtualBox, you may get VirtualBox error – VT-X/AMD-V hardware acceleration is not available on your system. Certain guests require this feature and may fail to boot without it.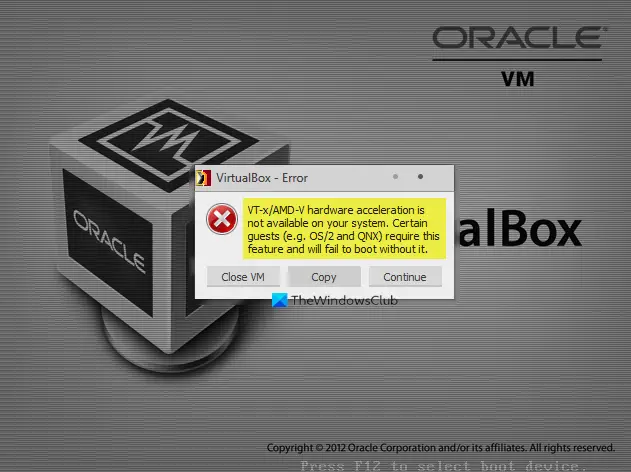 VT-x/AMD-V and Enable Nested Paging (System Section, Acceleration) are two main requirements for install Windows 10 in a Virtual Machine. So, if it fails to work, you may not be able to install a version of Windows.
VirtualBox error: VT-X/AMD-V hardware acceleration is not available
From the above description, it is clear, the VirtualBox error generally occurs during OS installs to a machine. To fix it, you'll need to enable Intel VT-x or AMD-V in your BIOS or UEFI Firmware. Here's how to do it.
If the system does not support Intel VT-x or AMD-V, then Intel or AMT Virtualization will not be listed under the BIOS configuration page. Then, you will not be able to enable virtualization technology or add support for it.
Read: How to find if your computer supports Intel VT-X or AMD-V?
Boot your system to enter BIOS setup by pressing the F1 key at power on. The procedure may vary depending on your system.
Switch to the Security tab in the BIOS.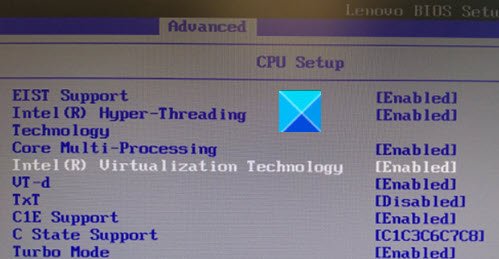 Enable Intel VTT/Intel VT-x or AMD-V. depending on your processor.
You'll need to use the arrow keys for navigation purposes.
Once enabled, save the changes with F10 and allow the system to reboot.
Read: Check if your Intel or AMD processor supports Hyper-V.
Now, go to the Control Panel and choose Programs and Features.
Click the 'Turn Windows features on or off' link.
When a new window opens, search for the following entries and when found, enable them by checking the boxes marked against it.
Hyper-V Management Tools
Hyper-V Platform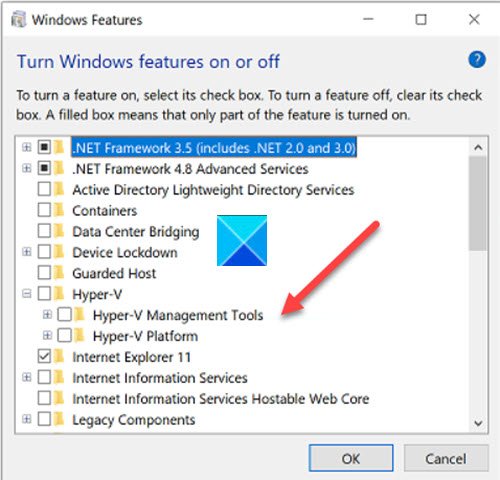 When done, hit the OK button and follow the screen prompts.
Restart your PC, if necessary.
The error should have resolved.