If you plan to use Virtualization in Windows 10 (Sandbox or Hyper-V), the computer should support it on the hardware level. Most of the new computers have this feature, but then there are two types — Intel VT-X and AMD-V. Intel VT-X is hardware virtualization with an Intel-powered PC, while AMD-V is for AMD CPU. Also, they both support 64-bit virtual machines.
Find if your computer supports Intel VT-X or AMD-V
While it doesn't matter which hardware virtualization your computer supports, if you still want to find out which one your computer comes with, there are multiple ways.
The first thing you need to do is find out if your CPU is Intel or AMD. Use WIN + X and then choose System. It will launch the About section, which lists the Processor type. Now let's deep dive into finding if you have virtualization enabled or supported on your computer.
Task Manager CPU details
Securable Tool
Check if you have Intel VT-X

Using Processor details
Run Intel Utility

Check if you have AMD-V
1] Task Manager CPU details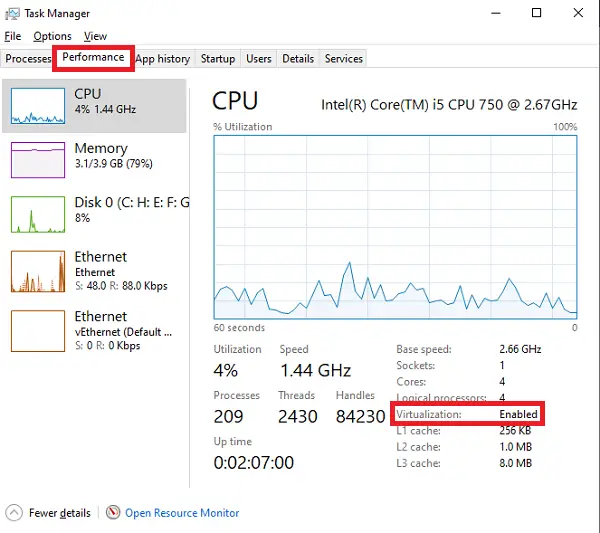 Use Ctrl + Shift + Esc to launch Task Manager
Switch to Performance Tab, and select CPU
On the bottom right of the section, check if you have Virtualization as enabled
Related: How to know if my Windows PC supports Virtualization?
2] Use Securable software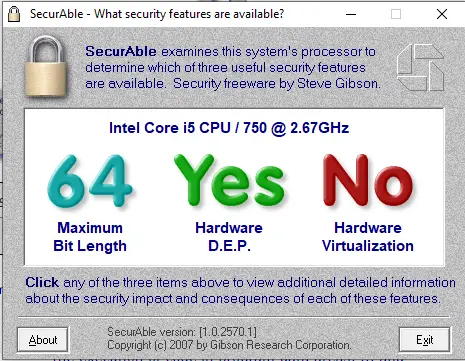 Securable is a free tool that can query the system processor and find out three significant things. 64-bit support, hardware support to prevent malicious code, and virtualization. It is a standalone executable file. All you need to do is run it.
Read: How to enable or disable hardware virtualization.
3] Check if you have Intel VT-X
A] Using Processor details
Use Win + S to open the Start Menu search box and type System Information
Under System Summary > Processor, note down the Processor name.
Open Intel's product specification site.
Enter the number of the processor in the search box on the right side.
In the processor product page under Advanced Technologies, check to see if Intel® Virtualization Technology (VT-x) is supported.
B] Run Intel Processor Identification Utility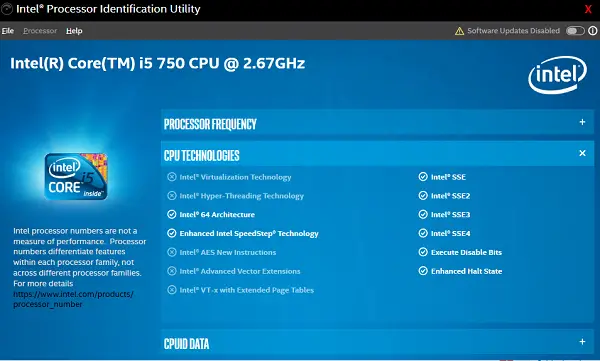 Download, install and run the Intel Processor Identification Utility.
Double-click the Intel Processor Identification Utility on the desktop to open.
Select the CPU Technologies tab.
Check to see if the Intel Virtualization Technology box is checked.
If checked, then the Intel Virtualization Technology is enabled, and if the Intel VT -x with Extended Page Tables is equipped.
4] Check if you have AMD-V
It's hard to figure this out clearly as there is no clear section on the AMD website as Intel. The only utility available can check if you have Hyper V. Download and run the AMD-V with RVI Hyper V Compatibility Utility to check.
I hope these methods are good enough to help you determine if you have Intel VT -or AMD-V.
How do you find out if my computer is 32 or 64-bit?
You can figure it out by looking at your processor specification, or an easy way out on Windows PC is to go to  Settings > System > About. Under Device specifications, see System type. If it says 64-bit, then it's 64-bit architecture. Else, it's 32-Bit.
Does Windows 10 use x64 or x86?
It supports both the architecture but is limited to using 4GB of RAM or less on PCs when using x86. If your PC needs more RAM, then you need to switch to x64. That said, Windows 11 supports only x64 architecture.