SecurAble is a security freeware from GRC for Windows. It checks if your processor chip supports Hardware DEP, Hardware Virtualization, and 64-bit Windows operating system, which are security features. Recent AMD and Intel processors contain three features that can be extremely beneficial to the system's overall security.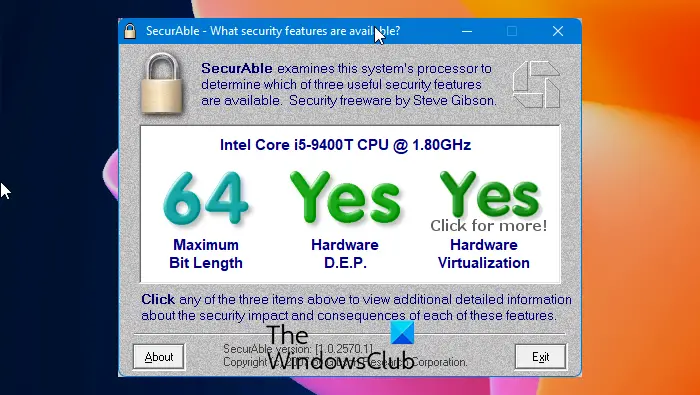 Find out the Security features of your processor using SecurAble
With SecurAble, you can quickly determine which state-of-the-art security features are being offered by your system's processor chip.
SecurAble probes the system's processor to determine the presence, absence, and operational status of three modern processor features:
64-bit instruction extensions. 64-bit-capable processors have the ability to run the 64-bit versions of Microsoft's substantially more secure Windows operating systems.
Hardware support for detecting and preventing the execution of code in program data areas. In case your hardware supports Hardware DEP or Data Execution Prevention, SecurAble informs its user whether their system has the capability of enabling and supporting this most significant and important capability. Hardware support for DEP is the single most exciting and potentially powerful technology for detecting, blocking

,

and preventing all manner of exploitation of "unchecked buffer" buffer overruns in Windows.
Hardware support for system resource virtualization. Virtualization is used to create fully contained environments that can be used to insulate the real hosting operating system from any actions taken by software running within the virtual environment. The use of virtual machines for security containment is highly recommended.
SecurAble free download
You can get more details and download it from its Home Page.