If you are trying to boot a guest operating system, but VirtualBox displays a black screen without any text or mouse cursor, here are a couple of solutions you can try. There is a specific setting that VirtualBox requires. If your Windows system fails to provide that, VirtualBox can show this black screen. As a result, you cannot install or use any guest OS in VirtualBox even when your computer has virtualization support.
VirtualBox black screen on Windows 11/10
To fix this very common issue in VirtualBox, you need to follow these suggestions:
Disable Hyper-V
Disable 3D Acceleration.
Once you have done this, VirtualBox will start functioning normally.
1] Disable Hyper-V
Hyper-V is an inbuilt virtualization tool available in Windows that helps users create a virtual machine and install a guest operating system without any third-party tool such as VMware, VirtualBox, etc. The problem is some systems cannot run Hyper-V and VirtualBox simultaneously. Therefore, if your Hyper-V is enabled, you need to disable it, if you want to use VirtualBox.
To disable or turn off Hyper-V, you can follow these steps.
Search for Turn Windows features on or off. After opening the Windows Features window, remove the checkmark from Hyper-V box and click the OK button.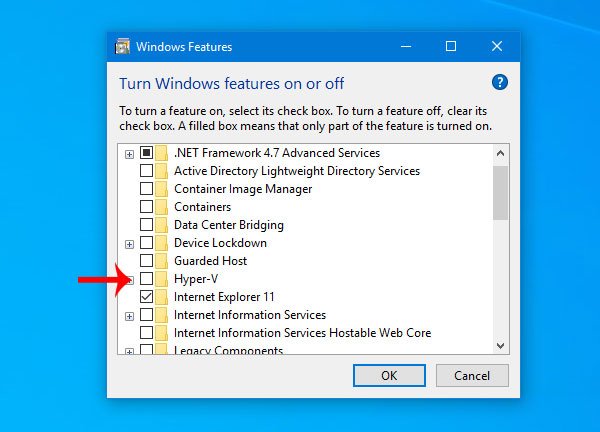 After completing the process, restart your computer and try using the VirtualBox. It should run without any problem.
Read: How to transfer files between Virtual Machine and Host Computer.
2] Disable 3D Acceleration
If you enable 3D Acceleration for the virtual machine, the guest OS will use the host computer's GPU to render 3D graphics. In simple words, it will improve the graphics of the virtual machine and lets you use 3D graphics. However, the same thing can cause an issue as well. Many systems have failed to use the 3D Acceleration for the guest OS.
So you can try disabling this option. For that, open VirtualBox on your computer > select the virtual machine > click the Settings button and go to the Display section. On your right-hand side, you should find a checkbox named Enable 3D Acceleration.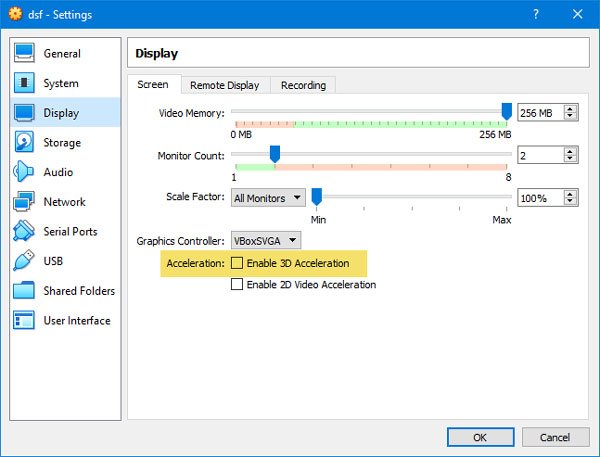 Remove the mark from the checkbox and save your change.
Restart your computer and check if you can run a virtual machine properly or not. Hopefully, you can use the guest OS without any problem.
Fix: VirtualBox not showing 64-bit Operating System
How do I fix black screen on VirtualBox?
If you get a black screen on VirtualBox while booting a guest OS on Windows 11/10, you need to do two things. You must turn on Hyper-V and disable the 3D Acceleration. It is possible to disable Hyper-V on your Windows 11/10 computer using the Windows Features panel. On the other hand, you can disable 3D Acceleration from the Display settings panel in VirtualBox.
All the best!
Read: Black background behind Folder icons in Windows.