The specialty of Presenter view in PowerPoint is that it lets you view your presentation with your speaker notes on one computer, while the audience views the notes-free presentation on a different monitor. In today's post, we'll show you how to see your notes in Presenter view during a PowerPoint presentation. It is essential that you first enable Presenter view in PowerPoint. Enabling the Presenter view in PowerPoint is simple. All you need to do is connect the monitors, and PowerPoint automatically sets up Presenter view for you.
How to view notes in PowerPoint Presenter view
Presenter View in PowerPoint lets you view presentations with speaker notes on one computer, while the audience views the notes on a second monitor!
Launch PowerPoint. Look for Slide Show tab. When found, click it and select From Beginning visible under Start Slide Show group.

If you are working with PowerPoint on a single monitor and still want to display Presenter view, go to Slide Show view, on the control bar at the bottom left, select 3 dots menu and choose 'Show Presenter view' option in PowerPoint.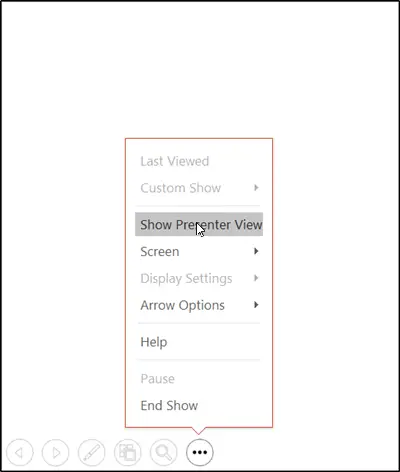 When your computer is connected to a projector, and you start the slide show, this button starts a slide show, beginning from the first slide in the presentation.
Now, to move to the previous or next slide, select Previous or Next.

If you would like to view all the slides contained in your presentation, select See all slides.

When you select this option, you'll view thumbnails of all the slides in your presentation. This makes it easier to switch to the desired slide in the show).
After that, you can view details of the slide, select Zoom into a slide, if necessary and focus on the part you want to see.
To hide or unhide the current slide in your presentation, select Black or unblack slide show as shown in the screenshot below.
That's not all. PowerPoint allows you to use your Smartphone as a remote control to run your presentation and view your speaker notes. This is how your PowerPoint presentation appears in Presenter View.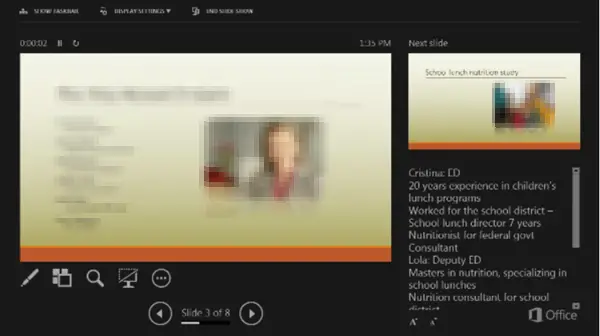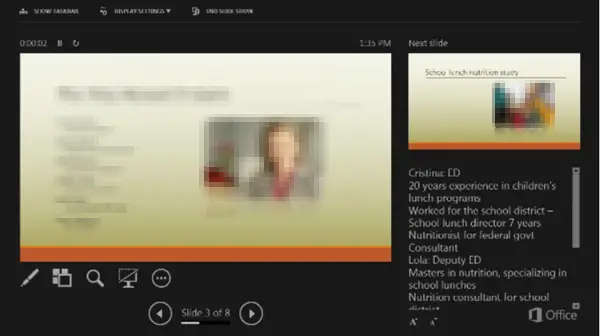 If you would like to turn off the Presenter view while you are showing your presentation to others, navigate the mouse cursor to the Slide Show tab of the ribbon, clear the check box marked against 'Use Presenter view'.
Hope you find this tip useful.