Nirsoft is well known for its tiny life saver applications, and today what we have here is a helpful tool for developers and enthusiasts. AppCrashView is a utility that lets you extract information about any application crashes that occur on your computer. Using this tool, you can investigate the reason behind a crash and try to fix or report it.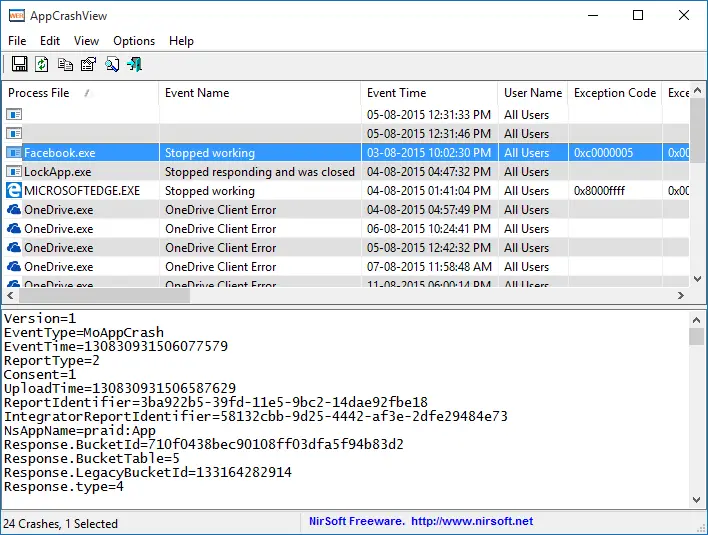 AppCrashView lets you view application crash files
Windows Error Reporting is a crash reporting technology introduced by Microsoft with Windows XP and included in later Windows versions including Windows 11/10. It collects and offers to send post-error debug information or a memory dump using the Internet to the Microsoft or stops responding on a user's desktop.
AppCrashView extracts the information from .wer files that are automatically created by the Windows Error Reporting component when a crash occurs and displays it in an efficient and organized manner.
It displays the following details for a particular crash:
Process File: The process which crashed
Event Name: Short description of the crash
Event Time: Timestamp of the crash
Exception Codes: Exception code reported during the crash
Faulty Modules: The precise module where the error occurred
Faulty Module Version: Version of the fault module
Process Path: Path where the process is located
Report Size: Size of the report sent to Microsoft
Report Path: Path where the report is stored on disk.
Other than these details, AppCrashView provides you with more technical details in the large textbox at the bottom. You can export a single crash report as a text file or multiple reports in text/HTML/CSV/XML files. Once exported, you can easily share these tiny-sized reports using email, messaging, or simply uploading them to your site or web server. You can even save reports onto your hard drive for further reference and study.
The tool is quite simple to use, it automatically populates itself on the start-up, and you can update the data by pressing the refresh button from the toolbar. The UI, like all other Nirsoft utilities, is plain and straightforward.
In short, the tool is practical, easy, and minimalist. You can download this tool from nirsoft.net.
How do I find out why a program crashed?
The only way to figure that out is to look at the crash report in Windows logs. However, they are not very user-friendly, and only someone at the tech support or the app developer may be able to figure it out. Windows logs can be seen using the Even viewer.
What is a crash log file?
When an application crashes, it is programmed to write the error message into a log file. In Windows, it is centralized and works through even viewers. These log files can include messages as programmed by the developer.