If you have installed any of the Windows 10, you know that you can load your Windows PC with many useful UWP apps apart from the classic desktop software. All the apps, paid as well as free, sport a Modern interface and can be readily downloaded from the Microsoft Store.
While there appears no problem installing such applications on PCs, you certainly have to track your Tablet memory space, as it has fixed storage space (16 GB, 32 GB, 64GB, etc.). Tracking disk space usage will help you determine which app is consuming more space and help you decide which one's to remove, should you feel the need to free up some disk space.
View Program and App Sizes in Windows 10
Windows 10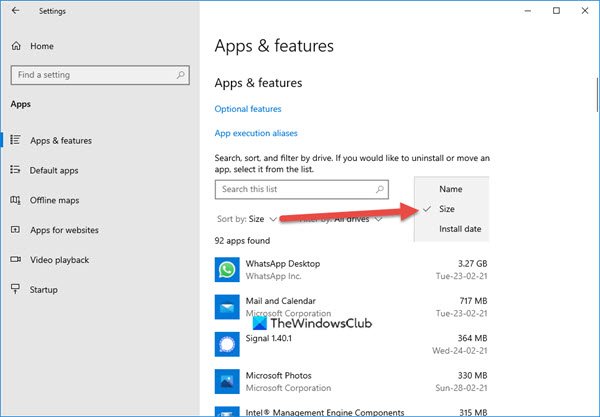 Click Start
Open Settings
Open Apps > Apps & features
Press the Sort by drop-down
Select Size
You will see the size of each of the installed desktop software as well as the Microsoft Store apps.
Windows 8.1
To begin, move the cursor to the lower-right corner of your computer screen to bring up the Charms bar. Alternatively, you can press Win+C  to get the same result.

Once the Charms bar shows up, click on 'Settings' and then select 'Change PC settings' option.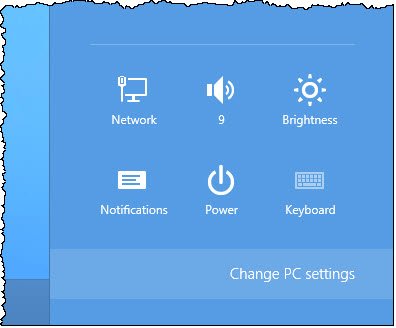 Next, under 'PC settings' select 'General' and scroll down until you find 'Available Storage' option.
When you find it, click on the 'View app sizes' button. Just above it you will also notice total amount of space used by all apps. All Windows 8 applications that are installed on your system are listed with their name and size here. The list is sorted by size from the largest to the smallest app. You can click or tap on any empty space to close this box.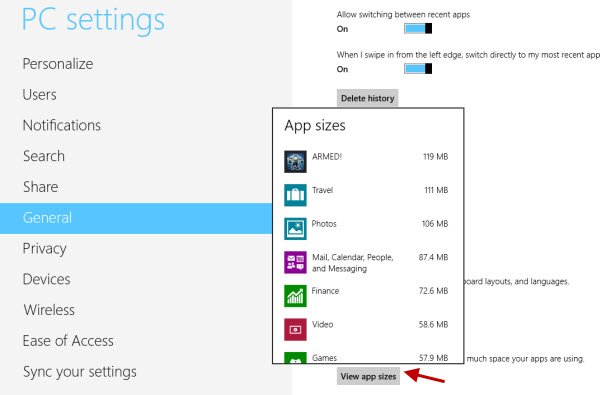 Alternatively, you can press Win+W key, start type "app size", and hit Enter to open the above settings window, to view the app sizes.
In this way, you can find which application is consuming more space and remove it if you feel.
Hope this helps.