Viber is an excellent instant messaging app. It can be used on many platforms including Windows computers. However, a lot of its users have been complaining that Viber is not opening or responding on their systems. In this article, we are going to see how you can resolve the issue with ease.
Why is my Viber not opening on my laptop?
Viber may not open on your laptop because of various reasons. Usually, any app will fail to launch on your system if the app data or caches are corrupted, this can be a case here as well. However, the most recorded scenario is the lack of administrative privileges. We have mentioned all the solutions and reasons hereinafter, so, do check them out.
Fix Viber not opening or responding in Windows 11/10
If Viber is not opening, launching, or responding, try these solutions to resolve the issue.
Run Viber with administrative privileges
Run Windows Store Apps Troubleshooter
Reset Viber
Allow Viber through the Firewall
Reinstall Viber
Let us talk about them in detail.
1] Run Viber with administrative privileges
Sometimes, Viber won't open on your system just because of a lack of permissions. It is pretty common for a third-party app to demand administrative privileges and in this case, Viber is doing the same. What you can do is right-click on the app and select Run as administrator. This will launch the game with the required privileges, however, if you want to configure the app such that every time it opens as an admin, try the following steps.
Right-click on the Viber shortcut and select Properties.
Go to the Compatibility tab.
Tick Run this program as an administrator.
Click Apply > Ok.
Now, open the app and see if it works.
2] Run Windows Store Apps Troubleshooter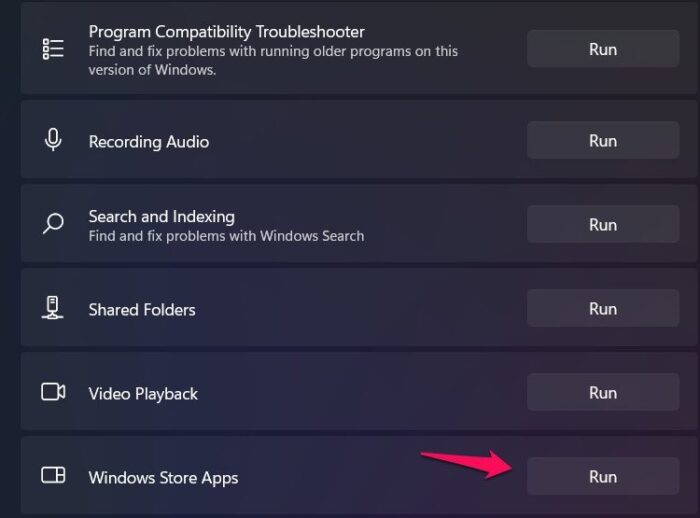 If giving Viber required permissions didn't work for you, try running the Windows Store Apps troubleshooter and see if they can identify and fix the issue. Following are the steps to do the same.
Windows 11
Open Settings.
Go to System > Troubleshoot > Other troubleshooters.
Click Run placed next to Windows Store Apps.
Windows 10
Launch Settings.
Click on Update & Security > Troubleshoot > Additional troubleshooters.
Select Windows Store Apps and click Run the troubleshooter.
After running the troubleshooter, restart your system and check if the issue persists.
3] Reset Viber
Next up, you can also try resetting Viber to get rid of any kind of configuration glitches that your app may have. To do that, all you need to do is follow the prescribed steps.
Launch Settings.
Go to Apps > Apps & Features.
Look for Viber.

For Windows 11: Click on the three vertical dots and select Advanced Options.
For Windows 10: Select the app and click Advanced Options.

Finally, click on the Reset button.
Wait for the process to complete, and your issue will be resolved. If the issue persists, try repairing the files using the Repair button from the app's settings and see if it works.
4] Allow Viber through the Firewall
Your antivirus or the built-in Windows security can stop Viber from launching on your system. They can block some of its features forcing the app to not work properly. We have to allow the app through the Windows Firewall if you have that, or just whitelist it in your antivirus settings and you will be good to go.
5] Reinstall Viber
If nothing works then your last resort is to reinstall Viber. This will work for you if the app data is corrupted. All you have to do is uninstall the app and then reinstall it. This should do the job for you.
Hopefully, these solutions will do the trick for you.
How do I fix Viber not responding?
If Viver is not responding then check if there are other apps running on your system. If they are, then maybe Viber is not getting the required resources. You should close all of them. But if the issue still persists, try the solutions mentioned in this post.
Also Read: 5 Best Social Media apps for Windows available in Microsoft Store.