This post features solutions to fix VAN 0 Error Code on Valorant. Valorant is a free first-person 5v5 character-based tactical shooting game developed and published by Riot Games for Microsoft Windows. But recently, users have been complaining about the VAN 0 Error Code on Valorant. This error usually occurs while trying to start up the game. The complete error message reads:
CONNECTION ERROR
VALORANT has encountered a connection error. Please relaunch the client to reconnect.
Error Code: 0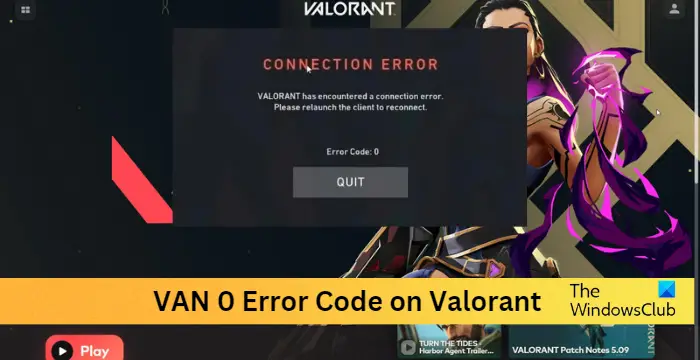 What causes VAN 0 Error Code on Valorant?
Valorant Error Code 0 usually occurs due to some connectivity issues with the game's server. However, it can also occur if the device isn't compatible with running the game. All things considered, other reasons that may cause this error are:
Unstable internet connection
Corrupt game files
Firewall blocking the game
Fix Van 0 Error Code on Valorant
Follow these steps to fix Van 0 Error Code when playing Valorant on Windows 11/10:
Check System Compatibility
Check Valorant Servers
Restart the Riot Client
Repair Valorant
Modify Windows Firewall Settings
Reinstall the Game
Now let us see these in detail.
1] Check System Compatibility
Before getting started with different troubleshooting methods, check if your device meets the minimum requirements. It's possible your device doesn't meet the minimum requirements to run Valorant.
OS: Windows 7 64-bit, Windows 8.1 64-bit, or Windows 11/10 64-bit
Processor: Intel i3-4150 (Intel), Ryzen 3 1200 (AMD)
Memory: 4 GB RAM, 1 GB VRAM
Graphics: Geforce GT 730, Radeon R7 240
DirectX: Version 12
Network: Broadband Internet connection
2] Check Valorant Servers
You can also check the Valorant's server status. It's possible the website servers are under maintenance or facing downtime. You can check the server status on Valorant's Official Website.
3] Restart the Riot Client
Restarting the Riot Client is one of the basic steps you should follow while trying to troubleshoot Valorant errors. However, restarting the client simply won't work, so you'll need to do it via the task manager. Here's how:
Press the Windows key, search for Task Manager and click on open.
Once the Task Manager opens, search for the Riot Client.
Right-click on the Riot Client and select End Task.
Now launch the Riot Client and check if the issue gets fixed.
4] Repair Valorant
The error may occur due to some corruption in the game's internal files. The Riot client allows users to repair corruptions like these. Here's how:
Open the Riot client, click on the profile icon, and select Settings.
Navigate to Valorant and click on Repair.
5] Modify Windows Firewall Settings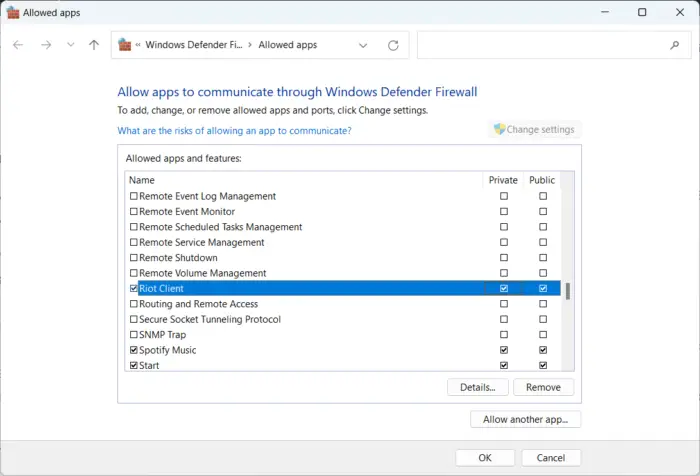 Windows Firewall sometimes interferes with Valorant's processes and makes it malfunction. Making some exceptions in Windows Firewall can help fix the VAN 0 Error Code on Valorant. Here's how:
Press the Windows key + I to open Settings.
Navigate to Privacy & Security > Windows Security > Firewall & network protection.
In the Firewall tab, click on Allow an app through firewall.
On the next page, click on Change settings and select Allow another app.
Find the Riot Vanguard folder; it's most probably located in Program Files on the C partition ("C:\Program Files\Riot Vanguard"), then select the "vgc" application, select Open and click on Add.
On the Allowed apps window, locate the Vanguard user-mode service and check both the Private and Public boxes.
6] Reinstall the Game
If none of these steps can help you, consider reinstalling the game. This has been known to help most gamers get over this error.
Fix: Valorant Error Code 38, There was an error connecting to the platform
How do I fix VALORANT Val 0?
Errors like these usually occur while starting of the game. Error Code VAN 0 indicates that Valorant has encountered and connection error. Please relaunch the client to reconnect. This error can also occur if the Riot client fails to launch due to corrupt system files.
How do I get rid of Van 0?
The most basic fix for the Valorant update stuck at 0% is restarting the client and the game. However, if that doesn't help fix it possible, there is something wrong with Valorant's servers. Consider reinstalling Valorant and the Riot client to fix this issue.