This post features solutions to help you if you receive an error message VAC was unable to verify your game session in Steam. VAC, or Valve Anti Cheat, is an anti-cheat software product developed by Valve as a part of Steam. If the system detects any installed cheats, it will ban the user from playing games on VAC-Secured servers in the future. But recently, users have complained that this error keeps popping up even when they aren't using cheats. Fortunately, you can follow some simple methods to eliminate this issue.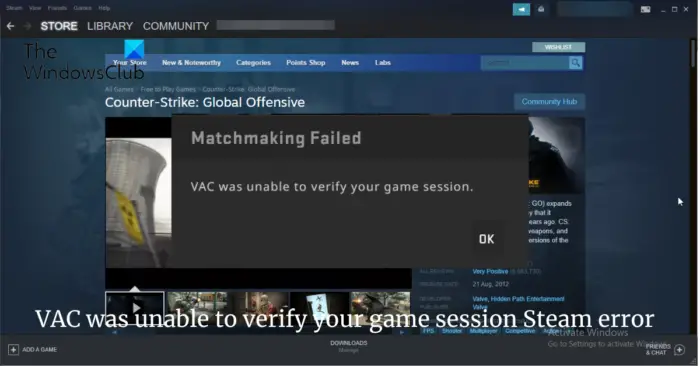 Fix VAC was unable to verify your game session error on Steam
To fix VAC was unable to verify your game session error that you may see while playing Counter-Strike on Steam, follow these suggestions:
Check for VAC Bans
Clear Steam Download cache
Repair the Steam Library Folder
Run the game as an Admin
Verify the Integrity of Game Files
Reinstall the Game
Now let us see these in detail.
1] Check for VAC Bans
Before getting started with different troubleshooting methods, check if you have received a VAC ban. Your device may be VAC banned, due to which the error pops up.
Launch Steam and click on Steam > Settings.
Navigate to the Account tab and check the VAC Status.
Here, it says, "No VAC Bans on Account." However, if it says you're banned, visit the VACBanned website, enter your SteamID, and hit Enter. It will show you when you've received the VAC ban.
2] Clear Steam Download Cache
If you received the VAC was unable to verify your game session Steam error, you should Clear the Steam Download cache and see. Here's how:
Launch Steam in Admin mode.
Once in the client, click on Steam at the top left corner of the screen.
From the drop-down box, click on Settings.
Once in Settings, navigate to the Downloads tab.
Click the Clear Download Cache option.
Click OK on the prompt to confirm your action. Wait for the process to complete.
When done, save changes and exit the client.
3] Repair the Steam Library Folder
The Steam Library Folder contains essential files that make up your Steam installation, mods, and workshop items that come along with it. It's possible something may go wrong with these files, and it could cause various errors. Here's how you can repair these files:
Launch Steam and click on Steam > Settings.
Navigate to the Downloads tab and click on Steam Library Folder.
Beside storage location, click on the three horizontal dots and select Repair Folder.
4] Run the Game as an Admin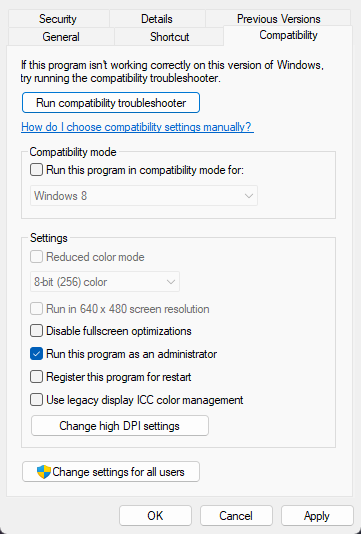 Running the game as an administrator makes sure the game doesn't crash due to a lack of permissions. Here's how to do it:
Right-click on the game's .exe shortcut file on your device.
Click on Properties.
Navigate to the Compatibility tab.
Check the option Run this program as an administrator.
Click on OK to save changes.
5] Verify the Integrity of Game Files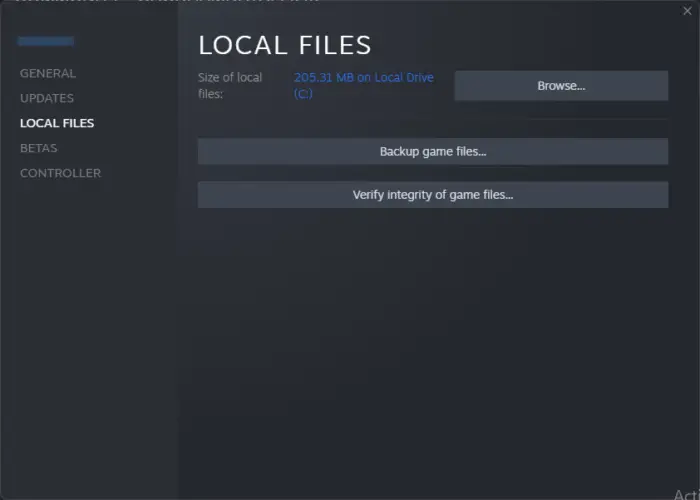 Sometimes game files can get corrupted due to a bug or a recent update. This could also be the reason why this error occurs. Verify the integrity of game files on your PC using the Steam client and check if the issue is fixed. Here is how it's done:
Open Steam and click on Library.
Right-click on the game you're facing the error with.
Select Properties > Local Files.
Then click on Verify Integrity of Game Files.
6] Reinstall the Game
If none of these steps were able to help you, consider reinstalling the game. This has been known to help most gamers get over this error.
Read: How to fix Steam was unable to sync your files error
Is a VAC ban permanent?
Yes, VAC bans are permanent and cannot be removed by steam support. However, if the ban is considered to have been issued incorrectly, it will be removed automatically. Still, you can try contacting steam support to check if they can help with the error.
Why do I get VAC authentication error?
The VAC authentication error usually occurs if the user has installed any cheats to play the game. However, users can also face this error if they haven't installed cheats. To fix this, you can try restarting the game, clearing the steam download cache, and repairing library folders.
Is VAC ban an IP ban?
No, VAC ban isn't an IP ban. It only bans the user's account. Banning the user by IP or hardware will be useless because it can be easily spoofed from the user's end.
Can you hide VAC ban?
The user's Steam profile is also marked with a ban on record. This is publicly visible and cannot be hidden regardless of the profile visibility of the band account. However, VAC bans are hidden from other users after seven years of not getting another ban.
Fix: FATAL ERROR: Failed to connect with local Steam Client process.