WhatsApp, sometime earlier, launched a web version of its service. It allowed users to have easy access via web browsers like Google Chrome, Mozilla Firefox, Opera and Safari. What was missing from the list was support for the Edge (HTML) browser. Microsoft made sure that this void was filled and as such, rolled out Whatapp support for its Edge (Chromium) browser. So, here's how you can use WhatsApp in Edge browser.
Using WhatsApp in Edge browser
WhatsApp released a web client named WhatsApp Web so that even PC or Desktop users can use WhatsApp on their web browsers without having to install the WhatsApp Desktop client. So, when you open WhatsApp in browsers like Opera, Safari, Chrome or Edge you are directly taken to a page that displays a QR scanning code. To get the WhatsApp up and going:
Open WhatsApp on your phone
Go to Settings
Capture the code
Here's all the help you need to get started!
1] Open WhatsApp on your Phone
If you have WhatsApp installed on your phone, launch the app on your phone.
2] Go to Settings
Tap the 'Settings' icon visible in the bottom right corner of your phone.
Then, choose 'WhatsApp Web/Desktop' option given there in the case of iPhone. In the case of an Android phone, choose 'Menu' (visible as 3 dots) and select 'WhatsApp Web' option.
3] Capture the code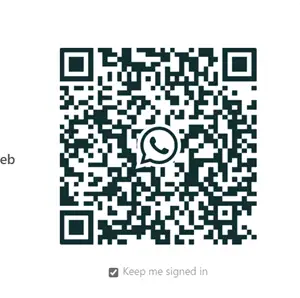 Now, simply scan the code visible on your computer screen by pointing the phone to the screen opened in the Edge browser.
Instantly, you should get connected!
You can choose to get notified of new messages by turning on 'Desktop' notifications. When you are finished with the setup, you can continue to use WhatsApp on your Desktop or choose to sign out.
This is how you can get the best of the WhatsApp app in the Microsoft Edge browser. If the method works for you, do let us know about it in the comments section below.
Read next: WhatsApp Web on Microsoft Edge vs WhosDown app: Which one to use?