Support for USB camera was one of the biggest features introduced for Xbox One. It now allows you to use Skype with your favorite webcam, and also go live when using Mixer. There is a bit of limitation as well that we will discuss in this guide.
You should know that adding Webcam support wasn't surprising. Kinect came to a bad end, starting with Xbox One S where there was no dedicated port for Kinect, and later the production was completely stopped. It became necessary for Microsoft to open support for external accessories including Webcam.
How to use a USB webcam with Xbox One
Installing a webcam is rather simple. All you need to is plug in your webcam, and it will automatically do the setup in the background, and not ask anything. You don't even get a notification about it, which is rather annoying.  I have a Logitech Webcam C930e.
There are two situations where using a webcam is useful in Xbox One – Skype & Mixer.
How to set up a webcam on Skype for Xbox One
I am assuming you already have Skype installed on your Xbox One. In case you haven't done so, open the Store, search, and install. It's an easy process. Once done, sign-in with your Microsoft account, and it will be ready for you.
The problem with Webcam on Xbox One and Skype is that it doesn't select the webcam automatically for video conferencing. You will need to set up using the Skype Settings. Once done, you can also use the microphone on the webcam.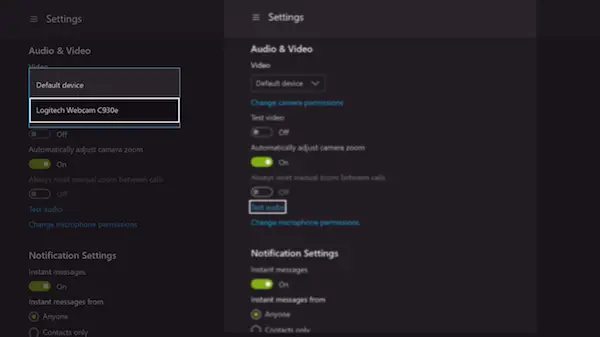 Launch Skype on your Xbox One.
Press the menu button on your controller to open the Skype Menu.
Scroll down, and select Settings.
Audio & Video is the first thing you should see there.
Under Video, select the drop-down which has Default device selected
Select your webcam here.
Next, Use the Test Video, to see how the output looks like. You will also have the option to toggle options like Automatically adjust camera zoom, and Always reset manual zoom between calls
To make sure the audio is working fine, you can use the Test Audio option.
Managing Permissions for Audio and Camera:
Just like Windows 10, Xbox One has a dedicated section where you can allow or deny apps using system resources. In this case, you need to make sure to give Skype permission to use both Microphone and Camera. In case you don't see things working as expected,  in the settings section you have two options
Change camera permissions.
Change microphone permissions.
Open these, and you should see a list of apps that can use them. Make sure Skype is selected here. You also have a global option that you can use to disable the camera or microphone option for all apps.
Note: To test the microphone, you can always use the Skype Bot on your Contact list to make a voice call. It allows you to record a message and then plays it back to you.
How to use a webcam with Mixer for Xbox One
The mixer is an online streaming platform that allows you to stream your games along with your video, and audio. The good news is that you can use your Webcam video for the same. You will have to set this up for the first time when setting up the broadcast.
Press the Xbox button on the controller to open the Guide menu.
Use the right bumper to navigate to the Broadcast & capture tab.
Select Broadcast to open your broadcasting options.
Enable the switch labeled Turn on Camera.
The microphone was turned on by default for me, and there is no way to disable it.
Also, go to Advance Settings and Turn on Mic. You can also set the Mic volume level here.
Post this, you will be able to setup options to change the position of camera video preview and zoom when streaming. Use the  Change camera settings in the broadcast.
There are two ways to test if your Microphone on webcam is working. First, post starting the broadcast, you will have a small chat window. Look for a Microphone icon there. If it doesn't have a "Stop" like a symbol, it means its enabled.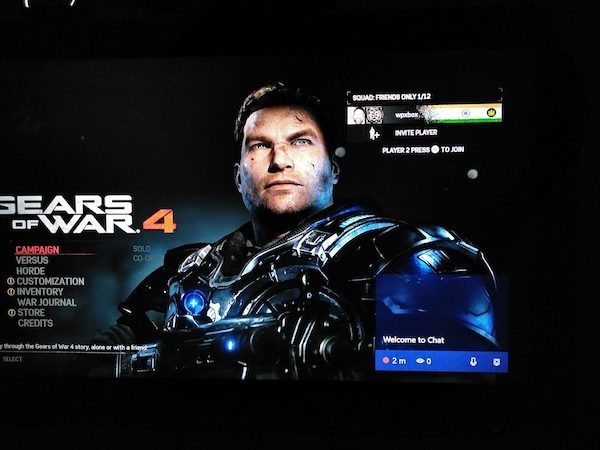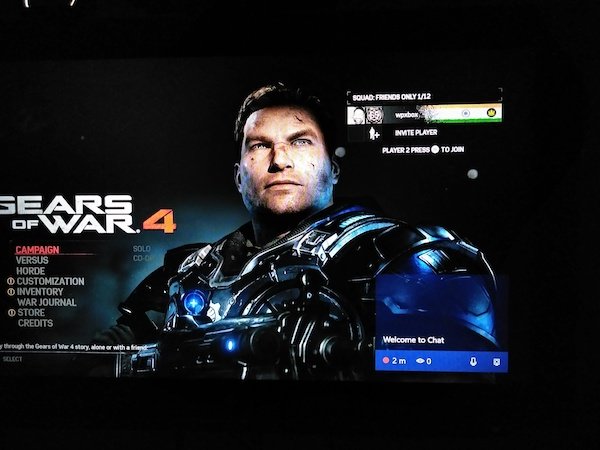 Second, open your Broadcast on a different computer, and make somebody sit before Xbox, and ask the person to speak. You should be able to hear his or her voice.
Troubleshooting Tip:
In case your Xbox One is shared with your family, you will have to make sure you've allowed sharing content with Kinect or another camera in Privacy & online safety > Xbox Live privacy > View details & customize > Game content. If you do not enable this, and you have family member signed in the console, you won't be able to use it. Either you give permission or you sign them out every time you use this feature.
When Microsoft initially rolled out this feature, there was no support for Webcam Audio. Consumers had to rely on headsets and external microphones to get this done. Microsoft did talk about this, and they believed then that since Webcams don't offer voice cancellation, like Kinect, they didn't support it. Now Microphone works both during streaming, and Skype calls. Notice the Toggle for Microphone is on.
That said, Webcam Microphone still doesn't work anywhere in Xbox One, especially in party chat which is very very annoying. You will have to use an external microphone with an Elite Controller to get this resolved.