Xbox One S has always been tagged as the elite console that this generation of gamers can't live without. It is a considerable improvement over its predecessor. It looks edgy and high-end but one that gives a bang for your buck with its power-packed features, especially with the introduction of the new and improved Xbox One S Controller.
Despite the Xbox One S price, gamers loved that they would now be able to customize every button. The Xbox One S allows you to play anything from its growing library (obviously as far as you can pay for the game), even your old Xbox 360 games which are automatically converted to the current version and downloaded from Xbox Live. This works well with Xbox 360 achievements, expansions, and downloadable content. It is smaller but much more powerful than Xbox One.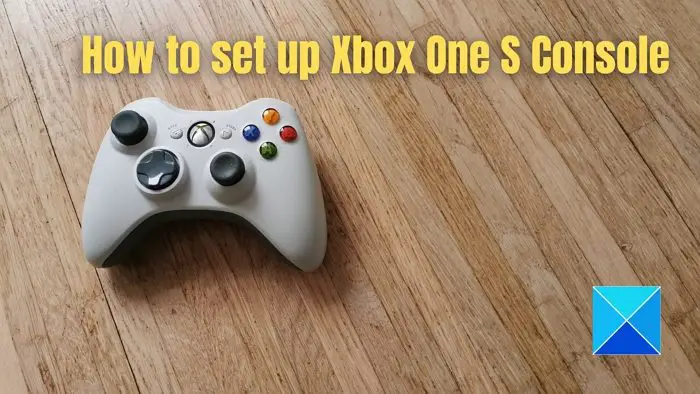 Setting up Xbox One S Console
Every modern-day gamer owns an Xbox One S console. It's just a matter of categorizing a user into one looking for an upgrade or another contemplating buying a new one. There is a thrill to unboxing an Xbox One S and even more so in setting it up. Here is a quick and easy-to-follow guide on how to set up your Xbox One S console:
Placement
Connecting with TV
Connect Console to Router
Select Language
Change Display Settings
Connect to the Internet
Initiate System Update
Select Power Option
Choose automatic updates
Connect with Microsoft Account
Make sure you have a working internet connection
1] It works well whether placed vertically or horizontally. Xbox One was intended to be placed horizontally. However, despite guidelines, users placed it vertically quite often. Microsoft understood that it wouldn't be possible to convince people to place it in an intended manner. Thus they improved upon their device. Xbox One S can be placed horizontally as well as vertically.
Read Xbox One X vs. Xbox One S.
2] Use an HDMI cable to connect the console to HDTV. Please connect the HDMI cable, which is a part of the package, to the Xbox's HDMI port at the back of your console. The other end of the cable should be connected to the HDMI input of your TV. As a safety precaution, make sure that the cables don't get in contact with the console. Plug the power cord into the back of the Xbox One S console. The other end should be plugged into the electrical outlet.
Xbox One S can also be connected to the TV through a set-top box. You could use an HDMI cable for the same.
3] Connect the Xbox console to a router or modem. If you wish to play games online, you need to connect the console to the internet. To do so, you would need to connect it to a router or modem. The Xbox console has an Ethernet port which could be used to connect to the source of the network. Other than this, we could also connect to the internet using Wi-Fi. To switch on your console after connecting to the router/modem, you need to press the Xbox button in the center of the controller, or you can try pressing the Xbox button right in front of the controller.
The Xbox console supports connections for the Kinect sensor as well. Interestingly, the cable for the sensor is 3 meters long, making it one the longest of computer cables. It is advisable to keep a part tied to avoid hassles.
Once the connections are done, we could begin with the digital setup.
4] Select the language and other settings. Select a language you understand to connect to the internet. More languages will be available after its first system update. Once connected to the internet, you would be presented with more languages to choose from. Those using the Kinect sensor can select the option "Begin sensor setup" and continue with the Wizard.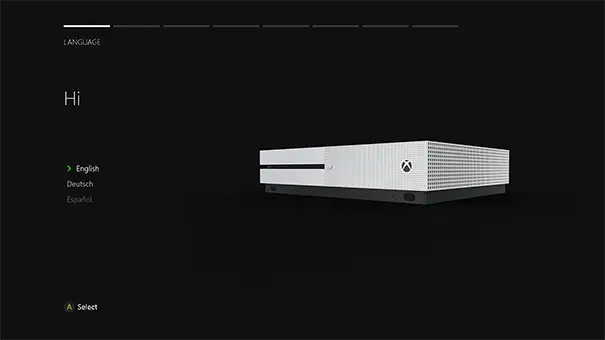 5] Change the display settings. When prompted, change your display screen resolution. Manually pick one and then press "A" to continue.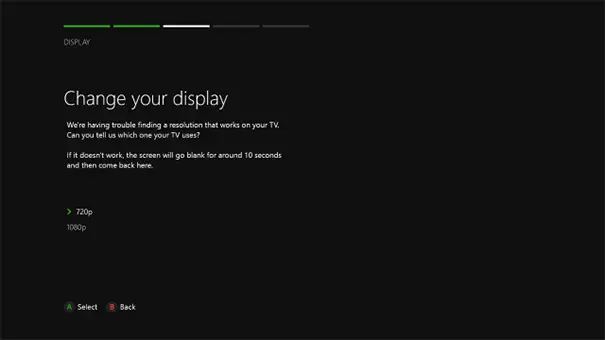 6] Connect to the internet. You can choose to connect automatically to the internet with either a wired or wireless setup. Attach the network cable to connect by wire or select from available networks if you opt for a wireless connection. In the next step, select your country and then press "A" to continue. Then, you can select your location and begin with your gaming experience.
7] Initiate System Update. Before you can use your Xbox One S, you need the most recent or current system update to make sure it's going to run in smooth condition. Select "Start Update" to start the download. Once the update is complete, your Xbox One S will restart. After your console has restarted, you need to choose your time zone. This is especially important for that gaming online.
8] Select the power option. Depending on your usage, you can choose what mode of power option would be best for your needs. You can opt for the Energy Saving option, which uses less power but takes much longer for the console to power up and doesn't automatically install updates. Another option is the Instant-On which uses up more power but turns on instantly, and you can also turn it on using voice commands.
9] Choose automatic updates. You can select the type of automatic updates to receive on your console.
10] Sign in to your Xbox with Microsoft account. Xbox supports single sign-on. You could sign in to your Microsoft or Gamertag account using your Xbox console. If you don't have a Microsoft or Gamertag account, the setup will help you create one.
The above guide will help you a lot, especially if you are using your console and signing in to Xbox Live for the first time. You can also set up Kinect to automatically detect and read your voice and body when signing in to Xbox Live. There are many ways to customize your Xbox gaming experience, and you can start with a new skin to compliment your mood and theme.
More details can be checked from the Microsoft support website here.
Read next: How to move from the original Xbox One Console to Xbox One S.
How do I set up my Xbox One without Internet?
You cannot set up Xbox One or any other console without the Internet, as Microsoft needs to connect it with your Microsoft account and download updates. However, once the setup is complete, you should be able to play some of the games online, save game clips, screenshots, and so on.
Can you use Xbox One without a Microsoft account?
No, you cannot. Xbox Gamertags are connected to your Microsoft account; you will need one to start. If the internet is available, Microsoft does allow you to create one if you don't already have one.