The web is the source of storing all the information and connecting multiple devices and services all along. With the native application platforms being limited to a limited set of devices, this calls up for a universal application and services platform that could work everywhere. The Web Application Platform is a highly suitable candidate for this problem. And with the emergence of PWA or Progressive Web Apps platform, it makes the implementation of this universal platform really easy. Most operating system environments support the use of web pages using modern web browsers which are gaining support for Progressive Web Apps. This also includes the Google Chrome web browser.
How to use Chrome in Application Mode
This Application Mode enables users to run web pages as if they are working as a native application on computers. In short, it hides all the toolbars and the address bar and shows just the body of the web page which is ultimately the Application Mode. This feature is supported by Google Chrome's rendering engine and hence is a great deal for Progressive Web Apps. With support for Location, Speech, Microphone, Notification APIs, this mode works and behave like a truly native application.
How to turn on Application Mode for a particular website
First of all, start by opening Google Chrome on your computer. Now, navigate to your favorite website.
Once you are on the homepage of your desired website, click on the menu button denoted by three vertical dots on the top right portion of the window.
Click on More Tools > Create shortcut.
You may get a prompt confirming if you want to create the Shortcut and what you want its name to be. If you do, set the name, check the option labeled as Open as Window and click on Create.
Now, type in chrome://apps in the address bar and hit Enter. You will land on the Apps Dashboard that comes with Google Chrome.
Right click on the website that you created a shortcut for, and make sure that Open as window is checked.
Click on the entry of the website, and it will launch in the Application Mode.
Now, this will run your Website on Application Mode.
Creating Quick Launch Shortcuts for websites to launch in Application Mode
In order to launch these websites faster in application mode without actually opening Google Chrome and using the Apps Dashboard, you can create a Start Menu entry and a Desktop Shortcut too.
To do this, open Google Chrome and navigate to chrome://apps. Right click on the website shortcut and click on Create Shortcuts.
You will now get a prompt about where to create the shortcuts.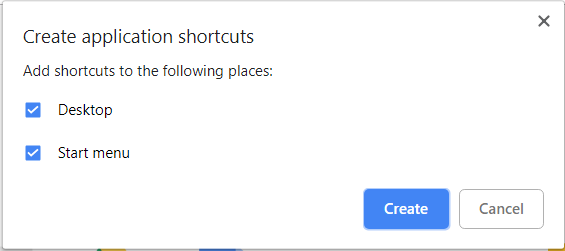 Make your choice and click on Create.
That's it – the shortcut will have been created!