If the power line to your Xbox One is suddenly disrupted, you may find it difficult to get back to gaming. Also, you may see an error, bearing the following message – UPnP not successful. While simply restarting Xbox One may fix the issue, you'll need to follow additional steps if the problem continues to persist.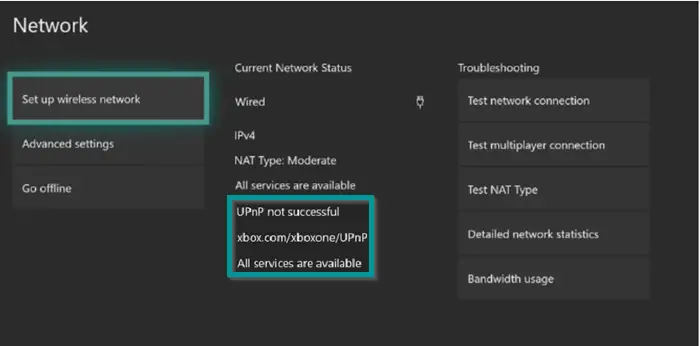 UPnP not successful error on Xbox One
Universal Plug and Play or UPnP is something your Xbox uses to set up your router for multiplayer gaming and chat. If you experience UPnP not successful error, follow this procedure:
Sign in to your router's setup webpage
Go to 'Advanced' section of the router
Select 'Advanced Setup'
Open the UPnP page
Check if UPnP is enabled
Re-enable UPnP
Restart your Xbox One, router, and modem.
Read further for the full details.
Sign in to your router's setup webpage
Go to your router login page. You can search online for guides related to logging in to your specific model. Here, I am using NETGEAR router. So, I'll highlight the steps related to it for enabling or disabling Universal Plug and Play.
Launch a web browser from a computer or mobile device that is connected to your router's network.
Type router login page to open a login window.
Enter the router username and password (username and password should be case-sensitive).
Check if UPnP is enabled
When done, the basic Home page should load.
Now, go to 'Advanced' section of the router and select 'Advanced Setup'.
Here, scroll down to locate UPnP link. Click it to open the UPnP page.
By default, this checkbox for UPnP is selected. If the Turn UPnP On checkbox is cleared, the router does not allow any device to automatically control router resources, such as port forwarding. Disable UPnP.
Save your changes, when done.
Re-enable UPnP
Restart your Xbox One, router, and modem.
Again, navigate to the UPnP menu on your router.
Enable UPnP and save your changes.
Once you've reset your router:
Restart your Xbox console.
Press the Xbox button.
Select System > Settings > General > Network settings.
Check your settings again to make sure the UPnP message is gone.
If UPnP still isn't working, or if it isn't supported on your router, you can also try using the router's DMZ, Port Forwarding, or Port Triggering features.
All the best.