Sea of Thieves is one of the newest video games from Microsoft for the Xbox One and Windows 11/10 PC. The game brings a lot to the table where multiplayer is concerned because there's no single-player experience here.
The title is also available via the Game Pass subscription service, where gamers pay $10 monthly to play hundreds of games until they fall through the ground. It's a great deal; therefore, all fans of the Xbox platform should take advantage of it.
Despite the amount of work, Microsoft is placing into Sea of Thieves; this game is not perfect. One major issue some users have come across in recent times is the inability to update the game via the Microsoft Store.
We're updating Sea of Thieves, It should be ready to use again shortly.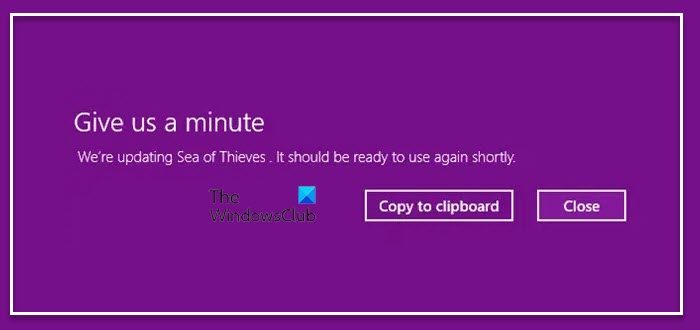 Sea of Thieves is not updating in Windows
1] Restart your computer
The easiest way to fix most problems on a Windows computer is to restart the system simply. You can do this by right-clicking on the Start button, then hovering the mouse cursor over Shutdown or Sign out, and finally, clicking on Restart.
Once the computer is back up after the reboot, you'll need to restart the update via the Microsoft Store, and that's it.
2] Clear the Microsoft Store cache
Whenever you use the Microsoft Store a lot, it stores a lot of information in its cache, and at times, it can cause several minor problems. To solve some problems, just simply reset the Store cache, which is quite easy to do.
Click on the Start button in Windows 10 and type wsreset.exe. When it comes up in the search query, right-click on it and select Run as administrator. Once the cache is cleaned, open the Microsoft Store and attempt to update Sea of Thieves once more.
3] Run the Windows Store Apps Troubleshooter
Microsoft has added a dedicated Windows Store Apps Troubleshooter. It won't fix every issue, but it should do the work properly for the basic ones, and this Sea of Thieves issue is as basic as they come.
To troubleshoot, launch the Settings app by pressing the Windows key + I, then select Update & Security from the main menu. The next step, then, is to click on Troubleshoot, then scroll down until you've seen the option that says Windows Store Apps.
Select it, then click on Run the troubleshooter. From there, wait until the troubleshooter has detected a problem, then follow the on-screen instructions.
4] Reinstall the game
If everything fails, then your last bet is to reinstall the game. In most cases, you may never have to even think about this option, but if all workarounds have failed, then this is likely your best chance.
All the best!