Recently, after updating the Microsoft Edge web browser, I found a message is being displayed on its About page: Update policies are configured but will be ignored because this device isn't domain joined.
Generally, when malware enters a system, it changes some of the policies so that the hacker can have control of the user's computer. But this is not the case with the message that is displayed in the Edge browser. So, if you see this message in the About section of your Edge browser, don't relate it to the malware infection. There is nothing to worry about, as your system is completely safe.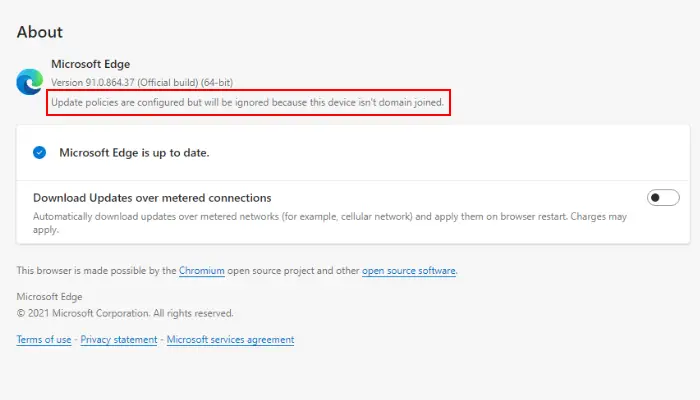 In this post, we will see what this error is and how to fix it.
Update policies are configured but will be ignored because this device isn't domain joined
If you read the message carefully, you will know what this message exactly means. It clearly states that there are some update policies for Microsoft Edge that are configured but these policies cannot be applied as the device is not connected with the domain. What does the word domain mean? A Windows Domain is a network where a person or a team of persons (IT professionals) can control all the computers connected to a particular network. This type of network is generally used in a business setting.
Does it affect your browsing experience? Well, the answer to this question can easily be concluded from the message. The message says that the updated policies can be ignored by the end-user. Hence, it does not affect your browsing experience. You can use Microsoft Edge for internet surfing as normal.
Read: Fix Microsoft Edge Installation & Update error codes.
How to fix this error
To fix this error, you have to connect your computer with the Windows Domain network if you want the Update policies to be obeyed.
If you are a Windows 10 Home user, you can ignore this message because Windows 10 Home edition does not support joining the Windows Domain network.
If you have Windows 10 edition other than Windows 10 Home, you can easily connect your system to the domain. After connecting to the domain, restart the Edge browser (if you have already opened it) and go to "Help and feedback > About." You will see that the message has gone.
Hope this helps.
Read next: This setting is enforced by your administrator – Chrome error.